"Wedding Adventure" is a song sung mainly by Phineas and Ferb, to celebrate the marriage of Tiana and Bob Webber in "Candace's Big Day".
Lyrics
Phineas: With every step you take,
The journey of your life
And your adventure begins
As husband and wife,
The one you love is here,
He's making things okay
Bob: Okay!
Phineas: Just think of all the adventures on their way! Like...

Ferb and Chorus: Bull running!
Bungee jumping!
Skydiving!
Hang gliding!
Base jumping!
Wakeboarding!
All: Wedding adventure!
Ferb and Chorus: Snowboarding!
Scuba diving!
Treasure hunting!
Whip cracking!
Head banging!
Foot stomping!
All: Wedding adventure!
Phineas: Bob and Tiana are husband and wife,
They're gonna have the time of their life by...

Ferb and Chorus: Ski jumping!
Snake charming!
Cow tipping!
Hamster chasing!
Cake baking!
Car washing!
All: Wedding adventure!
Phineas and Ferb: Remember every step that you take
Started with Candace's chicken cake!
Chicken: Ba-kaw!
Phineas: It doesn't matter how you choose to toss the dice,
All: Your marriage is the adventure of your life!
Gallery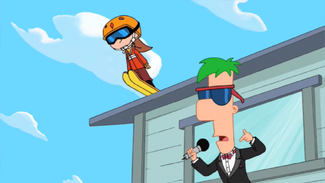 View the image gallery for "Wedding Adventure".
Songwriters
BMI Work #12118331
Background Information
Ferb's wearing the same sunglasses he wore in "My Ride From Outer Space".
Some things mentioned in the song, such as car-washing, bull-running and treasure hunting, have also been done by Phineas and his friends.
In the line bull-running, Buford is the bull, which could also be a reference to when Candace earns the "Running with the Bulls" and the "Running with the Bullies" patches ("Fireside Girl Jamboree").
During the "foot stompin'" line, Isabella is seen wearing an outfit typical from Andalusia, a zone of Spain.
This song might be also a reference to the Red Hot Chili Peppers song "By the Way" which has a quite similar song structure.
Error
While Isabella is bungee-jumping, her top is all orange when it was supposed to be orange and white.
See Also