Hi, I know this is going to sound like a stupid question to a lot of you but this is just something I'm interested in:
Are there any railroad crossings (railway crossings/ level crossings) on Phineas and Ferb?
Not just any railroad crossings, crossings with lights and or gates/barriers.
If so, which episode(s)?
I ask because I'm a person with Asperger's Syndrome that happens to be highly interested in railroad crossings. They are my biggest interest. Plus, I've seen several trains on this cartoon but no railroad crossings (except maybe in that episode about the train and hot air balloon, but it was just a crossbuck sign, no lights, no gates, dime-a-dozen.)
I'm also interested in railroad crossings in animated shows in general but I especially like the most realistic crossings on animated shows, like signals similar or almost similar to the ones used in the U.S. and Canada, and gates that are red abd white striped, (black and white stripes and black and yellow stripes are okay too but red and white is most preferred, and if I'm that fortunate, lights mounted on the gates, which is shown on few cartoons and animated shows. I'm okay with gates without lights but I like gates with lights better. Like this: http://cloud.graphicleftovers.com/33961/921169/railroad-crossing-barrier.jpg
And some cartoons show better, more realistic crossings than others. Some of my favorite cartoon railroad crossings are on:
-The Simpsons (So far the one on the episode "Them Robot" is the best I've seen.)
-Handy Manny (it's a toy train though)
-Bubble Guppies
-Curious George (More "Curios George Get's Winded" than "Station Master.")
-King of the Hill
The one on Paw Patrol is okay too but could be better.
This is from a blog I posted on The Simpsons Wiki, but PLEASE NOTE the screenshot is modified, it's not real!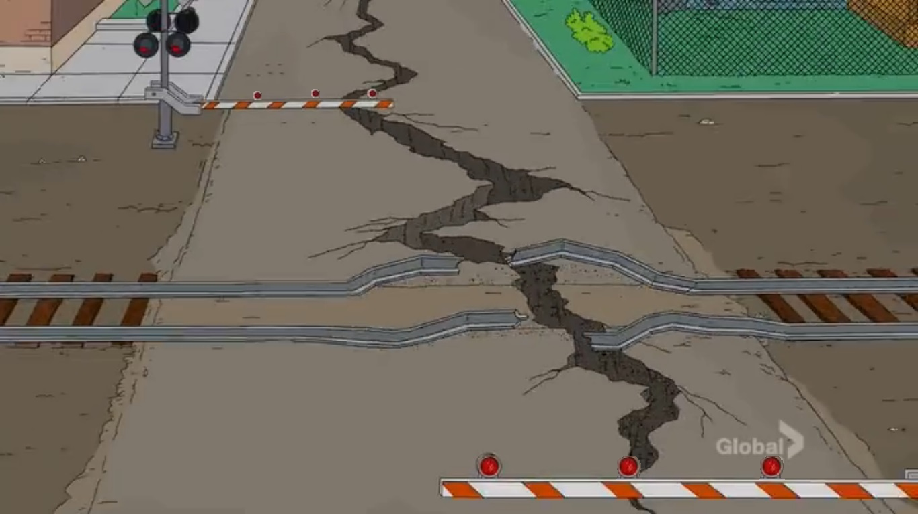 This is the blog I posted and has more pictures. I have to warn you, this is a real long blog. http://simpsons.wikia.com/wiki/User_blog:WillTheArthurandBusterFan5050/Them_Robot_Railroad_Crossing_Gates
I've been looking for railroad crossings on this cartoon (I do this eith just about any cartoon) and so far haven't seen one.
If any of you know any episodes that have railroad crossings, or see one before I do, please let me know and which episode(s) it's on. Preferably a gated crossing but a lighted crossing without gates is fine too.
If there isn't one, but the series hasn't ended yet, I hope they include one.
Thank you.
To learn more about me, please click on my username, go to my profile, and go either to Arthur Wiki or Fairly Odd Parents Wiki. See also my fanfiction.net and Deviant Art pages.