(subscribe)

               
The Official Phineas and Ferb Wiki Newsletter, Issue 90/91: May 9, 2013
 


Crat Corner
by RRabbit42
Odd Numbering
As you may have noticed, this is "Issue 90 & 91". We wound up not having a second newsletter that month since I was wrapped up in moving. There's always more to do that you anticipate when moving, especially once you learn about all the shortcuts the previous owner(s) took that you now have to fix. Normally I would have just made the next issue number 91, but this way the newsletters keep the pattern of the odd-numbered issue being released in the first half of the month and the even-numbered issues in the second half.
The other result of me being occupied is that none of the voting got updated last month. Once this newsletter is done, I can start on that. And that brings us to...
A single point of failure
In mechanical and other systems, a single point of failure means that if one specific item stops working, the entire system also stops. For the voting and the newsletter, that single point of failure is me. In the past, updating them were shared with SuperFlash101 and Topher208, but eventually both fell to me. This worked fine for the most part until last month.
I had talked before about how we need to bolster the ranks of our admin staff. We added one new administrator recently, KinHikari. We actually need more than that. I had been waiting to see any more people would be nominated before I made my own, but that didn't come about. So I will go forward with the two nominations I was holding back on.
But regardless of how many admins we have, things like the voting and the newsletter need to be set up so that other people can maintain and work on them. Since we are using a blog for the newsletter, it will still take an admin to move it to the PF News blogs section, but up to that point, can be a collaborative effort to make it, such as Mouseinphilly has been doing by putting in the placeholders for the future issues.
The voting is mostly to the point where anyone could work on that, with the exception of the Featured Article. I gotta finish changing that. Oh, and the pictures do need an admin's help with the maintenance if someone uploads a JPG picture to replace a PNG that was nominated. However, most anyone can upload a new version of an existing picture. (Tip of the day: if you have a newer version of iTunes than version 10, play the episode in QuickTime so that you can control it a bit easier and get a good screenshot.)
I have a few ideas on what we can do in the future, but I have made promises to work on other things, so I need to get busy and keep those promises before I go on to anything new.
Odds 'n' Ends
I Know That Voice nears completion
by RRabbit42
Last month, KinHikari gave us the list of actors that had been nominated for a BTVA Voice Acting Award. There were many from Phineas and Ferb in the list. Last week, she updated that blog with the winners.
Of the nine actors who have been in more than one episode, four were the winner in their category as selected by the BTVA staff and two received People's Choice awards. That's pretty impressive to have two-thirds of those nominated having won.
KinHikari also passed along that I Know That Voice is almost done. This is the documentary that shows what it like to be a voice actor. It isn't just about recording lines into a microphone. In many ways, it is more difficult than acting on film, TV or on stage because everything has to go into one element, the voice. All visual aspects are provided by the animation, not the actor's body and movements.
And a voice actor isn't just recording lines into a microphone. They are recording numerous versions of the same line. On Inside the Actors Studio, Tom Hanks described the experience of working on Toy Story as being difficult because you may have done the line 32 different ways, and then the director will ask for yet another way. It was either Dan or Swampy that they also find situations where they ask an actor to do a line a specific way, but when they match that up with a different' actor's line in that scene, a different take works better.
Some voice actors enjoy the process because they can show up in casual clothes. Others, like Caroline Rhea, like it because it's easier to go in every two weeks or so to record lines for several episodes at one time.
Last year, I read Nancy Cartwright's book, My Life As a Ten Year-Old Boy. In it, she described how her childhood, events in school and working with Daws Butler led her to becoming the voice of Bart Simpson. It's a great book, and very moving when she talks about how the cast dealt with the death of Phil Hartman. Like that book, I think I Know That Voice will be another great look behind the scenes of voice acting.
Check out Tuesday's press release, then head on over to the Facebook page and the official website for more information.

Official website

Facebook page
The joy is in the journey
by RRabbit42
Just shy of three years ago, we tried doing episode reviews in a "super short" format, accompanied by an even shorter version that was designed to fit within Twitter's maximum length. We only did a few reviews like that before we returned to full reviews. Here's an update on one of those short reviews.
The Wonderful Wizard of Oz and the 1939 movie are such classics that it's pretty commonplace for it to be featured in TV series. In season two, Phineas and Ferb showed us their take on it with "Wizard of Odd".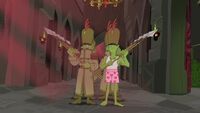 When Linda encourages Candace to try and have some fun for a change, Candace insists that she's the "queen of fun", but doesn't want to take part in the house cleaning her brothers are about to do. So instead, Linda gives her The Wizard of Oz to read, which she does for all of about five seconds before giving up. The house cleaning knocks her out and when she wakes, she's in the land of Odd.
The elements of the book are all present: a witch with fancy footwear pinned down by a house (but would be just fine if someone could lift the house off her), another witch warlock who covets those boots, blue-skinned Patchkins who provide background to the "eyeball girl" that sings to get her started on her journey along the Yellow Sidewalk.
On that journey, she meets Odd versions of Baljeet, Jeremy, Buford and Stacy. Stacy's owl is basically only in there as a cameo, but the other three accompany her as she heads to Bustopolis. Phineas and Ferb offer about four different ways that she could make the trip more fun, but she's determined to follow the directions to the letter.
During the trip, the Doofenwarlock has been trying various means to get her boots, from sending out a squadron of squirrels in slow-moving tiny planes to a Brat-Be-Gone-inator that would disintegrate her and leave the boots behind. Agent P and some distracted guards also derail his plans, but in the end, he gets what he wants when the Wizard's stand-ins help him get those boots. Thirty seconds later, he finds out red rubber boots are hazardous to your health as he's squished by a different falling house, and out step a familiar girl and dog.
There are some pretty good jokes in this episode. The transition music that is interrupted by the scratching needle is fun to hear. Candace references S.I.M.P. (Squirrels In My Pants) when she sees the flying squirrels. And you also wouldn't expect Phineas to be quite so honest when he tells Jeremy that he's completely delusional because he was just wearing a tree costume the whole time.
But what I think is the best part of the episode is the message. In some TV series, the message is blatant, as if the show were telling you "Pay attention or you'll miss the message, and now here comes the message". Some will also use the cliche of advertising that there will be a "very special episode".
The message in "Wizard of Odd" is a good one and is presented in an encouraging manner, rather than a depressing life lesson that so many other shows try to force on us. Linda Flynn-Fletcher, the Wizard of Bustopolis, says "Loosen up, sweetheart. Remember to have fun along the way. Summer won't last forever." And as the episode closes, Phineas encourages us to "Have fun, everybody". Good advice for when the 104 Daze of Summer arrive later this month.
---
Hands-on with the P&F merchandise, part 61
by RRabbit42
With my recent move, everything was packed up. It is going to take a while before I can sort through my items to find the ones that haven't been reviewed yet. But I did find a few new things at two local stores.
You may remember several issues ago that Spencer Gifts had a set of "Mix N Match" socks made by Planet Sox. The company came out with a new set recently that includes Agent P "the super spy", Candace saying "boys beware" and "cool times two", Perry standing and a different version of the "Perry face" that has been used on many different types of products. They were $10 for the pack of five pairs.
Next to it is the embroidered baseball cap. In addition to the two pictures of Perry you can see, the name Perry is stitched along the back. This adult cap was about $20.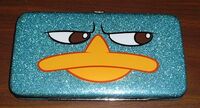 The third item I found at Spencer Gifts is the Perry Glitter Hinged Wallet. It's 7" across, so it's large enough to dollar bills without having to fold them. There is a zippered section to hold smaller items securely and slots to hold five credit cards, rewards cards or similar-sized cards like a library card.
The outside is a soft padded foam cover. The wallet is just over a half inch thick, so it would fit inside a coat pocket or purse fairly easily. It's made by Accessory Innovations, the same company that made the drawstring backpack featured last September in issue 76 and is $18. That's not the style of wallet I normally use, but I might start just so I can watch people's reactions when they see it. Could be fun.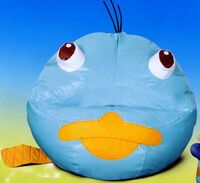 The Fred Meyer store closest to me occasionally has some Phineas and Ferb items. This time, I spotted a beanbag chair in the home furnishings section. Rather than being just a "flat" design like the one that has the image printed on the fabric, this one is three dimensional. You can see that Perry's eyes extend away from the surface. The packaging showed the boy using those eyes as kind of an armrest. There's also a tail and Perry's three tufts of hair sown onto the chair.
The fabric is 100% vinyl and is quite soft. The chair has a double set of zippers to help keep the filler from coming out. This company, Bean Bag Factory, leaves the tab off the zipper slider so that younger kids aren't able to open the chair. You hook a paper clip into the slider so you can open or close it, then remove the paper clip when done.
Though designed for kids, the chair did pretty well for me as an adult. I'm not going to jump on it like I might have when I was young since I'd probably break it. But beanbag chairs are great for molding themselves to all the contours of your body, so they provide support that many chairs just don't have.
The chair was $40 and you need two bags of the filler at $15 each. They were on sale for 20% and 10% off a few days ago, so you might want to head in to see if your local store has them and has the sale.
I should note that the filler, the "beans" from which the chair gets its name, have changed since I was a kid. They're a lightweight material like styrofoam, but they don't generate static electricity like styrofoam does. So no more fighting with small particles that want to stick to everything and are almost impossible to clean up. That's why most parents hated bean bag chairs back then. They'll be happier with this one and the better-made chair that holds it.
Coming in about one week:
Hands-on with the New Merchandise
Recent episodes review
Other articles to be determined (submissions wanted - send to RRabbit42 or use the Newsletter submissions page)
Got a question or comment about this issue? Leave them below.
Community content is available under
CC-BY-SA
unless otherwise noted.