(subscribe)

               
The Official Phineas and Ferb Wiki Newsletter, Issue 88: March 19, 2013
 


Crat Corner
by RRabbit42
Interludes and Examinations
Another short newsletter as I have been occupied with other things and it looks like I will be for the next three or four weeks. There's a couple of nominations to wrap up, one or two new ones to make, and a few issues that have been on the back burner for a bit that I really need to get to. But even during the times where you don't see me doing much on the wiki, I'm still around, ready to help out when needed.
We did get a volunteer to write some reviews of the newest episodes, so hopefully one will be ready for the next issue. There's a couple of weeks until the next new episode, which means there's time for other people to step up with their own reviews (hint, hint).
Finally, as we get closer to summer, we will start work on a new background and theme for the "Mission Marvel" episode. We definitely could use help with ideas about what to put in there.
Odds 'n' Ends
The Nickelodeon Kids Choice Awards are just a few days away. There may still be time to get a few more votes in and you can see all the nominees here.
If hand cars are a metaphor of life, what is the metaphor for digitally rising? Only Ryan Stoppable know the answer to this mystery as he gives us the Nielsen ratings on "Sidetracked" in his latest edition of "The Numbers Game".
Though this has nothing to do with Phineas and Ferb, The Croods opens in theaters on Friday. Looks to be a good movie.
Not-so-Retro Review: Squirrels and Floating Eyeballs

by Mouseinphilly
Of everything that can be tied together - squirrels, beauty pageants, rhinos and peach cobbler, along with a Randy Jackson quote - this to the casual viewer might seem wrong to bundled, but then again, half an episode that features floating eyeballs without good witches telling everyone to take a yellow sidewalk seems strange. Thus the story of the last two segment episode for Season 3, "Blackout!" and "What'd I Miss?".
We'll start off with the latter since that premiered first. Ferb and Perry have returned early from debate camp, and asks what occurred with cupcakes made with "training nuts". Phineas tells of the previous day's events involving Isabella earning her Fireside Girls surfing patch, domesticated squirrels and nuts. Meanwhile, Agent P learns about Doofenshmirtz's plan on peaches, and hears about his previous day's events using Agent R, the domesticated squirrels, beauty contests where everyone wins and the named for a certain push ups on a table diva in a Harlem Shake video that also is a storyboarder faucet-inator. And we also get a reference of being "in it to win it, dog" to an actual canine for a bonus.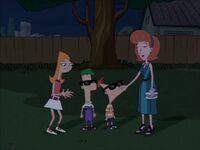 Sadly, I'd wish I would have said the same about "Blackout!". Half of the episode is nothing but that sight gag of just people's eyeballs floating in the dark. And this is all caused by a blackout from Doof's sad-eye-inator leaving Danville - as well as most of the Tri-State Area - under the same type of darkness that would interrupt a Super Bowl game in New Orleans. If you're from there, or Baltimore or San Francisco, you'll get the joke. Anywho, we get a surprise vocalist on the song from this episode, as Fee Waybill of that 1980's band The Tubes lend his vocals to "What Is This Thing?" As Neil Everett on ESPN's SportsCenter will tell you, "She's a Beauty, that number nine," however, this "One in a Million" song is the best part of the episode to say the least, although the traditional evil jingle tells us that Doofenshmirtz isn't illuminated for that.
The bottom line is that the late part is better than the first part. And trust me, power outages are no fun whatsoever.
Hands-on with the P&F merchandise, part 60
by RRabbit42
A lot of the P&F items I've bought are packed up right now as I make room for another project I'm about to start working on, but one of the items I made sure to keep out is the game Where's My Water? This is the board game version of the Where's My Water? video game, and is made by Hasbro Gaming. I will abbreviate that as WMW from here on.
While the video game is a puzzle game, the board game is closer to "Plinko", a game on The Price is Right where you let a chip slide down the board and it bounces around as it hits the pegs. WMW uses marbles and adds different pieces in place of some of the pegs that will release other marbles or make them go off in a different direction. Those pieces are things like pipes, shrubs, ducks and skulls. You will have to move some of the pegs around to fit the pieces in.
Gameplay is pretty simple, in keeping with the age group of 5 and up: flip over a card and put the special pieces on the board in the position shown. Some of the cards will just show you which pieces to use and let you decide exactly where to put them. Then two players take turns moving Swampy to their side of the tub and dropping marbles in one of the four funnels at the top. Sometimes the marbles will get stuck on the board until the next one knocks it loose.
After both of you have dropped five marbles each, see who has the most points. The blue "water" marbles you drop are 1 point, yellow "duck" marbles are 1 point, and a purple "toxic" marble subtracts 1 point. The most points wins the card. A tie means you play that one over. The winner is the one who gets three cards, but you could just as easily play for a higher number of cards. There's also Solo Play for one player.

At this point, you may be wondering what this game has to do with Phineas and Ferb. Well, just as Disney Mobile came out with a Where's My Perry? (WMP) version of the electronic game, this board game includes some other Perry-related items. The first is a little cardboard figure of Agent P. You don't use it in the game. It's just a freebie. The second is some tips for the original WMW, WMP and Jelly Car 3 games. I actually bought the board game because of those tips and codes.
Now usually when I review something, I let you know only what my impressions are. In this case, I also want to address some points in the reviews that are on the Amazon website.
One of the complaints is that it takes about 10-20 minutes for an adult to put it together for the first time. That might be a few minutes more than other games need for their initial setup, but I don't think it's unreasonable. Some of it is from putting the stickers on the pieces and I've found that takes a little extra time to make sure they're lined up before you press them down.
Another is that sometimes the pieces come loose and fall off the board when a marble bounces off them. What people seem to be missing is that in order for the special pieces to turn and pivot, they can't fit snugly into the holes. If they did, they wouldn't turn and pivot, so occasionally they may fall out. You just put them back in. The instructions even tell you to use an emery board or sandpaper to smooth out the edges on the game pieces if you need to, though they did forget to tell you about the posts that snap into three of the game pieces.
The third complaint is that some people say you have to take everything apart in order to get it back into the box. I'm not sure why they think this because there's only three things you have to remove: slip off the plastic bathtub at the bottom of the game board, remove the shower pipe from the tub, and remove the cardboard stand from the back of the game board. Everything then fits and it's only going to take about 2 or 3 minutes to set it back up the next time.

I bought this at Toys R Us a while back, but it's not currently available in their stores on their website, so you will have to go to Amazon to get it for $20.
And that wraps up another merchandise review. I had to pack up a lot of what I've bought, so I'm not sure if I will have anything to review next time. So if you've got something, why not tell us about it? We'd love to see what you got and what you think about it. Contact me if you'd like to write a review for the Gazette.
Coming in two weeks:
Hands-on with the New Merchandise
Recent episodes review
Other articles to be determined (submissions wanted - send to RRabbit42 or use the Newsletter submissions page)
Got a question or comment about this issue? Leave them below.
Community content is available under
CC-BY-SA
unless otherwise noted.