(subscribe)

               
The Official Phineas and Ferb Wiki Newsletter, Issue 87: March 4, 2013
 


Crat Corner
by RRabbit42

What's all the chatter?
About three years ago, we experienced a surge where people were using their User Talk pages like a chat room. One person would leave a message, then another, then another. All within minutes or seconds of each other. This was before Wikia started introducing social media features.
The result was that the Recent Changes list was being overwhelmed by the people who were chatting, and the ones that wanted to see what else what being edited so they could be checked or fixed really couldn't do so. If I remember right, at its worst, there were something like 200 or 300 User Talk page edits in one day.
After Wikia started adding features like the chat room and blogs, this died down a bit and we got back to what should have been the main focus of the wiki: making a great resource for all things relating to Phineas and Ferb. But in the last month, we've swung back to using the Message Wall as a chat room and the Recent Changes list is once again starting to get filled up by Message Wall entries.
While it would be easy to make a new rule to clamp down on it, I am going to instead ask people to start reigning themselves back in. To that end, I'd like everyone to read the What this Wiki is Not policy and to remember the following:
When you are in the Chat, you can click on a person's name to have a private conversation with them.
Everything on a Message Wall can be read by everyone. Do you want everyone to read what you're chatting about?
Everything on a Message Wall becomes searchable and archived by search engines like Google. Do you want people months and years from now to be able to retrieve what you say today?
Those last two are very important. Even after something is removed from a Message Wall thread, it can be brought back in most cases. And you don't know if a search engine happened to record it before it was removed.
Whenever possible, please use an actual Chat room instead of your Message Wall if you're chatting frequently with your friends. There's also the IRC channels, which are a separate chat system.
So, please exercise some restraint before this becomes a bigger problem. Thanks.
Odds 'n' Ends
Just Another Day at Work?
Gangnam Style? That was so 2012. Dan Povenmire posted this on his YouTube account:
Any questions?
Interning ain't all that it's cracked up to be, or is it?
by RRabbit42
As we return to these wonderful episode reviews that I know you all love so much, let's look at two Season 2 episodes.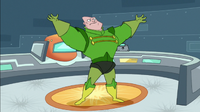 Every day, Perry the Platypus disappears and goes off who knows where. Well, we know where, because most every day, Dr. Doofenshmirtz is up to no good. But as "Oh, There You Are, Perry" shows us, there's an even bigger threat in the nearby Quad-State Area, and Agent P is reassigned to fight the Regurgitator. Though he's sad to go, he follows orders, but Doofenshmirtz is a bit miffed that he's not considered evil enough to warrant more than Agent S, a snail.
When Doofenshmirtz finally tracks down the Regurgitator, he finds out that being an intern for another villain isn't so bad and has a lot of perks. But it doesn't last as Heinz realizes that he doesn't want to be in the shadows. Through his own natural ability to undo his own schemes, Dr. Doofenshmirtz helps put the Regurgitator in the OWCA's jail and he and Perry become nemeses again.
But while this is going on, Phineas and Ferb have been missing Perry terribly and set out to find him. Their first attempt shows that there are many more platypuses/platypii/platypeople in Danville than they thought, so it's up to a rooftop downtown where their concert to bring Perry home will reach the most people. Even Candace joins in, having felt guilty about chasing him off during the night. It's a joyous reunion when Perry does indeed come home.
"Swiss Family Phineas" opens with Isabella joining the family on a trip out to sea. A sudden storm causes the ship to land on an island, and while Dad and Mom work on fixing the boat, Phineas and Ferb build some elaborate treehouses to make everyone comfortable.
Back on land, Perry had been left in Baljeet's care, who takes it very literally to watch Perry. This makes it difficult for Perry to respond to Major Monogram's summons via his communicator watch, and Monogram, having no one else that's available, reluctantly gives Carl his first mission.
With Carl providing a diversion, Agent P is able slip away from Baljeet and Buford, and makes his way to the island where Dr. Doofenshmirtz has opened a laundromat in order to eventually get some choice locations for his new business: an institute that teaches "Evilology".
Using monkeys may have seemed like a good idea at the time in how easily they could be changed into slave labor, but Agent P shows how easily that can be undone as well. The laundromat goes up in a tidal wave of pink sudsy water that pushes the newly-repaired 'H.M.S. Lindana back out to see, just in time for everyone to arrive home and see Baljeet's attempt to cover up that Perry went missing.
Both episodes offer something wonderful. "Oh, There You Are, Perry" brought back Clancy Brown, who first appeared as the Sergent in "Phineas and Ferb Get Busted!"
"Swiss Family Phineas" offers two treats: one of the first direct references to a previous episode, in this case "The Lake Nose Monster", and the opportunity for Carl to have an important mission. We've seen Carl before in locations outside the OWCA, like when he was at Blueprint Heaven, but the way he "squees" in delight shows this is an important and exciting task for him.
As we saw in later episodes, both Clancy Brown would be back again as Santa for the Christmas vacation and Carl would become more than just an unpaid intern. Hopefully, there will be more from both of them in the future, but maybe with less Evil for Extra Credit.
---
Hands-on with the P&F merchandise, part 59
by RRabbit42
That was disappointing. Not one of the four major stores I went to had any Phineas and Ferb Easter items. Last year, there were Easter baskets and egg decorating kits. This year, Walmart, Target, Toys R Us and Fred Meyer didn't have any. The amount of items they had was also down significantly, so if you were looking for specific characters, you might have found a couple for The Avengers or SpongeBob and that was about it.
One of the employees mentioned that it had kind of been that way ever since about Halloween, so not only were the retailers lacking in the critical Phinatic and Ferbaholic merchandise, they cut back on their selection for pretty much everything. So, if you were smart, you bought a couple extras of these kits last year or you might luck out and find them at a Walmart this year.
One thing I did manage to find at Toys R Us is an Agent P iPad case. This is manufactured by Performance Designed Products and will hold an iPad 2 or an iPad 3. As seen in the picture, there's a round hole in the upper right corner for accessing one of the iPad's buttons and there's two more along the left and right edge for access to the other data ports and buttons.
What isn't apparent from the picture is that the top is thicker than the bottom, so that when you set it on a table, it's sloped to make using the iPad a little more comfortable. It's also made out of a soft and flexible foam that makes it easy to hold. The box does warn that this is not a case to prevent impacts, so if you drop your iPad or are rough with it, don't take it out on Perry.
I had thought that I saw this case on the Toys R Us website a while back, but it isn't there right now. If you go to your local store, it will be in the electronics section. It's called the "Phineas and Ferb Soft Touch Kid Kit", though that's pretty well hidden on the box until you remove the case from the box, and it sells for $30. As with many of the recent products, it bears the Teal of Approval Certified logo.
Over on the pdp website, I found three other item featuring Perry:
There's also a couple of products for Swampy, the alligator from Where's My Water?, which has a connection to Agent P via the "Where's My Perry?" version, as well as the codes that were made available of you bought the Where's My Water? board game.
That will do it for this review. Tune in next issue to see what's been scrounged up.
Coming in two weeks:
Hands-on with the New Merchandise
Recent episodes review
Other articles to be determined (submissions wanted - send to RRabbit42 or use the Newsletter submissions page)
Got a question or comment about this issue? Leave them below.
Community content is available under
CC-BY-SA
unless otherwise noted.