(subscribe)

               
The Official Phineas and Ferb Wiki Newsletter, Issue 78: October 20, 2012
 
News and information from the world of Phineas and Ferb.
 
Crat Corner
by RRabbit42

In faraway lands
Have you been to our Main Page lately? Beyond the usual features of the slider that shows some of the upcoming episodes of the show, our featured pages and the month's birthdays, there are some other items that you may have missed. Most of them are in the right-hand column.
Three of the items we have set to auto-hide their content so that by default they just display the header. These are "Site notices", "Show News Blogs" and "Community News". The first is for special announcements and is the same as what you see when you get the notice about Community Messages being updated. The other two are blogs relating to the show and to issues for our wiki. When you want to read them, just click on the [show] link, then click on [hide] to make them small again.
The other major areas are the feeds from our Twitter account, which will include notices of what new pages we have and other great P&F info from the great P&F cast and crew and others, an RSS feed of P&F articles from around the Internet, and messages from our Facebook page.
And right above the Facebook section is two rows of flags with abbreviations next to them. These are the Phineas and Ferb wikis run in different countries. At the moment, there's eight of them:
DE for Germany
ES for Spain and Mexico
NL for the Netherlands
PL for Poland
PT for Portugal
PT-BR for Brazilian Portuguese in Brazil, Argentina and neighboring countries
RU for Russia
VI for Vietnam
Recently, a new wiki was started by Dekel E for P&F fans that speak Hebrew. It's located here. Since it is just getting started, it could use some help to get going. We can make a copy of the pages from this wiki and copy them to the new wiki pretty easily. From there, each one will need to be translated from English to Hebrew. Translation websites are a good place to start, but they're not a substitute for people who know the language and can translate not just the words but also the meaning and context so that the pages will flow naturally.
If you're able to help, please contact Dekel E. Let's see how quickly we can add that ninth flag and the letters HE to our front page. And if you speak any of the other eight languages, head on over to those wikis and see where you can lend a hand. I know they would appreciate it.
Delay is a good thing
(except when it comes to publishing this newsletter)
Mobo85 reported recently that the Phineas and Ferb movie has been pushed back until 2014. While we dearly would love to have seen it next year, knowing that they are going to take some extra time to make sure they do it right means we won't be disappointed when it arrives.
To give you an example of the kind of detail that we can expect from this extra time they're taking, Dan Povenmire recently tweeted a picture of their Production Supervisor holding a stack of 1801 pages that is the storyboard for just the last 11 minutes of the Marvel Crossover special. There's a lot of action there requiring the extra storyboards, about five times as many as a regular 11-minute episode.
Sometime next year, Disney will provide more info with a firmer release date. In the meantime, read Mobo85's blog for details.
Odds 'n' Ends
Listerine and Walmart are teaming up for a special promotion with P&F songs and coloring pages. Check out the Just Wanna See You Smile blog by Diovos.
Episode reviews will return next issue. We'd love to have them reviewed by other members of the wiki.
Facebooking for Halloween

Who are those mysterious characters? These guys kinda look familiar.. Wait, it's Phineas the Wolfman, Count Ferbula, Candace the not-so-scary ghost, while Agent P is channeling his inner Jeff "Swampy" Marsh and Doofenshmirtz has green eyes straight from a mysterious background on Phineas and Ferb's Facebook page.
Costumes Update

by Mouseinphilly
In our last issue, RRabbit42 and I had been doing a discussion way, way back in August preparing for the newsletter over the availability of officially licensed Phineas and Ferb costumes. RRabbit42 had pointed to the Spirit Halloween web site where there were Phineas, Ferb and Agent P costumes available. Putting it this way, think about the episode "Not Phineas and Ferb" when Buford was disguised as Ferb (and Baljeet played along as Phineas) to fool Albert, Irving's brother. ... Or so we thought.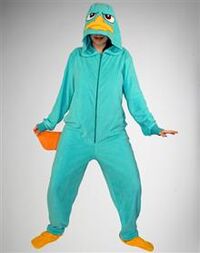 Checking the website, the costumes that were mentioned have sold out. The newer outfits however are available at the other sites that were mentioned. We apologize for any inconvenience this may have caused to those looking for said costumes. And there's good news though for the older fans of the show. For those of you who wanted a Perry costume, we found this at Spencer's Gifts, who also own the aforementioned Spirit Halloween stores and website.
It's a Perry hooded/footed pajamas and they're only $35 and available in medium through double extra large. It's a version of a Japanese costume playing ("cosplay") style called "kigurumi", or "disguise pajamas", where people dress up as animal characters. To make it even better, all you need is a brown fedora for total awesomeness. The feet are also removable from the costume, so you can wear regular shoes (like orange Chuck Taylors) with them.
Well, there's the brief update on the costumes and news on the subject. We hope we helped you out with availability.
If you would like to see a plethora of people who have made their own Phineas and Ferb costumes, check out this video on YouTube.
Jack O'Lantern, anyone?

As we approach All Hallow's Eve, you might be looking to make a Jack O'Lantern, and since we here at the Phineas and Ferb Wiki are already in the spirit (pun intended), you just might have something to do this weekend. With rudimentary carving skills, the disposal of the interwebs, printers, and even pumpkin carving sets, you can make a nice looking decoration for your porch.

If you don't know, our resident Irish lassie, Buunak Peabody tells us that the history of the Jack O'Lantern does indeed come from the home country of hers, and that before pumpkins, turnips were used to scare off evil spirits. Of course, if you're an old school Funky Winkerbean fan, you might try doing this with watermelons. At least they do that in Gravity Falls, Oregon during the summer, but that's another story, another show and yet, another Wikia to be discussed.

family.go.com). You can print out templates there to make a Phineas...

Also, remember (if you're a child) to always have parental permission and supervision in carving of any sort, and most important of all, never use a candle inside a pumpkin (instead use LED tea lights or specially made flicker lights). Live in an area where pumpkins aren't available? Seek out your local mass market craft store or even the internet for foam pumpkins that can be easily carved and reused every year. Any way you look at it, have a spook-tacular Halloween, and don't be afraid of anything...even giant platypus monsters.
---
Hands-on with the P&F merchandise, part 53
by RRabbit42
There have been a few board and card games released that feature some of the Phineas and Ferb characters like the Disney Channel Edition of Monopoly Junior, or else are completely new games involving the show, such as the "Funniest Card Game Ever" and the "104 Days of Summer! Game". We now have another classic game that has a P&F twist.
Basic Fun is a company that specializes in making smaller and travel editions of toys and games. They are the makers of the Kooshes sold at Toys R Us. They've made keychain and caribiner versions of games and movies like Tetris, Space Invaders and Toy Story, and even some new versions of classic toys like the Chatter Telephone the the Fisher Price Change-a-Tune Piano.
One of their newest products is the Roll 'N Go version of Connect 4. Basic Fun took the game and designed it so that it can be rolled up (into a heptagon, to give it its formal name) for storage. The two end caps lock it into that shape and provide a carrying strap. The rest of the game pieces and the stands fit in the center.
Gameplay is the same as regular Connect Four, with stickers of Phineas that you put on the yellow pieces and Ferb for the red pieces. If you've never played it, head over to Wikipedia to learn how. There's another variation where each player gets one blue Candace piece. You use to bust your opponent when you see they are going to win. It blocks their winning move and lets you go again. Of course, it really didn't help in the sample game I played since Ferb wound up with three possible ways to win.
You can get this game from Amazon for about $20.
In an upcoming review, I plan on showing some of the items that you can decorate your room with. As an intermediate step, I have two Perry pillows and a similar Perry item.
Target currently has an Agent P pillow for $20. This is a pretty large pillow, about 23 inches if you help him stand on his feet, but in reality about 17" if he's sitting down. It's 100% polyester, very soft and is made by Jay Franco & Sons. Looks like they've made a couple of towels and bedding sets in the past.
As you can see, Agent P has a pretty angry look on his face. That might be because he was given a yellow tail while his bill and his feet are their usual tangerine color. The lighting I used to take the picture isn't that great, but you can see the difference in color between the two.
There is another Agent P pillow that I found at a Toys R Us store. It's a half foot larger at 23" as he's sitting, also made of polyester and made this time by Just Play. The body is about 50% fuller than the one by Jay Franco & Sons.
Again, the lighting I used with my camera isn't showing the colors correctly. Perry's tail is showing up as really orange. It's actually closer to his bill and feet, but this time around, the tail is darker than those two.
At the moment, Toys R Us doesn't have this pillow on its website. I found it in a local store for about $25. It has the Teal of Approval Certified logo, which helps confirm that this is indeed a product line that Disney plans on using for quite a while.
Taking a side trip for a moment, according to this picture it looks like Pillow Pets made one for Perry the Platypus. I only started seeing commercials for them in the last couple of months, so I didn't know they had some other Disney Pillow Pets. (That's the page for the Perry pillow, but it's out of stock. It will show you the other Disney pillows.)
On one of my recent shopping trips, I headed into the FYE store. They've had some P&F items before at other locations. They did this time, too. It's another case of you just have to go exploring if you're looking for Phineas and Ferb products because you never know where they're going to show up and the websites for the stores usually do not list everything that is carried in the local stores. Add in that different stores in different regions carry different products of a particular brand, and it becomes a real treasure hunt. For example, I have not seen that "instant snow" at any Disney Store or on their website since I bought it last year at a Disney Store in the midwest.
At the FYE, they had an Agent P plush backpack. It is made by Loungefly and was $24.99. It's 18" tall and the zippered pouch on the back looks like it's large enough to hold a 16 ounce or 1 litre bottle. Not a lot of interior room, but the backpack is soft, so there's some extra padding when you're sitting down and you lean back against the seat.
Even though it's a soft backpack, it's not a good idea to use this as a pillow, especially for small kids. It has two straps attached to the back, so you might wind up getting an arm or even your head caught in them while you sleep. Just use it as a backpack.

That's all for this time. Check back next month and see what we have then. It's likely going to be the aforementioned bedroom decorations, but it may be something different if I find something else in the meantime.
Coming in two weeks:
Hands-on with the new merchandise
Recent episodes review
Other articles to be determined (submissions wanted - send to RRabbit42 or use the Newsletter submissions page)
Got a question or comment about this issue? Leave them below.
Community content is available under
CC-BY-SA
unless otherwise noted.