(subscribe)

               
The Official Phineas and Ferb Wiki Newsletter, Issue 72: July 21, 2012
 
News and information from the world of Phineas and Ferb.
 
Crat Corner
by RRabbit42
A new record
This issue sets a new record for our newsletter, but it's not a good one. The newsletter is almost a week late, which I have to chalk up to problems at work that left me with no time or energy to work on it. From what I can tell, it's going to be about the same for a while, so I will have to do some planning over the next couple of days so I can avoid having this happen again.
To all those who were missing the newsletter, I'm sorry.
Message Wall has arrived
If you haven't noticed it, the Message Wall is now active. You should have noticed it because we talked about it in the last two newlsetters and in the Community Messages.
When you send a message to someone, they will see an indicator next to their name at the top-right of the page that shows how many messages are waiting for them. If they reply, you'll see the same indicator so you can go back there and see what they said. As always, if you're on a different wiki, you'll receive the standard "you have new messages" popup to let you know.
If you'd like to have a header above your messages, create a page called Message Wall Greeting:yourName and replace "yourName" with your actual user name. There's more information about this on the Preparing your Message Wall Greeting help page.
Odds 'n' Ends
From Mouseinphilly: Hey, Where's the Perry Topiary?
Yes, Phineas and Fern have gone green. If you visit EPCOT at Walt Disney World in Florida, you can see their topiaries en route to the World Showcase. Amd maybe, you can even play Agent P's World Showcase Adventure there as well.
Thanks to KinHikari, who alerted me that a new documentary will be released this fall. I Know That Voice is about the history and processes of voiceover artists. If you've seen Dee Bradley Baker demonstrate how he does Perry's voice, then you won't want to miss this, especially since some other Phineas and Ferb cast members are in it, like Dan, Swampy, Tara Strong, Diedrich Bader and Kari Wahlgren. Check out trailer #1 and trailer #2 on YouTube.
Watch for something special to happen on the wiki to mark the premiere of the Season 3 finale and cliffhanger, "Where's Perry?".
Salads and Peach-Mango Flavored Apples, Anyone?

by Mouseinphilly
Feeling a little peckish in the middle of the summer? The folks at Ready Pac are set with new food items with a Disney License, and they're healthy for you, too.
The products, called "Cool Cuts" and "CrunchPac Flavorz," will feature four Phineas and Ferb items:
• Pizza salad, featuring Agent P and Dr. Doofenshmirtz. Ingredients include romaine lettuce, pizza ranch dressing, low-fat mozzarella, pizza flatbread chips and mini turkey pepperoni.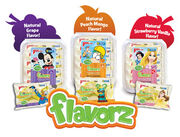 • Harvest Salad, with Phineas and Ferb. Ingredients are iceberg and romaine lettuce, fat-free ranch dressing, smoked turkey breast, fresh apples, pretzels and carrots.
• A mini-meal made up of veggies, chicken and pretzels. Ingredients are carrots, chicken nuggets, ranch dip, broccoli florets and pretzels.
In addition, CrunchPac Flavorz is introducing apples with a mango-peach flavor. Five other meals will be themed to other Disney Properties (Cars, Shake It Up, Mickey Mouse and the Princesses).
The products will roll out in the produce section of your local mega mart on or about August 1st.
---
Retro review: Christmas in July
Before we get to the subject of missing monotremes, the day before the debut of the first part of this summer's biggest cliffhanger, July 25th, is used by marketers as something called "Christmas in July", where radio stations play holiday music, cable systems on demand music channels play holiday videos, sales are held and so an and so on. I should know a bit about this as I am an administrator (with fellow user JeremyCreek) on something called the Christmas Specials Wikia.
So in that spirit, let's retro review A Phineas and Ferb Family Christmas, where the boys make a live holiday special sponsored by Wintobreath Toothpaste in a tribute to the old, old, old TV specials of the 1960s and 1970s, before there were over a thousand cable channels and hosted by big name stars like Andy Williams, Bing Crosby, or in this case, The King Family.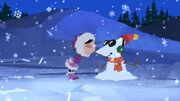 The best part about this "family special" is that they used Christmas songs. Isabella sings "Let it Snow, Let it Snow, Let it Snow" and this showcases the ever improving singing talents of her voice actress (Alyson Stoner), coming a long way from having her vocal talents dubbed in "S'Winter." We also get a rewritten version of the hymn "Good King Wenceslas" by Baljeet and Buford, and more importantly, the cast singing "We Wish You A Merry Christmas" including my favorite lyric "We wish you a Perry Christmas and a (Gyururururururu) New Year".
Of course, we all know the three important plot lines: The special (with a guest appearance by none other than Kelly Clarkson), Candace trying to bust them and Doofenshmirtz building another inator to try and get his Christmas shopping done because Phineas and Ferb's special is on, putting Agent P to work on stopping it. After all, as Ferb says "Every Christmas family special needs a little forced drama." The shopping part? Been there, did that, different holiday though.

All in all, this is a spiritual sequel (or prequel in this case) to "Phineas and Ferb Christmas Vacation!" I wrote on my blog on Christmas Specials Wikia that it was a wonderful episode, and enjoyed it. After all, isn't that the Holidays are all about, even if it's five months away?
Hands-on with the new merchandise, part 47
by RRabbit42
Several years ago, there was a commercial for an office supply store where the dad was joyfully riding a shopping cart through the store, while his two kids trudged slowly behind him. The dad was celebrating the return of school and it was accompanied by the song It's The Most Wonderful Time Of The Year! Unfortunately for many of you, that time has returned. To help perk up your spirits, there are several school supplies now available.
"Beware the Stare" is the slogan that first appeared on the souvenirs sold at Disney's Phineas and Ferb: The Best LIVE Tour Ever! This year, it is used on one of the backpacks sold by both Toys R Us and Walmart. There is a new slogan, "Furball wtih Attitude", which is on the second one sold by Toys R us. I haven't picked this up yet, but Walmart is rounding out the emphasis on Agent P with the Where's Perry? backpack that ties into next week's cliffhanger.
If you need something to hold your lunch in, both places have you covered. The soft-sided lunch bag to the right was at Toys R Us, and I got it during their "buy a backpack ($12.99 or more) and get a lunch bag free" sale. Walmart also has a combination backpack and lunch bag for about $13.
To go along with the lunch bags, Thermos has two "FUNtainers" available. One is a beverage bottle with a built-in cap and drinking straw. The second is a food jar. Both will keep items cold, the bottle for 12 hours and the jar for 7. The jar will also keep foods warm for about 5 hours. They're made out of metal, so read the directions for what types of food and drink that shouldn't be put in them.
Finally, different stores will have different kinds of notebooks and other school supplies. The Toys R Us store had a set that included two portfolios and a 70-page notebook. If you've read past newsletters, you know that stores like Walmart, K-mart and Target also have these kinds of things. They're not typically listed on the websites, so you just have to go exploring through the stationery and office supplies areas to see what they have. If you go to Walmart, check the "Under $1" section for other Phineas and Ferb goodies.
In keeping with my "start planning things ahead" plan that I talked about in the Crat Corner, I already know what I'm going to do for the next merchandise review. It's time to take a look at the latest in the series "Funnest" games: the Funniest Card Game Ever!
Coming in two weeks:
Hands-on with the new merchandise
Recent episodes review
Other articles to be determined (submissions wanted - send to RRabbit42 or use the Newsletter submissions page)
Got a question or comment about this issue? Leave them below.
Community content is available under
CC-BY-SA
unless otherwise noted.