(subscribe)

               
The Official Phineas and Ferb Wiki Newsletter, Issue 71: July 3, 2012
 
News and information from the world of Phineas and Ferb.
 
Crat Corner
by RRabbit42
Countdown to the Message Wall
We're getting closer to activating the Message Wall feature on this wiki. As discussed last issue, this is a different style of leaving messages for people that works a bit like blog comments, does a better job of notifying people when there's a response to their messages and helps "corral" responses together so you're not flip-flopping between two or more pages to read through a topic.
I just got done writing up a help page on Preparing your Message Wall Greeting so that if you want to get a head start on what will be at the top of your messages, you can.
If you have any last-minute thoughts about this, head on over to Topher's blog. I need to check with the other admins, but I'm thinking of about Friday, July 13th for the changeover.
One final reminder about the Message Wall. Erase anything from your Talk page that you don't want permanently archived when the Wall becomes active. It can still be seen if someone looks through the history of the page, but at least it won't be immediately visible in the permanent archive.
The Numbers Game roundup
Not long after a new episode premieres, either as a half-hour single episode or a pair of episodes, we usually see a new blog by Ryan Stoppable, revealing how the episode(s) did in the ratings. Every so often, he is helped by Isabella and Lego Liker, who provides a different take on the ratings and sometimes they both cover the same episode.
I thought I'd take a moment and spotlight the ones they've done over the past few months:
While we can leave sweating over the numbers to the TV executives, it's good to see at least in general how well Phineas and Ferb did in comparison to other shows. Now, if those ratings could only convince Disney to release the new episodes on a more regular basis....
Odds 'n' Ends
Yes, They Con! (2012 edition)

by Mouseinphilly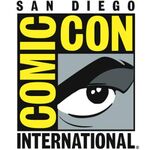 Yes, it's true. Just as certain as death, taxes and WrestleMania every year, there will be talk of Season 4 (including the "Meap Me in St. Louis" rumors possibly coming true and the Marvel crossover episode) at the forthcoming Comic Con International panel in San Diego on Saturday, July 14, from 12:30 p.m. until 1:30 p.m. PDT in Room 6A of the San Diego Convention Center.
Creators/executive producers/voice actors Dan Povenmire and Jeff "Swampy" Marsh will be joined by fellow cast members Vincent Martella, Alyson Stoner and Dee Bradley Baker, and also include an exclusive sneak peek of this summer's epic two-part cliffhanger episode "Where's Perry?", premiering on Disney Channel July 27th.
Stay tuned to the coverage on Wikia and we'll hopefully have a full report on the panel in a future issue of the Tri-State Gazette.

For more information about Comic-Con, the Wikia events at the convention and the various wikis that will be attending, check out the Represent Your Wiki at Comic-Con blog over on Community Central.
Additional information about the Disney-specific events at Comic-Con can be found in Mobo85's blog, Hot Off the Presses: "Phineas and Ferb" Joins Disney TVA's New Class at Comic-Con.
Not so Retro Review: Don't forget your yak bladder
by RRabbit42
Let's continue looking at the episodes that were a part of the "Time Shift" event earlier this year.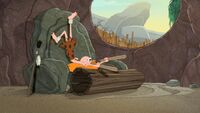 "Tri-Stone Area" is a story with some really unconventional storytelling. Not only is pretty much everything done in "cave talk", but Dan Povenmire and Jeff "Swampy" Marsh take direct part in the episode, showing the real way episodes are made. Forget storyboards and story pitches. Shatter the fourth wall and just explain things as you go.
As much fun as it was to see them, the story would have worked even if they weren't there to ensure we knew what was going on. The Big Ideas, the "Too Young" line, Gunka-lunk's backstory, his frustration at how much better his brother's life is, and Can-tok's quest to bust her brothers. All the classic elements, all there. Even a callback to the first episode by mentioning the "satelakka".
There were a couple of nice touches in this episode. It took me a few minutes to figure out why the mirror would be dripping water. If you're going to have the characters change their dialogue, it makes sense to have a grunting version of the Quirky Worky Song. And don't forget about Conk's cameo.
I think the cast have discussed a little bit already about the recording sessions for this episode. I would love to see those, especially when Dan's recording his lines.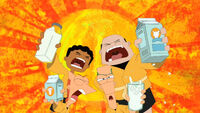 "Doof Dynasty" transports us from 27,000 B.C. to China in 1542. Princess Isabella is traveling through the land, accompanied by Regent Monogram. When she's kidnapped, Phineas, Ferb, Buford and Baljeet set out to find Master Perry, the only one capable of defeating Doofus Khan.
The artwork for this episode is really beautiful and detailed. It definitely captures the feel of ancient China. The training montage also featured a scene where the camera pans across and it's focused on the characters in the back row, leaving the ones in front out of focus. There's not many cartoons that would employ that kind of technique, but as we all know, this isn't an ordinary cartoon.
Accompanying the visual detail is the detail paid to some of the events going on in the episode: pointing out how things are named, Baljeet taking exception to what is bugging Buford, the fighting techniques that will be commonplace in later martial arts movies, and the flashbacks that no one else has pointed out that they can't see what's being remembered. Even the jingle singers get into the spirit of things.
Though the "Time Shift" event has passed, I wouldn't mind seeing a few more episodes where the characters are featured in different settings or times. It definitely makes sure that things don't get dull.
If you're traveling about the galaxy, don't forget your towel. But if you're traveling back to ancient China, don't forget your yak bladder. It's a must-have item for avoiding overly-complicated traps.
---
Public service announcement
by RRabbit42
It's late in the evening and I'm trying to wrap up this newsletter. Outside, a few people are getting a head start on their July 4th celebrations. Some of the fireworks being set off sound more like explosions than standard fireworks. One of these triggered car alarms. Comparing how far away the car alarms sounded to how loud the explosion was that went off, that had to be a really big device they set off.
Fans of Mythbusters know that "Jamie wants big boom". But do what you can to stay safe around fireworks. Keep a fire extinguisher and/or water nearby, and don't set them off without your parents if you're not an adult. Don't find out first-hand how painful a big boom can be.
Coming in two weeks:
Hands-on with the new merchandise
Recent episodes review
Other articles to be determined (submissions wanted - send to RRabbit42 or use the Newsletter submissions page)
Got a question or comment about this issue? Leave them below.
Community content is available under
CC-BY-SA
unless otherwise noted.