(subscribe)

               
The Official Phineas and Ferb Wiki Newsletter, Issue 136: May 11, 2015


Crat Corner
by RRabbit42
Just as this issue was getting ready to be published, it was announced that Dan and Swampy have decided to bring Phineas and Ferb to a close next month. A lot of details are available in Mobo85's blog and we will be covering this in greater detail in the next issue.
There is a lot of planning that now has to be done, involving getting ready for that finale and how we're going to run the wiki in the future. In simplest terms, it's now a race to save as much information as possible before it is no longer available. There's also an opportunity for us to fill several needs that will not be available anywhere else, like all those chapter books for the episodes that were never published.
Odds 'n' Ends
If you will be in the Seattle area at the end of this month, several of the cast and crew of a certain pony-centric cartoon will be attending the Everfree Northwest convention. It's another chance to learn more about voice acting, along with the Adventures in Voice Acting review below.
My thoughts on the Last Day of Summer

by Ryan Stoppable
Last week, it was announced that Phineas and Ferb's "Last Day of Summer" will be upon us soon; the 1 hour series finale is set to air Friday, June 12 at 9:00PM Eastern (8:00 Central) on both Disney Channel and Disney XD, capping off a three-day long marathon of every episode on the latter. I'm not going to lie here, it makes me sad that Phineas and Ferb is coming to an end - aren't we all? - but as they say, all great things must come to an end. And besides, no less an authority than Phineas himself would want to "keep moving forward". So with that in mind, I only have one thing to say to Dan Povenmire, Swampy Marsh, all the people who created and developed this wonderful world and those whose voices brought it to life: thank you.
Thank you for six years of smiles, six years of laughs, six years of memories.
Thank you for the characters that remind us that while nice guys and girls do finish first, the diabolical ones are often the funniest. And the nice guys and girls can also be pretty funny in their own right - as well written as the show is, all of the characters from Phineas and Ferb on down are memorable in their own ways.
Thank you for the episodes that did not fail to put me in a good mood, whether they were the first thing on a Saturday morning or something to look forward to after a long Monday or Friday. Not to mention the masterpiece that is Across the 2nd Dimension.
Thank you for the songs - the ones that are stored permanently in my brain, the ones I annoy people by belting out at random times, the ones that are on the playlist in my car. The ones that are so catchy, they get other songs that are stuck in your head out!
Thank you for reminding me what summer is, beyond just baseball season. (It's like the world's best story and it's waiting to be told. Man, where do we begin?)
Thank you for a show that introduced me to some of my best online friends, both here at the Phineas and Ferb Wiki and also on Twitter.
Thank you for the inspiring people to express their creativity in so many different ways: through pictures, through words like I have, through songs, even through their own Big Ideas.
Thank you for a show that, when it would go on, causes everyone in the room to light up, young and...my age alike.
But most importantly, thank you for creating a show that cemented my newly-rediscovered love for this crazy medium we call animation, a show that I proudly consider one of my very favorites.
Review: Adventures in Voice Acting
by RRabbit42
Issue 134 of our newsletter had the review of I Know That Voice (IKTV), John DiMaggio's documentary on what it's like to be a voice actor. As mentioned then, I had bought another DVD about voice acting called Adventures in Voice Acting (AIVA). I would say that these two DVDs are important to watch if you have any interest in becoming a voice actor. IKTV is an appreciation and look at the fun and serious side of the business. AIVA shows more of the technical side, but also some fun.
It's produced by Bang Zoom! Entertainment, a company that has done a lot of work on anime series and video games, so much of the DVD centers around those. But they do cover "original animation", which is the US-made cartoons we're familiar with. The biggest difference with the latter is that oftentimes, the voice actors will usually be in the same room and record their lines together, then the cartoon is animated to what is recorded. For the first two, the animation is already done and the voice actor is trying to fit the new words into the scene and it's done separately from the other actors.
Phineas and Ferb is kind of a mix between those two. Vincent, Ashley and the rest record their lines separately, but I'm not sure if they do an initial "placeholder" recording and go back later to do a final session, or if it's just people like Dan and Swampy doing the placeholder and the actors come in one time at the end.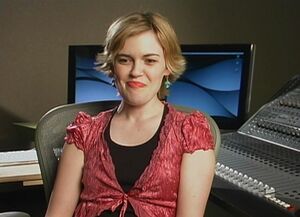 In Phineas and Ferb, Kari Wahlgren has what seems like a minor role, so it's easy to think that maybe she doesn't do much voice acting. But as you watch AIVA, it becomes clear that she is a skilled and well-respected actor, just like it became clear to me watching IKTV how skilled and respected Dee Bradley Baker is. She and Steven Blum (Spike from Cowboy Bebop and much more) seemed to be the most-featured actors on the disc.
Through them an all the others on the disc, you get a better sense of how hard it is to be in that business. There's things like having to keep an appointment book with you at all times and you may have one month booked solid and nothing the next, plus having to put in "on avail" times, which means you're scheduled to do a session, but you might find out the day before that they don't need you. Or working with the ultra-sensitive microphones that can almost hear your food digesting and trying to adjust your voice so it conveys the difference between talking to another character that is 3 feet away versus 3.5 feet away.
Just like IKTV, Adventures in Voice Acting addresses some of the misconceptions about voice acting. Money is a big one. There can be big payouts, such as the million-dollar contracts for doing primetime announcements for NBC. What's more common is having to take a lot of different types of voice acting jobs to make ends meet. They listed fourteen different types, which included books on tape, foreign film, radio commercials and telephone greetings. And even then, you may have to have another kind of job to support yourself like bar tending, waitressing or something similar.
It may seem like that becoming a voice actor is often a story of being an overnight success, but the reality is that it can take anywhere from five to fifteen years to get established. There's a good chance you'll be broke while you get going. Kari said there was one month where she had 92 cents in her account and no way to pay the rent. But another actor said that it's at this point where you're thinking you should quit that "this is the point where it can start to get good".
There is a lot of practical advice about things you can do to help yourself warm your voice up, things to put on your demo reel and make sure you record it with professional equipment because cheap equipment will make it sound cheap. Other advice covers getting your first job. When you get that first job, tell the director up front. They'll help you a lot more and forgive more mistakes if you do this than if you try to bluff your way through it, or if you they think you're a more experienced actor.
The warm-up advice is in the bonus features along with words of wisdom from the voice actors and a simulated recording session where you try to record lines for an anime series. The final thing in the bonus section is the voice actors discussing whether they are fans of anime and whether or not it helps them do their job.
As I said, these two DVDs really help you understand what it means to be a voice actor. From what I've been able to find out, Bang Zoom! Entertainment had a whole bunch of interviews available at one time and this disc was supposed to be the first of three they were going to release. But it's been over six years since Volume One was released, so this is probably it.
If you have any interest in voice acting as a career, buy Adventures in Voice Acting, Volume One and I Know That Voice. While experienced voice actors often get quite a few of the jobs, directors are almost always looking for new talent that might fill a particular need. And with companies like DreamWorks moving their animated shows away form cable networks to streaming services like Netflix, there are new opportunities and new roles for those who want them.
Adventures in Voice Acting, Volume One can be purchased directly from the website for $19.95 or from Amazon.com for $29.24.
Coming in the next newsletter:
Hands On With The New Merchandise
Recent Reviews
The Numbers Game looks back at the Best Summer Ever
Other articles to be determined (submissions wanted - send to RRabbit42 or use the Newsletter submissions page)
Got a question or comment about this issue? Leave them below.
Community content is available under
CC-BY-SA
unless otherwise noted.