(subscribe)

               
The Official Phineas and Ferb Wiki Newsletter, Issue 129: December 10, 2014


Crat Corner
by RRabbit42
Upcoming changes
Two issues ago I mentioned the new galleries that Wikia developed and suggested that we give them a try. We haven't done that yet, but we'll take another look at that shortly. Another change that Wikia has already put into place is the new navigation/search bar at the top of the page. It combines the "search the wiki you're on" with the "search everything on Wikia" function, as well as their menu to the different entertainment sections of their wikis. All wikis now use this.
Wikia has quite a few other features available that we haven't used here. Some of them didn't seem to fit into what we had on the wiki at the time they were released, so we decided against using them.
Over the next month or two, I'm going to take another look at these features. See what's changed and improved, play with them, and take a fresh look to see if we can use them here. I'll make my recommendations to the other admins and we'll pick the ones we want to use. Could be a lot of them, could be none. Don't know yet, but we'll find out.
This is going to mean two things. First, I am probably going to be about as active/inactive on this wiki as I have been for the past few months. I will still be around and I'll try to answer messages you leave for me. (Note to self: you've got a few now that need to be answered.) But keep in mind that I'm doing research on ways to update and improve this wiki. At the very least, you'll see me for each newsletter.
The second thing is that I'm going to postpone the fan art issue until about March. There's just not enough time before the end of the year to get permission from the artists. I try to give them at least a month in case they don't log into their account frequently. While I would like to have one ready for New Years Eve, I recognize I wouldn't do a good job of it this time. A couple more months will help me do it right.
That's something everyone can help me with. In the past, I have looked through deviantArt for artists to feature. But there are a lot more sites that have become popular in the past two years, such as Instragram and Tumblr. If you spot a good P&F picture on a site, drop me a note or add it to the comments of this issue.
Odds 'n' Ends
Seasons 1-3 are currently available to watch online if you have a Netflix subscription, but will no longer be available after January 4th since that's when their contract for the episodes will expire. Hopefully the show will be picked back up in the future and will include season 4.
The Numbers Game Looks Back: Volume Zero

by Ryan Stoppable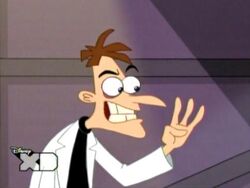 Hello everyone and welcome! As we all know, there were two new episodes that aired on Emoticon last week. Unfortunately, due to a combination of airing on a lower-rated network and doing so over a holiday weekend, The Numbers Game does not in fact have some numbers from either "Tales from the Resistance: Back to the 2nd Dimension" or "Doof 101" to talk about this issue. So we have to move on to Plan B.
And fortunately, that Plan B is a doozy. Welcome to the newsletter column (and blog before that) that has been your home for U.S. Phineas and Ferb ratings news, breaking down the numbers of our favorite show for over five years. This issue, join The Numbers Game in celebrating this momentous occasion as we look back past even the earliest volumes to an episode that spawned the since-deleted Show News blog that started it all.
The "Phineas and Ferb Musical Cliptastic Countdown" hit the Disney Channel airwaves as part of Season 2 on Friday, October 16, 2009. 4.449 million viewers did what it said, setting a new high-water mark for Phineas and Ferb by 9 percent. And even since then, that figure has only ever been topped by Across the 2nd Dimension and its 7.642 million viewers (live + same day), "Christmas Vacation!" at 5.213 million, and "My Fair Goalie" at 4.650 million. For the week, it finished 4th among Disney Channel programming behind Hannah Montana, The Suite Life on Deck and Wizards of Waverly Place, 6th among scripted cable programming, and my best guess would put it somewhere in the 10-15 range in the then-Cable Top 20.
As one might expect, the episode gained considerable success among its target age groups. The Countdown fared best among Kids 6-11, where an 8.5 rating propelled it to the No. 2 spot for the week, falling about 5 percent short of Hannah Montana for the top spot. Among Tweens 9-14, it scored a 6.4 age group rating, falling behind The Suite Life as well for a likely No. 4 finish on the week.
With the holidays approaching, Phineas and Ferb has a light schedule for the next few weeks. But if you haven't seen it recently, we cannot recommend "Phineas and Ferb Christmas Vacation!" highly enough - check your local listings and give it another watch. And the second Christmas episode is no slouch either - The Numbers Game will take a look back at "A Phineas and Ferb Family Christmas" next issue. Until then, leave your comments down below, and remember that then, now, and hopefully for many more issues to come...the numbers never lie.
Two new roles for P&F actors
by RRabbit42
This is a short report about some new roles that two of the actors on Phineas and Ferb have landed. First up is John Larroquette, who turned 67 last month. He has joined the cast of The Librarians, which is a new TV series that continues the three made-for-TV The Librarian movies by Electric Entertainment and broadcast on TNT. He plays Jenkins, the caretaker/custodian of the Library's Annex, who is a little put out at not working at the main location of the Library.
In short, The Librarian movies and TV series are a bit like the Indiana Jones movies in that artifacts are recovered from around the world and it takes acedemic knowledge to know where to look for them and what they are. But while Indy occasionally ran into objects with mystical or supernatural powers, The Librarian series embraces the mystical, magical and supernatural. For example, Flynn Carsen (Noah Wyle) regularly sparred with Excalibur.
A wiki for the series was just started a week ago. If you'd like to get in on the ground floor and help that wiki grow, head on over to The Librarians Wiki. While you're there be sure to check out The Librarian: Quest for the Spear, the second of the movies, which Kelly Hu had a role in. The three pages for the movie, Kelly and her character of Lana could use more information.
If you're a fan of the new Teenage Mutant Ninja Turtles series, Kelly confirmed last month that she's doing the voice for Shredder's adopted daughter, Karai, who has recently become a serpent-like creature.
Coming in two weeks:
Hands On With The New Merchandise ("I Know That Voice" should be ready for review in one or two issues)
Recent Reviews
Other articles to be determined (submissions wanted - send to RRabbit42 or use the Newsletter submissions page)
Got a question or comment about this issue? Leave them below.
Community content is available under
CC-BY-SA
unless otherwise noted.