(subscribe)

               
The Official Phineas and Ferb Wiki Newsletter, Issue 124: September 26, 2014
 


Crat Corner
by RRabbit42
It's now officially autumn and just as the weather starts changing, so are a few things for our wiki. Wikia actually rolls out changes every week, but there's a recent change that is going to affect us a little bit, and another minor one that is a change in attitude, for lack of a better word.
The minor change in attitude is that Wikia is continuing their branding of their wikis. The ones that they host and have created customized features for are called "wikias" instead of "wikis". It's like how the new wiki skin that we're currently using was originally going to be called "Oasis" and then they decided to name it after their company, or like how it's "Microsoft Word" instead of "Word" or "Disney's Aladdin" instead of just "Aladdin".
I think calling them "wikias" or "a wikia" just doesn't sound quite right, but it's not a big enough issue for me to do anything about it except for leave snarky comments here. Who knows? Maybe it will wind up like being something like when people say "Photoshop it" when Adobe would prefer that people not verb their program name. Also, did you know that "verbing" a name is actually creating a verb out of the noun "verb" itself? Now you do.
But the other change will be the header that appears at the top of every page. If you scroll all the way to the top of this page, you'll see the Wikia logo, the "Start a wiki" button, et cetera. That bar currently is fairly unobtrusive and does what it can to blend into the color scheme of a wiki.
The new Global Navigation bar is going to be more noticable. You can see it on the announcement blog. In short, it's about 50% taller, white, removes your user name next to your avatar and moves two items. The three major categories (Video Games, Entertainment and Lifestyles) are now in the drop-down menu next to the Wikia logo (the square with three lines) and has them split up into seven areas. The "Search this wiki" field that is in the upper-right on the pages is now in the navigation bar and has a drop-down selection that changes it from searching just the wiki you're on to searching "all of Wikia".
Where this will affect us is anything that is using an absolute positioning command to put a picture in a particular spot, such as our Era template or the pictures people have on their profile pages. Wikia said they were deactiving that ability, but I think it was still in use a while afterwards. It may also result in some changes to our background pictures for our special events. We might have to use a little bit of space to fade from the white into the color we want to use on our background. For example, with the Star Wars background, black was the major color, so the fade would be from white to black before we get into the graphics we want.
A couple more projects
And that leads us our Halloween skin. There's just a couple more days to get in your ideas for the Halloween theme. Enter them in Mouseinphilly's blog quick before time runs out.
We've done a pretty good job of getting the episode and character galleries into shape. I got a request that we should consider making galleries for the cast and crew. Some of them have a Gallery section on their pages, but these would be separate pages to house the pictures. And if I had been thinking ahead, I could have gotten a picture of Greg Guler to start a gallery for him. Nerts! A missed opportunity because I didn't think of it until just now instead of five days ago. More info about why is below.
One last thing I'm wondering about is how many people have their preferences set to use the Monobook skin? It's been at least four or five years since we did anything with that since we've been focusing our changes and features around the Wikia skin. I forgot it was even there until I had to use it when visiting a couple of wikis that had such a garish color scheme and was so difficult to read that the plain white background of the Monobook skin was a welcome relief. If we can get an idea of how many people are using it, we'll factor that in the next time we consider making an update to our front page.
That's all for the Crat Corner. On to my other articles.
Odds 'n' Ends
In house promotional propaganda: Mobo85 and Mouseinphilly are planning another special double barreled Twitter Takeover during "Night of the Living Pharmacists" on October 3rd from 7:45 PM until about 9 PM (Eastern) on our page @PnF_Wiki. Join in the conversation there and leave messages.
Congratulations are in order to the voice of Aunt Tiana, Megan Hilty. She just gave birth to a girl with her husband, Brian Gallagher, naming it Viola Philomena on September 18th in New York City. And as Uncle Bob Webber would say, mother and child are doing *snap* Okay!
Those headed to Disneyland for "Mickey's Halloween Party" hard ticket events, be sure to check out the new Phineas and Ferb Rockin' Treat Trail near Innoventions at Tomorrowland. The boys - along with the rarely-seen Agent P character - will be available for photos as well.
The Numbers Game Looks Back: Seasons Change

by Ryan Stoppable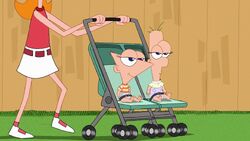 It seems like there's a common pattern going around. Temperatures are decreasing, the baseball season is coming down to the wire, football is starting up, and there's a new season starting this month. But I just can't put it all together. So in the meantime, welcome to The Numbers Game, the newsletter column that breaks down the numbers of our favorite show. This issue, we look back at a couple episodes where things just s'fell into place.
"Agent Doof" and "Minor Monogram" premiered together on May 11, 2012. 2.778 million viewers made it their mission to watch, a 24 percent increase over the previous week's "The Mom Attractor / Cranius Maximus" (in its defense, that had aired on opening night of The Avengers, which earned over $80 million that night alone). While not good enough to crack the Cable Top 25 for the week, the increased figure checked in 3rd on evening cable behind an NBA playoff game (the Clippers and Grizzlies if you were wondering) and its lead-in Jessie.
With viewership of kids' programming being higher across the board a couple years ago, the new episode was only able to crack the Top 10 among Kids 6-11, where it checked in at No. 9 with a 5.0 rating, a 4 percent increase over the previous episode. Topping those charts were SpongeBob in the Kids 2-11 bracket, Good Luck Charlie among Kids 6-11 and Tweens 9-14, and The Legend of Korra in Teens 12-17. Phineas and Ferb picked up the slack among Adults 18-49, where viewership increased 48 percent to an 0.4 and led the new Disney shows on the night.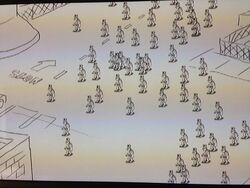 Phineas and Ferb hits the Emoticon airwaves with a brand new episode on Monday, September 29 when "Lost in Danville / The Inator Method" airs at 7:30PM Eastern (6:30 Central), followed on Saturday, October 4 at 8 PM Eastern (7 PM Central) by the one-hour Halloween special "Night of the Living Pharmacists" on Disney XD on Disney Channel, with the Emoticon debut October 12th. As ratings for the XD airings can be rather tricky to come by, it appears The Numbers Game will be headed for the Doof-zombies in our next issue. Until then, leave your comments down below, go Brewers Packers and Badgers!, and remember...that the numbers never lie.
Tidbits from Greg Guler
by RRabbit42
The Rose City Comic Con was held last weekend in Portland, Oregon. Though I would have liked to have attended both days, I wound up just going on Saturday. It's quite a bit smaller than the Emerald City Comic Con in Seattle, but there is still plenty of things to do and see. For me, it was a chance to meet Wil Wheaton, listen to a discussion about newspaper comics, another discussion on how professional artists deal with also making fan art, and to meet a couple people involved in some of the shows I like.
Amongst them was Greg Guler. The description for Greg was simply "character designer on the popular TV series Phineas and Ferb". He was there as a special guest at the artists' tables. He has been involved with many Disney series, such as Buzz Lightyear of Star Command and My Friends Tigger & Pooh. As I talked with him, I found out that he's played a few important roles in Phineas and Ferb.
The first is that he is one of the illustrators of Learn to Draw Phineas and Ferb. This book shows you how the characters are constructed and provides tips on how to draw them. For example, when drawing shirts on the characters, the sleeves are not round. They have points on opposite sides, as if too much starch was used in the laundry or the sleeves were made with creases.
Greg's second and more important role is that he is one of the original crew members of the show. As character designer, he took Dan's sketches and fine-tuned them into the characters we know today. Jeremy, Baljeet and the Fireside Girls are characters he created himself. He told me that Gretchen is directly based on his daughter. We have that noted on her page, but Greg went a bit further and said that he brought his daughter into work one day. Even before he had a chance to introduce her, Dan Povenmire recognized her as Gretchen. Naturally, he's proud when Gretchen has an important part in an episode.
We talked about a couple of other subjects and he asked me which character was my favorite. I realized that I didn't know, but I told him that I had an affinity with Irving and I appreciated the fact that they did a great job with that character's character. Someone who could have easily become real annoying is now someone I look forward to seeing in episodes.
I picked up an autographed copy of that book and two copies of the P&F picture he had where the only difference is that one had Agent P and the other had Perry. He was also kind enough to sign my Perry the Piggy Bank and took a picture of it. As I noted in the Crat Corner, I didn't even think about getting a picture of him. I wish I had.
But I guess I can find a little bit of amusement in the fact the he missed the significance of the shirt I was wearing. It was the I ♥ AGLETS t-shirt that Topher208 designed several years ago, based on Buford's shirt from the concert in "Tip of the Day". I did, however, get to explain what it mean to two other people who asked me about it, so the shirt helped me raise awareness about aglets. Topher has quite a lot of shirts and other products in his store, including several that are about things other than P&F.
As fun as the convention was, there is one gripe I had about it. It is this: conventions are difficult enough to walk around in because of the number of people that attend. Don't add to the problem by looking down and reading from your cell phone while you're walking. When you do this, you walk slower, you're not paying attention to where you're going, and you're not going to walk in as straight of a line as you can when you're looking forward.
This one of those things that should not have to be said, but it does have to be said because people don't think about it. They're so used to reading while they walk that they don't realize it's not appropriate for that environment. Put the cell phone away, or at least move off to the side and stop out of the flow of traffic if you absolutely can't live without your cell phone for the time you're there.
Hands On With The New Merchandise: The 2014 Halloween Costume Edition
by RRabbit42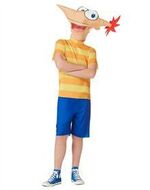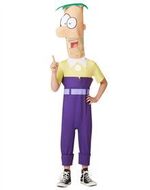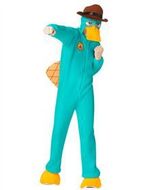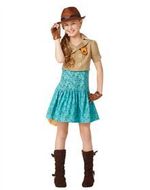 In a previous issue, we announced that we had info on some good Phineas and Ferb costumes. Before this year, there were a couple of full masks that a company tried to sell that were such a poor product that we didn't even mention them. They didn't look right and were not worth buying. Another company made flat cardboard masks that you just wore in front of your face. Better than nothing, but still not good enough.
Other than that, there was the Sassy Agent P teen costume, which was a dress and fedora, from Party City and Spirit Halloween. You could also get a different Sassy Agent P girls costume, currently available at Spirit Halloween. Boys could get an accessory set from Party City that would give them a trench coat, sunglasses and an OWCA-style badge. They're available again this year. (If the picture doesn't show up correctly when you look at it, you can see it on the search page.)
And that was it. If you wanted something that actually looked like Phineas or Ferb or Agent P, you had to make it yourself. For example, a quick look back at some of our previous newsletter issues reminded me that there is a child's costume and a different-looking adult's costume for "Parker the Platypus". Both are still available, so if you add a fedora, you can get something fairly close to Agent P. Or as Mouseinphilly's sister-in-law showed us you can make your own Fireside Girls costume.
Thankfully, the wait for officially licensed costumes for those three characters is finally over. As you can see by the pictures to the right, the costumes actually look like they're supposed to. Right shirt, right pants, and a headpiece that is shaped correctly for both of them.
If you're in the mood to go as Agent P, there's a jumpsuit that should fit both boys and girls. It comes with a fedora and a platypus tail, so you're going to be Agent P. Just practice his chatter/gurgle and you're set to go. Pro tip: buy a cheap digital recorder such as this microphone unit, this button-sized stuffed animal insert or this heart-shaped stuffed animal insert for under $10, record Perry from an episode and play it back while you're in costume.
Now, if you're a girl, you have an additional choice. The fourth picture shows the "Phineas and Ferb Perry Girl Child Costume". It comes with hat and gloves, as well as a dress. On the Spirit Halloween website, it looks like the dress is actually two different pieces: an overcoat-style shirt with buttons and a badge, and a teal dress with many images of Agent P and a platypus tail sewn into the back. But maybe it's all just one piece.
The four costumes are available at the Spirit Halloween store:
Those are the costumes for the "big three" in the show. But what do you do if you want to go as someone like Candace, Jeremy, Isabella or Doctor Doofenshmirtz?
Well, you're still stuck with making your own costume. We don't have official ones yet. I can't offer any tips on putting together a costume for the first three, but with Doofenshmirtz, most of his costume is pretty standard clothing: black short sleeve turtleneck shirt, gray slacks, black dress shoes. Maybe add a brown wig if your hair's not that color or you want to try to shape it like his hairstyle.
It's the last two pieces that are difficult to find. One is his nose and the other is his lab coat.
If you do a search for "nose" on one of the costume sites, you're going to find witch noses. While pointy, they're the wrong shape and not long enough, and they'll typically have moles or other disfigurations on them that would be appropriate for a witch ("warlock, not witch!"), but not Doof. The closest I've been able to find is the nose that comes in this Jughead costume. Since the price has dropped to $10, it's pretty reasonable to buy the entire costume to just get the nose.
Finding a lab coat was also difficult. Most of my searches lead to companies that rent or lease work uniforms. But Grainger has a couple of choices for lab coats you can buy. There's some disposable lab coats for about $5 each. Those are going to be thinner, so the black shirt is more likely to show through. A better choice is their collared lab coats. Thicker and more durable fabric for $25.55 each. Order about one size larger than you normally would so that it have extra room around your wrists and hang loose while it's unbuttoned.
To wrap this up, I'm going to offer a couple of alternatives to just having brown hair like Doof. If you want to go with the "there's a platypus controlling me" theme, you could get a white scooter helmet like this one from Amazon for $37, paint it and add the antennas and speaker. (See this picture for reference.) Or you can just stick a platypus on your head.
Got a question or comment about this issue? Leave them below.
Community content is available under
CC-BY-SA
unless otherwise noted.