(subscribe)

               
The Official Phineas and Ferb Wiki Newsletter, Issue 117: June 9, 2014
 


Crat Corner
by RRabbit42
Summer has arrived and Disney is starting to show new episodes again, but they seem to be shifting back to using Disney XD to launch the premieres rather than Disney Channel. For those of you fortunate enough to be on summer vacation can catch them at 10 a.m. this week, while the rest of us will have to wait for the evening repeats.
I'm a bit occupied right now with some major work I'm doing on my house to make it a bit more up to date. So for a Crat Corner this time, I'm going to use it to put out the call for things we need help with.
The first is getting ready for the Star Wars special next month. Mouseinphilly got the ball rolling by creating a blog asking for designs for a special theme to celebrate that event. We already have two people who have volunteered. If we got a few more designs, we could actually rotate through them every couple of days. Even if you're not an artist, submit your idea and let's see if we can make it.
Next, I'm still looking for help with an upcoming article. If you've got ideas about What makes a bully, especially if they're different than the traditional definitions, I want to hear them. After what you'll read later in this issue, I think it's important we cover this.
And third, if you've got an issue you want to discuss, don't forget about the forums. You can use those instead of a blog, and you may even see it highlighted in the list to the above right.
Odds 'n' Ends
The Numbers Game Looks Back: Setting A New "Goal"

by Ryan Stoppable
Welcome to the newsletter column that breaks down the numbers of our favorite show, The Numbers Game! With thirty-two nations send to send their best and brightest to compete for the most coveted trophy in sports, it's only appropriate that this issue, we look back at Phineas and Ferb's own foray into (a version of) The Beautiful Game.
And that is of course "My Fair Goalie", a Season 3 episode that premiered on September 9, 2011. Riding a wave of momentum from the recent, wildly-successful Across the 2nd Dimension, it scored an audience of 4.650 million viewers behind a 2.5 household rating, good for No. 13 on the week's Cable Top 25. To this day, that remains that biggest audience for a regular, non-extended episode of Phineas and Ferb. That figure also made it Disney Channel's top program for the week, topping its lead-in airing of Up by 6 percent.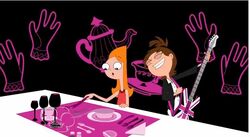 The new episode performed especially strongly among its target age groups. Among Kids 6-11, Phineas and Ferb rode a robust 9.0 rating to the No. 1 spot on the week, 21 percent clear of runner-up Victorious. Among Kids 2-11, it also checked in at No. 1, topping the aforementioned Up by 18 percent. The episode was also No. 3 among Tweens 9-14 with a 6.0 demographic rating there, trailing only Victorious and iCarly. Even among Adults 18-49, the show scored a stronger than usual 0.8 rating.
For the first time in three months, Phineas and Ferb returns to the new airwaves next week with a plethora of new episodes. The hour-long "Phineas and Ferb Save Summer" starts things off on Monday, June 9 at 10:00AM Eastern (9:00AM Central), with "Father's Day" (and not "Doof 101"?) on Tuesday, June 10 at 10:00AM Eastern, and "Imperfect Storm" follows on Wednesday, June 11 at 10:15AM Eastern (paired with "Return Policy" first). At least, that's what Emoticon's website listings are telling me. The Numbers Game will see what it can dig up, or else another trip to the archives may be in order. Until then, leave your comments down below, watch out for those blue shells, and remember...that the numbers never lie.
Got Game and Comet Kermillian episode review

by P&F fan92

This time I am reviewing a pair of episodes from back in season 1.

In the first episode "Got Game", Isabella beats Buford in a game of foosball. Meanwhile, Candace is shown in panic because Jeremy is coming over to take pictures of her, but she is having a bad hair day. She ends up putting on a football helmet to cover up the fact she is having a bad hair day. Meanwhile Isabella tells Buford, that it could be the biggest game in the world and girls would still beat boys. Phineas gets the hint and knows what he is going to do today. Candace comes and tells them to keep it down because Jeremy is coming, but suddenly Jeremy is there and starts taking pictures of Candace. Soon the F-Games stadium is built and the competition starts and Candace and Isabella are facing Buford and Baljeet. They end up doing a couple of games before they reach the final game, giant foosball. The girls end up winning after Buford tries to cheat. Ferb's house and Buford refuses to give congratulations and admit girls are better than boys until he gets hit by a ray from Doofenshmirtz's misbehavinator. While all this was happening Perry was given a mission by Monogram and Perry heads of to stop Doofenshmirtz. Perry disguises himself as a dog enough so that Doofenshmirtz thinks he is a dog and buys him. He then explains to Perry his evil plan. After Doofenshmirtz starts firing the misbehavinatotor Perry stops Doofenshmirtz and gets the inator. Perry then as he was trying to get away takes of his disguise and reveals who he actually is. Doofenshmirtz then chases after Perry to get his inator. Perry uses his grappling hook to grab onto something and fly away and Doofenshmritz grabs onto Perry. Eventually Doofenshmirtz falls off into the pet store starting a reaction that in the end causes a rocket to take the f-games away.

In the second episode "Comet Kermillian", it starts out with Candace coming through and saying how great a day it was since she was invited to the park by Jeremy to play croquet with him. Lawrence suggests she bring Jeremy to watch the comet tonight and Linda says there will be steaks. Phineas and Ferb soon after learning about the comet get the idea to build an observatory. Meanwhile, Perry gets his mission from Monogram in which he is told he needs to find about all the missing steaks in the tri-state area. Then, at the park Candace gets to park and says to Jeremy. Then Candace is shocked to learn Suzy is there too. Candace then picks up a pie as Jeremy heads to get the plates. Suzy hits a croquet ball into the pie Candace is holding and it goes into her face. Jeremy gets back and asks what happened and then heads to get a towel. Suzy then reminds Candace who the favorite girl is there. Then Jeremy gets back and hands Candace a towel and after doing so goes to get a soda. Suzy then offers Candace her soda which she opens and it sprays all over her. Jeremy then sees Candace with the soda all over her and goes to get another towel. Meanwhile Phineas and Ferb build an observatory to watch the comet. Back to the park Jeremy heads off to get snacks and Suzy then hits a nut into Candace's pants. She then starts dancing like crazy while the two street performers see are start singing Squirrels in My Pants. At the end Candace faints and the squirrels come out of her pants and the street performers realize she actually did have squirrels in her pants.

The first episode was good and I liked how Jeremy was glad to take a sporty picture or a picture of Candace in action. I also liked how they dealt with Candace's hair and that it turned into a new hairstyle for her that Jeremy liked. Got Game was a fun episode to watch that had good humor to which I give it an A. The second episode was good as well but I did not like what Suzy did to Candace and that she was trying to keep Candace away from Jeremy, but I am glad that Suzy got what she deserved at the end which was a pile of steaks on her. It was a good episode with a song that could be considered a YouTube moment that in my opinion was a fine song. I give Comet Kermillian an A as well.
The reality of fantasy
by RRabbit42
We all know that Phineas and Ferb is one of those rare cartoons that shows the wonderful and creative ways to celebrate summer. Like all cartoons, it's also a fantasy, letting us see spectacular things that could never happen in real life. Same goes for many movies and fairy tales and books and songs. We get enthusiastic about these things. We buy the episodes, music, posters, books and DVDs, go to conventions, and dress up as the characters for Halloween. We come up with nicknames for ourselves when we like them, be it just a "fan" or something more specific like "Phinatic", "Ferbaholic", "Brony", "Ringers" (for The Lord of the Rings) or what have you. We have fun because of our interest in that subject.
In the six years that this wiki has been in existence, there have only been a handful of times where someone has tried making Phineas and Ferb be more than just a cartoon and a fantasy. There was a little bit of kerfluffle at the time, but we got each one sorted out fairly quickly and life returned to normal.
But, this isn't always the case. Recently, a situation occurred where two kids tried to change a fantasy into a pretty horrific reality. You probably know what I am referring to, but for those who haven't, I'm not going to go into details and will only say that the girl they attacked got out of the hospital a few days ago.
Most people are focusing on condemning what happened. I look at what's been lost. Whatever they thought they would gain has been more than outweighed by what they now don't have.
We just started summer vacation. That's gone for them, along with their freedom. No trips to the mall, hanging out with their friends, sharing laughter and secrets and trust and good times and bad times, camping, looking at trees and flowers and frogs, skateboarding, bike riding, playing games in the backyard or just sitting in the shade of a tree.
They don't even get to be a teenager. They'll both turn thirteen at some point, but it won't be anything they get to enjoy.
It's sad and it's their reality now.
This is a very extreme case of trying to turn fantasy into reality. It's going to take a long time to sort out the motives and repercussions, and for everyone to heal the best they can.
Be enthusiastic and passionate about your hobbies and interests. But please, always remember the line that separates fantasy from reality. That way, when you "get excited and make things", as Wil Wheaton often says, you can hopefully make the world a better place or add something new and wonderful to it.
Coming in two weeks:
Hands-on with the New Merchandise
Recent Reviews
Other articles to be determined (submissions wanted - send to RRabbit42 or use the Newsletter submissions page)
Got a question or comment about this issue? Leave them below.
Community content is available under
CC-BY-SA
unless otherwise noted.