(subscribe)

               
The Official Phineas and Ferb Wiki Newsletter, Issue 114: April 20, 2014
 


Crat Corner
by RRabbit42
One of the classes I mentioned last issue took me away from home. While there was Internet access at the hotel, I found that the room really isn't set up for long-term use of the desk. The desk was too high to make typing comfortable and its chair wasn't adjustable. I'm not sure what the interior designer was thinking when they chose that furniture.
As a result, I found myself reverting to a technique that's worked well in the past: grab a pen and a pad of paper, curl up in the recliner next to the bed and write things out by hand. Thinking back, I'd say that some of the best articles I've written for the Gazette have been done this way.
It's a completely different process for writing. A computer allows me to rearrange text easier and gives me an assist with spellchecking. (Thank you, teachers, for helping me learn to be my own spellchecker.) But writing on paper takes time, helping me choose my words more carefully. Even crossing out a section helps because it's still there if I want to bring it back or change it to make a new point. Word processors only have so much buffer spacer to undo or redo things and it's much harder to jump back several steps to change one thing without changing everything after that point.
If you're ever stuck while writing something, give this old school method a try. It may help you gain some clarity for your subject, and you might realize you've been trying to set fire to the sun when you don't need to.
Odds 'n' Ends
The Numbers Game

by Ryan Stoppable
They tell me that "spring has sprung". But from where I'm sitting, with snow on the ground and temperatures struggling to reach the freezing mark even in the middle of April, it feels like the long winter is not quite ready to let it go. Fortunately, The Numbers Game is enjoyable in any weather. So let's get to it.
A pair of Phineas and Ferb episodes made their Emoticon debuts in recent weeks. The first of these was "Cheers for Fears", premiering on Saturday, March 29. 331 thousand viewers were brave enough to tune in, a 19 percent decrease from the previous Disney XD premiere, four weeks prior (although that one was a brand new episode). This was only good for 74th on the week among all Emoticon programming, a listed topped by a Friday night airing of Chicken Little. It earned a 0.2 household rating, down a tenth from "Live and Let Drive", although that doesn't really give us much information for numbers in that range.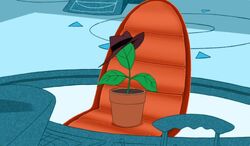 It was "Just Our Luck" that the numbers rebounded with that episode's Disney XD premiere the following week, Saturday, April 5. That episode went dancing in the sunshine with 520 thousand viewers, a 57 percent increase over the previous week behind a 0.3 household rating. For the week, it ranked 4th among all Disney XD programming on the week, falling in just behind a Sunday afternoon Phineas and Ferb that topped the chart at 544 thousand. Four other airings also found their way into Emoticon's top 20 as well.
There don't appear to be any new Phineas and Ferb episodes on the near horizon, and you know what that means: more time to watch baseball! (Well, that's what it means if you're Ryan Stoppable, in any event.) It also means we'll be dipping back into The Numbers Game Archives for next issue. Until then, leave your comments down below, go Brewers!, and remember...that the numbers never lie.
Phineas and Ferb The Movie: Across the 2nd Dimension review

by P&F fan92
I am reviewing Phineas and Ferb The Movie: Across the 2nd Dimension this time.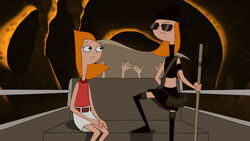 In the movie, the boys travel to the second dimension with Perry and Dr. Doofenshmirtz and they discover that the Tri-State Area is ruled over by Doofenshmirtz from the second dimension. The boys and Perry then get separated from the portal and need to find their way back. They find their 2nd dimension counterparts and describe in song what summer is. The four of them then go across the street to get help.
Dr. Baljeet then helps them by using a lot of energy to open a portal for Phineas and Ferb to go through. They decide they need Perry and cannot leave him in the second dimension. Then Candace comes through the portal and the portal closes. Everyone in the lair, minus the Firestorm Girls, go to get Perry by going underground, but first dimension Phineas, Ferb and Perry end up being captured and sentenced to doom. Candace from the second dimension then comes to save them and gives them the remote but gets captured herself. They escape by opening a portal and go through many dimensions to get back to their dimension.
When they get back to their dimension, they see the Norm-bots are invading. A fight soon ensues and Doofenshmirtz from the second dimension is defeated and arrested back in the second dimension. After learning that Perry has to go away, everyone agrees to get their memories from that day erased with the Amnesia-inator. After the memory wipe happens, Perry plugs his camera into the screen in his lair and watches photos of him with his owners from their adventure.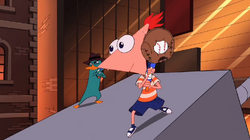 The movie was well worth the wait and met expectations. It had good music and an awesome fight scene. It was well written and had good humor. I liked that the boys finally found out about Perry's secret identity after Perry had tried to avoid blowing his cover. I was not surprised by the fact that everyone closely involved in the fight had to have their memories of that day wiped, in order to keep Perry and not have him relocated to another host family. From start to finish this movie kept things moving along and was never dull. Overall, this movie was excellent and was really fun to watch. So I give the movie an A.
So, what did you learn today?
by RRabbit42
If you're in school, that's a question you hear a lot from your parents or people you know. Sometimes you're happy or excited to answer that question. Other times, you don't want to answer it or be bothered with it.

A better question is "Did you learn anything today?" That's a question for everyone, not just those still in school. Hopefully, your answer will be, "Yes. Yes, I did." The reason why it's a better question is because it shows you don't want to stop learning.

You've seen people who have decided to stop learning. They're the ones that say, "I'm glad that's over with because I'll never need to know that again." What they don't know is that you never know what you need to know.

For example, do you know what Kelly Hu, Jamie Fox and Matt Groening have in common, besides working in television and movies?

The answer is that all of them learned things when they were younger that they didn't know they would be using in their careers.

For Kelly, it was martial arts. She had been interested in it when she was about five, but her mother wanted her to do things that were "more girly". She had to get her brother to teach her because he was able to take lessons. Later when she was 20, she was able to enroll in martial arts classes. This helped her land roles in TV shows like Martial Law and films like X2: X-Men United. She's able to do many of her own stunts, which makes the scene more realistic.

For Jamie, it was being taught to play the piano by his grandmother. She taught him many things, giving him "the tools" to use when he became an actor, but it was being able to play the piano that especially helped him when he portrayed Ray Charles in the movie Ray. Because Jamie could play the piano, the director did not need to hire a separate piano player, which would have meant filming some scenes completely differently, cutting between Jamie and the hands of the piano player.

That director took time to learn what Jamie could do. But a director Kelly worked with several years ago did not, leading to one of the worst experiences she's had when making a film. He assumed she knew how to speak Chinese. She didn't.

 
As a result, Kelly had to go through a crash course with no help to learn her lines in Chinese, followed by finding out that they had been changed when she started filming. It was such a bad experience that she's vowed to never watch that film, and even asked a fan to burn the copy he recorded off the TV.

In the case of Matt Groening, he watched a wide range of movies and TV shows, listened to everything from classical music, jazz, blues and reggae, and even arthouse music. Everyone who told him he was wasting his time didn't know he would turn those things into research for the TV shows he would later create: The Simpsons and Futurama.

I haven't had an experience as good or bad as those three, but I have used things recently that I learned a long time ago that I never expected to.

I was a teenager during the 1980s. Like several million other teens and kids, I had a Commodore 64. That's a computer that you had to know how it worked in order to get it to do anything. Today, it's a lot different since the operating system and programs handle most of that for you. But what I learned to get that computer online is still applicable today on fax machines. What I learned writing programs in BASIC has helped me figured out coding templates for wikis. Even concepts are still useful: "This is how we did it then. How would we do that today?"

Thirty years ago, I thought I was just playing with a great toy. Most of the things I thought I would do with it later on never happened. Instead, things I never planned on did. I never knew what I needed to know. Now that I recognize that, I want to keep learning as much and as often as I can. When I read a book, my bookmark is a sheet of paper where I write down the new words I learn from it.

So how about you? Did you learn anything today? I hope you did, because you never know when that one little detail might be useful later on.
Coming in two weeks:
Third article from a panel at ECCC 2014
Recent Reviews
Merchandise review: Belly Washers, round 2
Other articles to be determined (submissions wanted - send to RRabbit42 or use the Newsletter submissions page)
Got a question or comment about this issue? Leave them below.
Community content is available under
CC-BY-SA
unless otherwise noted.