(subscribe)

               
The Official Phineas and Ferb Wiki Newsletter, Issue 113: April 4, 2014
 


Crat Corner
by RRabbit42
This is going to be another short Crat Corner because there isn't any wiki business that I need to talk about at the moment and I have two articles to add. But I also need to announce that my review of the Phineas and Ferb toy box set for Disney Infinity is going to be delayed until about the May 16th issue. I am taking some classes at work that are going to eat up several weeks this month. The game guide has also been updated to cover all the sets and I thought I saw that there would also be two exclusive versions of the update, so I need time to research that.
In the meantime, if you have been thinking about writing an episode review, we have a list of what's been reviewed and what's available. If you know it will take a little while to get it written, you can reserve an episode until you're ready for it.
Odds 'n' Ends
Constant regulars to the site (as well as those who read this newsletter) were wondering if there would be any Phineas and Ferb: Star Wars items going on at Star Wars Weekends at Walt Disney World. You may remember back in August when the events of the Star Wars crossover were announced that we thought maybe...just maybe there would be a reference about it or some stuff. Jeff "Swampy" Marsh has officially confirmed that yes, there will be P&F: SW stuff this year via his Twitter account. We hope to have more info as the events get closer. -MIP
The Numbers Game Looks Back: Opening Day

by Ryan Stoppable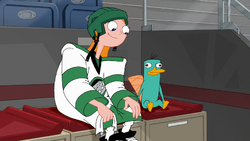 It's April now, and things are heating up throughout the sports world. College basketball is set to crown its next national champions, the race to the hockey playoffs is in full swing, and baseball teams across the country are celebrating the start of their new season. But The Numbers Game is always on fire, and this issue, we take a look back to an episode focusing on hockey and a new beginning.
Phineas and Ferb had the Opening Day of its fourth season back on Friday, December 7, 2012 with "For Your Ice Only / Happy New Year!" And while its connection to this time of year may be rather tenuous, its ratings were rock solid, checking in with 3.704 million viewers, up 52 percent from the previous week and 12 percent over the previous season premiere. This was good for No. 21 on the week's Cable Top 25, reaching those heights on the strength of a 2.2 household rating. It was 3rd among Disney Channel programming on the week, trailing its lead-in Austin & Jessie & Ally All-Star New Year and a rerun of Secret of the Wings.
With such strong overall numbers, the season premiere also performed strongly among its target age group. Phineas and Ferb checked in at No. 3 among both Kids 6-11 and Tweens 9-14, ranking behind the two programs mentioned above. In the Kids 2-11 age group, the show ranked in at No. 6. Even Adults 18-49 got into the act on that night, posting a stronger-than-usual 0.6 demographic rating.
Unfortunately for the aforementioned college basketball finals, Phineas and Ferb doesn't really have any way to tie into it since it, after all, is not Liv and Maddie. (Speaking of which, we all know where the youngest Miss Rooney will be this Saturday and Monday nights...) As for The Numbers Game, it appears we'll have a couple Emoticon premieres to discuss in the next issue. Until then, leave your comments down below, GO BADGERS!!!, and remember...that the numbers never lie.
An Overall Review of Phineas and Ferb

by P&F fan92
I am giving my review of Phineas and Ferb this time.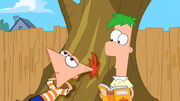 Phineas and Ferb is an excellent cartoon that has lots of good humor that is smart and is very funny. This cartoon is the only cartoon I actually watch. From when I first watched it I was a true fan and really loved the show. Phineas and Ferb is my favorite cartoon ever because it is very original in that it only deals with Summer Vacation and other times Phineas and Ferb are out of school and never shows Phineas and Ferb in school. The fact that the creators decided not to deal with school was a good idea that I am glad they had. I really like that they made all the characters smart and none of them are stupid or jerks. Another good thing about Phineas and Ferb is that the color palate they used for it is a excellent choice of color palate. I have enjoyed many of the songs that appear in most of the Phineas and Ferb episodes. I also think that the episodes are very well written even with how formulaic they are. I also like how they mix it up from time to time.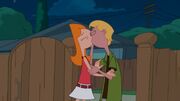 The thing about the show that really got me into watching the show was Candace and Jeremy's relationship. I really like how they have handled that relationship and have developed it more and more as the show goes on. I also like that they made Jeremy very understanding of what Candace has to go through and that he likes her just the way she is. The creators were very smart in how they handled Candace and Jeremy's relationship and that instead of waiting till the end of the series to make Candace and Jeremy boyfriend and girlfriend, as other cartoons have done with their big couples in the series finale, they got them together late in season two. Phineas and Ferb is a great cartoon and has many great episodes that have been made. My overall favorite episode of Phineas and Ferb is the special "Phineas and Ferb Summer Belongs to You!." I really loved that episode because it was the episode were Candace and Jeremy became boyfriend and girlfriend and shared their first kiss. Another favorite episode of mine was "Phineas and Ferb Christmas Vacation!." That episode was a great episode and very warming and fun to watch and is one of the best Christmas specials out there. One last episode that is among my favorites it "Happy New Year!." This episode is a great episode with that ends with Candace and Jeremy kissing for the second time. Those three episodes are examples of how well written a Phineas and Ferb episode can be.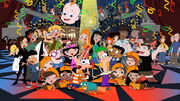 Among the songs that have been written for the show and have appeared in episodes, my overall favorite is Summer Belongs to You. It is a song that is fun to listen to and fun to hear what the characters have to say after their journey around the world. Phineas and Ferb is a cartoon meant for children and adults alike and in my opinion is the best cartoon on TV today. To say Phineas and Ferb is a good cartoon would be an understatement and to say it is an awesome cartoon would be a correct statement. Overall Phineas and Ferb is a great cartoon and I easily give it a A+.
Kelly Hu Q&A

By RRabbit42

In preparation for Kelly Hu's appearance at Emerald City Comic Con, we gathered questions to ask her if we got the chance. Her panel on Sunday was an informal get-together which started out with a few questions by the host, but after that, it was mostly questions by her fans. As it turned out, two other people asked questions similar to what we had, so we essentially got to ask her three. The questions below are how they were submitted on the Q&A blog, but weren't actually how they were phrased at the panel.


Knarrow02's question: What's it like voicing Stacy Hirano in Phineas and Ferb?

"I love voice work. I really do because because you can do it in your underwear. And also one of the fun things about voice work is, not only does it take like 20 minutes out of your day, you get to play characters you never would be cast in, normally. I get to play old ladies, which soon I will be cast as an old lady in real life. But I get to play little girls or I get to play monsters or whatever."

Kelly says that she also likes it because she doesn't have to worry about the technical side of acting, such as her appearance or where she's standing. She can just concentrate on one part, which "makes it a whole different art". She loves the people she gets to work with and would be "the happiest girl in the world" if she could become a full time voiceover artist.

When she was auditioning for the show, she had to do a scene where Stacy was acting as a boxing manager for Candace, screaming encouragement. Kelly got the role because she was the only one who could scream loud enough. That scene was the basis for when Candace and Stacy are in line at the Googolplex Mall to be the 100th contestant in "Flop Starz".

09MurphyM's question: Did she know about the surprise twist in "Happy Birthday, Isabella" when Stacy found out about Perry's secret?

(laughing) "No. I don't know anything before I go in. And on that show, too, we do a lot of our work, in fact, all of my work, I've done by myself in the recording studio. So, I don't ever get to see the other scenes or hear the other actors. The only reason why I even met Ashley Tisdale, who's my, you know, best friend on the show, is because she came in early one day for her voice work and I got to meet her just because we overlapped a little bit."

Kelly recently acted in a video game that will be announced later this year. She wasn't told what the title is. It's a rare situation where an actor will be told major plot points or details ahead of time. Alex Kingston (River Song in Doctor Who) and Alan Rickman (Severus Snape in the Harry Potter series) are two notable exceptions who were told advance details about their character so that they could incorporate it into their acting.

 
RRabbit42's question: Do you prefer recording sessions where the actors are recording together or separately?

"You know, it is fun to have the other actors there because you can kind of feed off them and if they give you a different line reading, then you can sort of answer appropriately or whatever. But the producers try to do their best to describe the situation and what's going on, and if the other actors have already been in before you, they'll play what they have recorded so you can match stuff, but otherwise, it's you trusting the producers."

In that video game, she and the other actors had to wear motion-capture suits. Kelly said that it can be a bit absurd when she's trying to do a serious scene and she's facing someone wearing a green unitard with reference dots glued to their face and a camera on their head.




---


That's it for our questions. If you would like to watch Kelly's panel, you can do so at the ECCC 2014 section of FlipOn.TV. The video is in the Premium section, which means you will have to pay to watch it, but the $14.95 cost gives you access to all of the archived videos for this event.

Just a little bit of warning, though. There's a few instances of Kelly's self-admitted "potty mouth". She did apologize for that, and even offered to pay a dollar to a kid that was in the audience. But when you listen to the panel, you'll hear that Stacy's voice is very close to Kelly's own voice.

She's a good person and fun to listen to. I had her sign the Perry the Piggy Bank I made. The person with her at the signing table got a picture of her holding it and one where she's kissing the beak. Hopefully, those will be up on her Twitter account in the future. I was too surprised at how much she liked it to think about getting a picture of my own, but pictures at most of the signing booths were not allowed.

After I figure out how to make the piggy banks a little easier, I'll see about making one for her or any of the other cast and crew members that are at other conventions I attend.

There is another Comic Con later this year in Portland, Oregon. It's the Rose City Comic Con. They just started announcing the guests for 2014. I don't know if a related convention, but it's nearby and they are using a similar design as ECCC uses. Check back in a couple of months to who will be attending. Wil Wheaton has already been confirmed and you'll learn about an important contribution of his in another article.

If any more Phineas and Ferb cast or crew will be there, we'll set up another blog so you can post your questions for us to ask if we get the opportunity.
Character design by Character Designers

By RRabbit42

One of the panels I attended at Emerald City Comic Con was a discussion about character design by two people who have been the lead character designers on some familiar shows. One is Brett "2D Bean", who has worked on Slugterra and the characters for Chrona and the Inklings in Disney's new game, Disney Hidden Worlds. The other is Stephen Silver, who has worked on Kim Possible, Danny Phantom and The Penguins of Madagascar.

The panel was about character design for video games, but their advice applies to many genres. While it may be many years before the artists of this wiki would even begin thinking about turning a hobby as an artist into a career, I wanted to share some of what I learned to help you improve your skills today.

First, a common question is "How do I develop my own style?" The simple answer is that it will come on its own. You start out by studying how other artists made their work and copying what they do to learn their style. And then, there may be that one moment where you're working on a drawing and suddenly it's there. The curve or shape of a line that's uniquely your own.

But once you've found your own style, that can't be the only style you ever draw in. There are very few opportunities for a person who only draws one way. You'll still work with other people and with their style. In fact, when artists put together a portfolio to show their artistic skills, sometimes what's missing is interpreted as they're not able to do that type of work. The example they gave is that if you have a drawing of fruit and you include one of an apple and one of an orange, but you leave out the pear, it could be assumed that you don't know how to draw pears. Stephen Silver keeps some of his early work in his portfolio in case the style of one of those drawings could be coming back into vogue or needed for an upcoming project.

The next point they discussed covers developing and improving your style. Showing your work to your parents isn't going to get you an unbiased opinion. It's nice to hear that they like it, but sometimes that's not what you need. Likewise, Internet sites like deviantArt and Tumblr can help and hurt you. You get extra exposure for your work, but don't depend too heavily on feedback you receive (or the lack of feedback you don't receive) to determine your worth as an artist.

Now, one tip that I don't quite understand is the advice not to trace your work when you are ready to clean it up. Silver says that tracing "loses energy". I know that when a drawing is being constructed, there's lots of lines that go in to help define the shape of an object or character and they have to be removed when you're ready to finalize the drawing. Going from rough sketch to finished drawing without taking a side step via tracing the image is something I've never tried doing before.

 
Stephen and Brett will frequently look at the portfolios of other artists. They have seen quite a few times where an artist will come up with an amazing design, but then the question is, can they do three more that all fit together? That's what a character designer has to do.

One technique for that consistency is to come up with a "design library", showing a series of eyes, noses, ears, etc. Another technique that Silver uses when talking with a client about coming up with a group of characters is to work out the details on one character, make sure it's what they want, then expand that to the rest that are needed. That way, he doesn't put the effort into making five characters that all fit, only to be told, "that's not what we were looking for".


The last two tips they gave involve gestures and "feature creep". A character's gestures make a drawing more than just a static picture. They help convey what's going on with the story and what the character is doing. It's their second-most important aspect of a drawing, right behind story itself.

As to "feature creep", that can take the form of trying to jump the gun and trying to work on all the tiny details and background images first, instead of at the right time, which is at the end after everything else is done. It can also when you keep coming up with more and more capabilities for your character, to the point where he or she is about to turn into a completely different character. In these cases, reverse the maxim. Use some of the 1,000 words to describe your one picture or one character. Write it down, then use that to clarify what you want to do with the character or drawing.

---


If you'd like to see more of their work, as well as from the host of the panel, Chris Oakley, check out the following websites. Stephen Silver has been moving his career towards teaching other artists and you can watch some information on his YouTube channel.

Chris Oakley
Coming in two weeks:
Hands-on with the New Merchandise
Recent Reviews
Other articles to be determined (submissions wanted - send to RRabbit42 or use the Newsletter submissions page)
Got a question or comment about this issue? Leave them below.
Community content is available under
CC-BY-SA
unless otherwise noted.