(subscribe)

               
The Official Phineas and Ferb Wiki Newsletter, Issue 110: February 20, 2014
 


Crat Corner
by RRabbit42
Looking for a new admin
It took longer than planned, but in the past month, I went through and updated our roster of administrators, chat moderators and those with rollback rights. We may have to come up with a nickname for the last one. Rollbackers? Rollers? Something.
While that was being done, one user was patiently waiting for that roster update to be completed and continued working on improving the wiki. According to the Top editors list, he's currently #8 in contributions to this wiki. Voting on P&F fan92's nomination to be an administrator is still going on. He was nominated earlier this month and we'll keep this open for a little while longer to give others a chance to vote.
Also, while you're there, take a look at the talk page. I have made a proposal to modify the "you can't nominate yourself" rule so that you could nominate yourself if you meet a little higher requirements.
I know that we're a little more strict on who can be an admin or a bureaucrat and our process takes longer than on other wikis. But it's helped us make sure we have good candidates. It's also helped us avoid problems I've seen on a couple other wikis where admins start abusing their powers, or if they're a bureaucrat, they start giving and taking away admin rights with little or no reason, which is a different type of abuse of power. When either of these happen, it's bad, and it usually takes getting help from Wikia to straighten it out.
Next upcoming events
The Valentine's Day background will be changed this weekend to one for Platypus Day. I kept the picture from last year, so I should be able to update it so that it can be used with the new variable width layout Wikia put in place. I think I have the correct dimensions figured out now so that we don't get a border between the side pictures and the main content area.
I'm not sure how long we'll be celebrating Platypus Day, but it will probably go a little past March 1st. This will give us some time to plan out a new background for this wiki's sixth anniversary on April 1st. We have the understated background, which you can see by clicking here, or we can come up with something a bit more extravagant. After that would be Easter, if we want to try and come up with something for that.
Odds 'n' Ends
There's still time to get in a question to ask Kelly Hu, in case the opportunity presents itself when she's at the Emerald City Comic Con at the end of March.
The Numbers Game

by Ryan Stoppable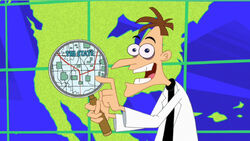 February is often thought of as a time for romance. But it is also a time for new beginnings, a time when thirty teams head to warmer climates, each believing that this is their year. Welcome to The Numbers Game, the newsletter column that breaks down the numbers of our favorite show. And in honor of baseball's new beginning, as well as the month of Ferb-ruary, this issue we take a look back to when said favorite show was just starting out.
Following a pair of "sneak preview" episodes in 2007, Phineas and Ferb made its official series premiere with "Flop Starz" on Friday, Ferb-ruary 1, 2008. 3.987 million viewers wanted to see what all the chatter was about, good for No. 16 on the then-Cable Top 20. It would take over a year and a half, until the Season 2 episode "The Baljeatles / Vanessassary Roughness", for that figure to be topped. It ranked 3rd among all Disney Channel programming on the week, lagging behind Friday evening and Saturday afternoon airings of The Incredibles.
The new cartoon also performed very strongly within its target age groups. Among Kids 6-11, Phineas and Ferb scored an 8.2 rating, good for No. 3 on the week behind Super Bowl XLII and the above-mentioned Friday night airing of The Incredibles. It checked in with a 6.4 rating among Tweens 9-14, edging The Suite Life for No. 3 on the week and also setting a new record for an animated cable premiere.
Looking at the Disney Channel schedule, there does not in fact appear to be a new Phineas and Ferb scheduled for Platypus Day weekend. As a result, The Numbers Game will be heading back into the archives next issue. Until then, leave your comments down below, and remember...that the numbers never lie.
And it's over... or is it?
by RRabbit42
Last week, we got word that Phineas and Ferb may have been cancelled, which quickly changed to being on hiatus, and now that hiatus appears to have already ended. Details are in Dragonknight86's Phineas and Ferb on Hiatus after Season 4 ends blog, with the latest information being added a day ago that Dan Povenmire says the designers are back from the hiatus.
That article on the Cartoon Brew website had to be updated twice within a day or two of when it was published. The first update was to change it to say the show wasn't cancelled, and the second was to say that it was on "indefinite hiatus". And now it appears that it wasn't the artists or board artists who were on hiatus, it was the designers. I don't know if that's the same thing or if those are different job descriptions, but if it's the same, I think Dan Povenmire would have said so or said that he was glad the crew was back.
The quote by "an anonymous Disney staffer" said that it "was a nice, five-year run". However, Phineas and Ferb has had four seasons, but with production going back seven years, since work started on "Rollercoaster" around January 2007. Either that person was thinking of upcoming episodes and specials which would stretch into a fifth season, or he/she didn't have their facts straight.
This is a good example of why it's best to wait for additional details when you hear things like this. We went from "Phineas and Ferb is cancelled" to "we're taking a break" to "they're back to work", all in the space of just one week. The rush to be first to report a particular bit of news is oftentimes more important these days than making sure it's going to be completely correct by the time it's published. After all, you can always go back and update the article, right?
Coming in two weeks:
Hands-on with the New Merchandise
Recent Reviews
Other articles to be determined (submissions wanted - send to RRabbit42 or use the Newsletter submissions page)
Got a question or comment about this issue? Leave them below.
Community content is available under
CC-BY-SA
unless otherwise noted.