(subscribe)

               
The Official Phineas and Ferb Wiki Newsletter, Issue 105: December 1, 2013
 


Crat Corner
by RRabbit42
Seasons Greetings, everyone
This year's background was provided by Alfa9delta, who is one of the administrators for the Brazilian Portuguese Phineas and Ferb Wiki. As I said on the blog Mouseinphilly created for getting a head start on creating new Halloween and Christmas backgrounds, this solved the problem we were going to have of the changes that will take place this Wednesday once the new Fluid Editor becomes enabled on all wikis. I really wanted to use last year's background again, but was probably going to have to change it less than a week later. Now I don't have to.
Once we see exactly what they changes are going to be, we can start work on some new backgrounds that should work with pretty much everyone's monitors, no matter the size or resolution.
Another change that will happen is that Wikia is deactivating the absolute positioning of graphics. This is the trick where you use a DIV command to display a picture at a certain spot on the page. It's against their Terms of Use. It hadn't been a problem here before because people were using that to put a picture they liked on the sides of their page. But now it could be a problem because the wiki's page width is going to auto-adjust to whatever size monitor you have.
Anyone who has that on their Profile page will need to move the picture to inside the Profile area if they want to keep it. Replace the DIV command with a standard file command: [[File:Hello.jpg|right|150px]]. If they don't do anything, the picture just won't be displayed any more.
Our Era template uses the same method to line up the icons along the left side of the page. That was because once the Wikia/Oasis skin was activated three years ago, sometimes the top of the page started lower if the name of the page was extra long and we couldn't get it to stay in the same area all the time. We'll have to adjust it, but after we see exactly what happens this Wednesday.
Admin nominations and rights requests
As announced before, everyone who has admin, chat moderator or rollback rights that hasn't been here in a while has been contacted. If it had been over a year, the rights were removed. If it was within a few months, a "are you still interested" message was left for them. In between, the rights were removed with a note that they should re-apply if they want them back.
Of the three admins I contacted, so far, Jihye is the only one that has responded. She has decided to step down as admin, but will stay as chat moderator with rollback rights. I have updated our admin nominations page so that we can get going on finding new admins. There may be other nominations opening up, depending on what Topher and SuperFlash do or do not say.
If you're looking to become a chat moderator or have rollback rights, head on over to those forums and put in your request. There's a couple of rollback requests that we'll wrap up as soon as we can.
A few last tidbits
We have tried to make everyone aware that they can nominate an article to be featured on the front page. We have enough high-quality pages that we could have a new article on the front page each month. The only extra thing that needs to be done after an article in nominated is that a different person needs to look it over and see if anything needs to be fixed before we start voting on it.
At the moment, we don't have any nominations to vote on this month, which would become our January article. Please help out and go to the nominations page.
Finally, it's about this time of the year I start preparing for the fan art and puzzle edition of our newsletter. I am going to postpone this until at least January. It takes a while to contact the artists and get their permission, and I know I won't have time to do that this month. Plus, I think I need to follow-up with the artists from last year. I don't think I notified them of which of their pictures I used.
If you have a recommendation for an artist to contact, leave them below in the comments. Please include a link to their website. It doesn't have to be just on deviantArt, but that's where I look first.
Odds 'n' Ends
The Numbers Game Looks Back: Two Wondrous Weekends

by Ryan Stoppable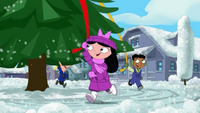 There's no mistaking it anymore - it's beginning to look a lot like Christmas outside. The trees and the lights are making their appearances, you might have snow on the ground, and we here at the Phineas and Ferb Wiki have a rather rockin' new background. Welcome to The Numbers Game, the newsletter section that breaks down the numbers of our favorite show. With no new episodes on the schedule until next year, let's instead take a look back.
"Phineas and Ferb Christmas Vacation!" premiered originally on Disney XD, back on Sunday, December 6, 2009. Christmas was starting now (well, then) for 2.623 million viewers. To this day, it stands as the most-watched telecast in Disney XD history, going back to the channel's inception as Toon Disney in 1998. Additionally, it was the No. 1 show in its time slot among Kids 6-11, Tweens 9-14 and boys of those age groups.
The holiday special followed that up by premiering on Disney Channel on Friday, December 11 of that year. 5.213 million viewers felt that Christmas feeling on a 2.8 household rating, second only to the movie amongst all Phineas and Ferb episodes and specials. Powered by strong viewership among older viewers and parents, this was good for No. 5 on the Cable Top 25 that week.

The special also moved the ratings needle on Friday, December 3, 2010 when its first airing that winter drew 3.896 million viewers on a 2.1 household rating, checking in at No. 20 on the Cable Top 25.

Next issue, The Numbers Game will step into the brave new world of "Steampunx". Until then, add your thoughts in the Comments section, these guys have it right, and remember...that the numbers never lie.
Hands On With The New Merchandise: Christmas Edition 2013
by Mouseinphilly and RRabbit42
Yes, it's that most wonderful time of the year. There's a lot of nice holiday stuff if you haven't noticed by now. And the Boys of the Endless Summer and their crew are again represented on holiday merchandise. Mouseinphilly has the info on two ornaments for that Christmas tree of yours.
Back in July, we mentioned two ornaments that Hallmark and Disney Parks had with Perry the Platypus. Well, there's a lower-priced ornament for you if the money is an problem, also made by Hallmark. This one is based on the cover of the "A Very Perry Christmas" DVD, only Perry is wearing his OWCA fedora instead of a Santa hat. The price is about $8, but I've seen it on the interwebs lower ($5 at toysrus.com), but they were gone in a hurry. I was lucky enough to snag one at Walmart, as it was the last one available in that store.
Bringing us to this $15 set of our favorite junior imagineers in stockings with Santa hats. We found this one at the local Target, and it was on sale for $10 according to their web site. Phineas fills the green stocking, and Ferb is in the red stocking. Cute and... practical for your fir.
That's all from me, now I'll turn this over to the bunny and let him show and tell you what else is available.
Alright, here we go. RRabbit speaking. First, the snow platypus ornament can be found at Walmart and Toys R Us. The difference between the two is that the one from Walmart comes in a red box and a plastic cradle with a list price of $7.99. It's probably less in the store. The one from Toys R Us just has a tag attached to the string on Perry's hat so it can be hung from a standard metal pole while on display. The picture is more of an artist's rendering than a photograph. You can't see that the snowman's body that Perry's sitting in has glitter on it. Their website has it on sale for 50 cents off at $4.49.
Second, the Phineas and Ferb in stockings ornament from Target comes in a larger red box and was on display separate from the other ornaments. The store I went to had them on the "endcap" of the holiday candy isle. The original list price on the box is $15, but it was also $10 for me. Their website has it listed for $10.50.
The main part of Target's ornament section had several themed ornaments like Star Trek, The Simpsons, Turbo and Star Wars. There was a mix of the solid and heavy ornaments and some that are plastic. This "chibi" ornament of Agent P is the latter, but it feels solid, so it's not likely to crack or break unless normal circumstances. It's $7 and only sold in stores, but you can see it on the Target website.
To test those circumstances, I just dropped one of them onto a magazine on the floor a few times. It wasn't until I got it up to about 6 feet that a little bit of the plastic chipped off, which let me see that it's a Styrofoam core with plastic over the top of it. Don't worry, I bought two. I'll just touch up the edge of Perry's foot with some paint and call it a battle scar.
If you want to see if your local Target has either of the ornaments, use the "find in a store" link on their page. If it doesn't work, try another web browser. When you do buy them, take care of them so you'll have them for years to come. You don't have to test their impact resistance since I already did that, and don't let the cat or dog play with them.
Let's also not forget about the two ornaments Mouseinphilly told us about back in July in issue 96.
Many of Hallmark's ornaments like the ones above are available at different stores. But there's some that are exclusive to their stores as part of their Keepsake line. "Agent P Saves the Day!" is available for $15 in stores or on their website. Likewise, an ornament exclusive to the Disney Store is the "Agent P Ear Hat Ornament", for $23 in stores or on their website.
Two more items the Disney Store sells is the "Perry sketchbook" ornament which shows Perry sporting a Santa hat and hanging on a wreath for $12.95. They also have an 8" holiday plush of Agent P in a Santa hat for $9.95. Both are currently on sale for $8.00 and $7.46, respectively.
The next two items were available at Walmart last Christmas and they brought them back. The one on the right is an 8 ounce hand pump dispenser filled with tangerine scented foaming hand and body wash for $4.88. The second is a gift tin filled with three types of popcorn and a spy kit that contains an ID tag, binoculars, clipboard, activity booklet and a notepad with pencil. The website doesn't have a price for those. Both are only available in store and it's going to be hit or miss as to whether your local store has them or not.
New this year is another body wash kit. I don't know if it's made by the same company as the dispenser above, but it also has tangerine scented body wash. This one includes a mitt to use in the shower. $4.88. You can see it on the Walmart website but it's another in-store only product that will be gone once the holiday is over.
Let's wrap up this review with something you'll need for those presents: wrapping paper. The designs are similar but not exactly the same. I'm not sure where the red wrapping paper is from, but seeing Perry dressed up with antlers and a red nose is cute. The green paper was from Toys R Us for $4 per roll.
Though we will have another newsletter before Christmas, if you get something Christmas-related as a gift or you find it in a store before then, let us know in the comments so that others can see it too.
Coming in two weeks:
Hands-on with the New Merchandise
Recent episodes review
Other articles to be determined (submissions wanted - send to RRabbit42 or use the Newsletter submissions page)
Got a question or comment about this issue? Leave them below.
Community content is available under
CC-BY-SA
unless otherwise noted.