For those of you who don't know, I visited Disney World recently, and while I was there I came across some cool AtSD action figures. They were in several gift shops throughout the Magic Kingdom. So, here they are!
Some of them came with accessories, such as the baseball launcher with alternate Phineas and Ferb, and the double-sided evil coin with alternate Doofenshmirtz and Platyborg.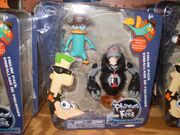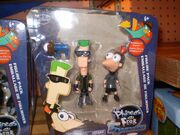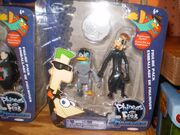 I also got to visit the meet and greet station Phineas and Ferb have at Hollywood Studios, near Muppet Vision 3D, titled "We're Making a Movie: The Movie". It has of course been written about before, but I feel as though I should write a short and sweet overview of it myself, below.

At the meet and greet, there are shows every once in a while, during which time a "director" will come out and interact with the audiance members, primarily children, who are given props such as hula skirts and blow-up guitars to work with as he "films" them with a plastic camera.
Even when the show is over, Phineas and Ferb are always there, of course, for autographs and pictures. Every now and then they leave for a few minutes, because I'm sure those costumes are hot.
The radio is always playing Phineas and Ferb music, with DJ Stanky Dawg from "Lawn Gnome Beach Party of Terror". Every couple of minutes a character will come on to request a song.
Also, keep an eye out for Agent P hiding behind the fence, and if you're lucky you might just spot the giant floating baby head!
d
Community content is available under
CC-BY-SA
unless otherwise noted.