"It has three simultaneous story lines that interconnect. Genius!"
— Dr. D making a meta-reference.

Hello, I'm Danny. Here's a few things you should know (or maybe not, I don't know, does it really matter? What actually matters in life... oh, wait, I'm getting off topic...).
I am a Christian
I was homeschooled and am an only child.
I have a monopoly on the username, "dantheman007a."
Find me on Twitter (dantheman007a). Or Facebook. Or Myspace. Or...
I tend to be sarcastic (in a good a way) and try to be funny. Not sure how well I'm doing. People are laughing, but are they laughing with me or...
I also try to make deep and profound statements. Most of the time I'm just making stuff up, but it sounds good.
I really have no idea what the heck I'm doing, but it's worked pretty well so far. :)
I like ice cream.
I like to be random. But then again, I don't really believe in coincidences or random. So I'll just say I'm randomly unrandom. Or is it unrandomly random...
I have a logical, calculating side and then an absolute crazy side. The people that think I'm "quiet" have only seen one side.
Time travel, it's kinda my thing.
Some of my favorite movies, or rather series, include: Star Wars, Back to the Future, Sherlock Holmes, Iron Man, Batman Begins, The Dark Night, and Ocean's Eleven.
Some of my favorite TV shows, in no particular order(or rather the order I thought of them in, with PnF at the end for dramatic effect), are: Mythbusters, Burn Notice, White Collar, Psych, Leverage, Justified, Castle, The Mentalist, Chuck, Monk, MacGyver(through the magic of reruns), Clone Wars, Transformers, Doctor Who, Sherlock, and Phineas & Ferb (uh-derr).
I'll probably sooner understand the real laws of time travel than "Quantum Boogaloo" or women.
I can make odd references that no one else in room gets. And if they get one, they probably won't get the next.
I hold a vast knowledge of random useless facts..
I'm not necessarily what one would call "social."
I'd be a very different person if it wasn't for the internet and wikis, for better and for worse.
My favorite episode is "It's About Time!", but the Perry subplot is one of my least favorites.
I like the show the way it is and I like how the creators are taking it so far, and I'm not going to start complaining about them ruining the show (I don't see them doing that) and I'm not going to get into any flame wars over which character is better or etc.
You can oft find me traversing the vast, near and far places of this internety thing, under the username "dantheman007a." You can call me Dan, 007a, Danny, Daniel, DJ, D, etc. Oh, and just to be clear, I am not this Dan nor this Danny. Although, I have to say they have awesome names. I can be a bit obsessive and a bit of a perfectionist at times. I triple guess (at least) every decision I make. I also believe that if it's worth doing, it's worth over doing, always. Is it too much to ask that my cell phone be water proof? And bullet proof?
Contribs
Favorite Characters
Favorite Episodes
In no particular order.
In general, episodes where Candace isn't trying to bust Phineas and Ferb or gets pulled into their big idea are better. Course if Candace gave up trying to bust Phineas and Ferb altogether the show wouldn't be the same. And that's not good.
Favorite Songs
Favorite Quotes
After Norm and Doofenshmirtz are fused together by the Combine-inator
Dr. Doofenshmirtz: Prepare to face the wrath of Normenshmirtz!
Normenshmirtz begins to fire at Perry
Dr. Doofenshmirtz: You can't get away from me now!
Norm: Don't you mean us?
Doofenshmirtz hits Norm in the head.

Dr. Doofenshmirtz
: Hey! Don't step on my moment.
After Perry is fused with a toolbox by the Combine-inator
Dr. Doofenshmirtz: I think we're in trouble.

Norm
: Sure, now it's we.
As the rollercoaster cars are poised to descend the first drop
Phineas: You all signed the waivers, right?
Linda sees Candace giggling about Phineas and Ferb
Linda: I worry about you sometimes, Candace.
As the coaster is plummeting to Earth
Phineas: We should have charged more.
Ferb
: Hmm, what assurance would we have that everyone else will also break into song and do the same thing?
Phineas: I don't know. I think they probably will.

Ferb
: Fair enough, I'm in.
Linda
: I'll be in the dairy section if you want to yell at some cheese. Would you like that, honey? Would you like to yell at some cheese?
Candace: A little.

Linda
: Well, come on then.
TV Announcer
: Today, on the Uncovery Channel, we'll talk about the fastest land animal in the world. Possessed of incredible speed, the cheetah can outrun almost anything alive.
Candace looks at her watch and motions as if to cue Phineas

Phineas
:
Ferb
, I know what we're gonna do today! We're gonna build fast shoes, so we can run like a cheetah!
Candace
:
(Angrily)
Don't you have a catchphrase to say or something?
Phineas: What is she talking about? Hey, have you seen Perry around?
Ferb shrugs

Phineas
: 'Cause I haven't.
Major Monogram
: Agent P, Dr. Doofenshmirtz is up to his old tricks. He's made fifty-seven phone calls in the past hour. We don't know to whom or why.
(Perry points toward the Chimney-Vator)
No, not to Santa!
Candace
: What?! Oh, no, no, no, no, no. Can't you guys just find some old nuts and bolts lying around and jerry-rig up some machine-y-deal-y-bob and gets us out of this situation?
Ferb: Candace, we are just kids.

Candace
: Argh! Why am I arguing with this? Hand me the suit.
Norm
: Well next time you can do all the cooking and I'll stand around coming up with evil plans that ultimately fail.
Awkward silence, stares at Norm

Dr. Doofenshmirtz
: Wow. Cuttin deep, man.
After Busting Candace squeals like a pig and runs toward Romantic Candace
Phineas: If the molecular splitter doesn't just disappear when this is over, we should really consider destroying it.

Ferb
: Agreed.
Major Monogram
: Well, in focus group tests, 6-year olds overwhelmingly preferred singing animals to a piece of paper with numbers on it.
Princess Baldegunde
: See? I never get to do anything for myself.
Candace: And I have to do everything for myself.
Both: I got it!
Candace: Let's go to the laundrymat and fill the dryers with cheese!

Princess Baldegunde
: What? No, let us trade lives! I thought for sure on same page we were.
Frosty: Hello! Winter time's fun! Follow me! Come on, follow me! (walks away)
Frosty:Plow! (screams and loud crash, carrot rolls to Perry)
After Perry makes another Frosty come alive
Frosty: Hello! Winter time's fun! Follow me!
Frosty walks off and Perry winces and waves his hands in warning before Frosty yells Plow! Then there is a scream and loud crash, carrot rolls to Perry; scene flips to the middle of the street, showing Frosty standing next to a truck driver whose truck just ran over a vegetable cart
Frosty: You know, on second thought, don't follow me. Man, that was close.

Episode ends.
Favorite Images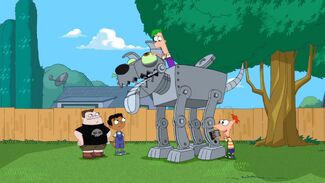 Dantheman007a's Gallery of his favorite images may be viewed here.
Community content is available under
CC-BY-SA
unless otherwise noted.