"Hello, nerd! Well, well, what have we here! Looks like you brought me lunch! "
— The bully talking to a young Buford.

The unnamed bully is a bully in Danville.
Biography
He has bullied many children before, and tried to bully a young Buford by eating his goldfish Biff. His plan backfired when Buford beat him up ("Voyage to the Bottom of Buford"). He is later seen beating up a small boy at the junkyard during an advertisement for "Tuff Gum" ("Suddenly Suzy").
Physical Appearance
He has brown, spiky hair and wears glasses, a red and black shirt, black shorts and shoes.
Background information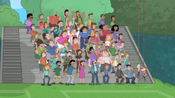 He is described as "the local bully" by Buford during a flashback ("Voyage to the Bottom of Buford").
He has an uncanny resemblance to the adult who has appeared several times in the series: this could be his father or he grew up.
This could probably mean that this man is the bully now, being the fact that the bully appeared in a flashback.
Appearances
Community content is available under
CC-BY-SA
unless otherwise noted.