The Slacks is a singing group that first appeared in "Attack of the 50 Foot Sister". They were first heard when they sung the Evil Jingle in "Flop Starz" and are heard in most other episodes. They usually accompany Doofenshmirtz and sing the Evil Jingle wherever he goes. They also apparently provide Doof's musical stings for his inator reveals.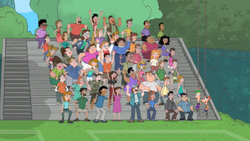 Background Information
Three of the Slacks are in Out of Toon.
Appearances
Gallery