Terry the Turtle, codenamed Agent T, is a secret agent turtle working for the O.W.C.A..
Biography
Terry is from the gelatin dimension. When the Phineas and Ferb of Terry's dimension went to the adoption center and chose Perry, they took Baljeet along with them and he chose Terry. Phineas even mentions that he remembers seeing a turtle at the adoption center when they picked out Perry, which must have been the Terry of the First Dimension. Agent T promised to help fight Heinz Doofenshmirtz if the gelatin was drained from his dimension.
Background Information
Gallery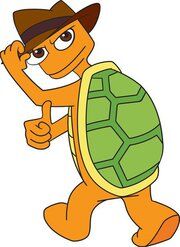 View the image gallery for Terry the Turtle.
Appearances