Information relating to whether the movie was real or fan fiction has been moved to the Fake or not page since the discussions included a lot of speculation until it was confirmed that the movie was indeed real.
Messages that are speculation about what will happen in the movie have been moved to the Speculation page. Any theories or ideas about what will happen in the movie should be added there, not on this talk page, but keep in mind that the page may be deleted at any time, and very likely will be deleted after the movie premieres.
"Songs" section
We have the official list of songs from the movie thanks to the DVD's press release, and He's Doof, Doof Duet, and That's What Summer Means (Summer Season) were not listed. Shouldn't these be deleted? --J. Severe (Finding his place in the world, one wiki at a time!) 19:16, June 14, 2011 (UTC)
Call it a hunch, but I think "He's Doof" and "Doof Duet" are "I've Got a Brand New Best Friend (And it's Me)" and "That's What Summer Means" is "Summer (Where do we begin?)" Black Spiderman 20:06, June 14, 2011 (UTC)
No title
I'm feeling a mind-eraser. 187.59.180.238 18:29, June 19, 2011 (UTC)
Movie Title
Is Phineas and Ferb The Movie: Across the 2nd Dimension the official title? According to these images:
the movie's title is Phineas and Ferb Across the Second Dimension and according to Variety.com the title is: Phineas and Ferb: Across the 2nd Dimension. Also, the narrator of the movie's official trailer does not put The Movie when saying the movie's name. The merchandise (Junior novel, Soundtrack, and Video games) also don't have The Movie in their logo. Michael.F 16:09, June 20, 2011 (UTC)
Fully, the movie logo in the start of the movie states that the movie's full title is:
Phineas and Ferb The Movie: Across the 2nd Dimension In Fabulous 2D
but the logo is only Phineas and Ferb The Movie: Across the 2nd Dimension and In Fabulous 2D is only text below the logo. 122.52.33.113 11:44, August 12, 2011 (UTC) XXX is better with Perry
The second time inter-dimensional travel is mentioned
Does tearing apart the fabric of time and space in "She's the Mayor" count as inter-dimensional travel? 76.105.160.69 17:21, June 22, 2011 (UTC)
The
Shouldn't the T in the first "The" be lowercase?

---****--- Roads (Hey, man, you've GOT to try this sandwich!) 02:08, June 25, 2011 (UTC)
Well, on one line, it really looks like it should. But on the logo, it's not. So I think, I THINK, it's just the title on the logo. Livin' in a fun house 13:51, June 25, 2011 (UTC)
Jeremy Goes To College?
It was just recently added to the summary that a sideplot with involve Candace worrying over Jeremy going to college. Where is this mentioned, and is it legitimate? I'm not questioning the integrity of the person who added it. I just want to make certain, because in all seriousness, I'm a little curious myself. Black Spiderman 13:02, June 26, 2011 (UTC)
Yeah I notice that too, I kinda forgot who put that info but other removed since it was not explained in the summary on the link reference, and I also removed it too since it probably a speculation. Patrickau 26 13:53, June 26, 2011 (UTC)
The "Jeremy goes to College" plot is mentioned in Just Jared(reference 9) and textually says: "Meanwhile, Candace (Ashley Tisdale) is convinced that she will lose Jeremy (Mitchel Musso) before he heads off to college". I think it should be added back.Redgarlic68 03:58, June 29, 2011 (UTC)
That's strange, because I read that page a few times, yet somehow, I missed that part of the text. Black Spiderman 04:13, June 29, 2011 (UTC)
It's in the Junior Novel, too. He was really just visiting his dad's old college. Livin' in a fun house
Movie Transcipt
i was looking at some epi transcipts when i suddenly realised,
Who wants the job of making the transcipt of the movie?
cos it's going to be a big one, a very big one indeed. Robson'meleegirl'67 17:22, June 26, 2011 (UTC)
Wait until August 5. All abord the S.S. Izzy! Next stop:Danvilleland! 17:42, June 26, 2011 (UTC)
Unknown Person
At the beginning of the trailer, before it shows Perry chattering, the screen shows someone's silhouette. Who is it? The place where anything is possible! Looking for a peaceful family getaway? Then come visit delightful Danville! We've got grass, milk, and smiles! So come to Danville, pretty please? 14:36, June 27, 2011 (UTC)
just planning in advance, i'll help out if i got someone to do it with. Robson'meleegirl'67 14:30, June 27, 2011 (UTC)

You can see that it is Alternate Doof.

We don't know for sure. Besides, Alt. Doof is skinny and the patterns are different. Kuzlalala 16:10, July 1, 2011 (UTC)
It's the human-shaped topiary in Candace-2's lair. CandaceFan 03:52, August 18, 2011 (UTC)
I Can't Wait That Long!!!!
I can't. I need to find out the truth if Phineas Flynn found out that Isabella has a crush on him.
I obviously cannot be certain at this time, but in my opinion no such developement will transpire. I mean, there may be mild flirting like there has been in past episodes (i.e. The Beak, The Chronicles of Meap, Summer Belongs To You) but it seems too soon for the writers to dive into. Perhaps in the theatrical movie, but not yet. Aurablase10000 18:05, June 29, 2011 (UTC)
He doesn't find out
Alternate Phineas 18:20, June 29, 2011 (UTC)
Well it might not go along with the book. A few dialogue parts and scenes we saw in the promos weren't in the book. Example: I am so in love with her right now. It didn't exactly have a great ending. Possibly after it in the movie, he does. Livin' in a fun house June 30, 2011, 14:23 (UTC)
It makes sense that Phineas wouldn't see that Isabella likes him, but it would be so great if he did. I don't know it might be a little weird. There is this picture that someone uploaded to the site that shows Isabella and Phineas kissing (and I'm 99% sure it wasn't fan art). What do you make of that? Isabella Girl Wow, chatty! 02:17, August 5, 2011 (UTC)
It's a real picture and Phineas does find out that Isabella has a crushon him... when she kisses him. Then, Carl fires up the amnesia-inator and he forgets about it.
Like an imperceptible enigma
Glossary
We should create a standardized glossary for wording used here. An example is using "2nd Dimension" or "Alternate", meaning the same things. Because Alternate is already used to explain the futures in "Phineas and Ferb's Quantum Boogaloo" using Alternate should be avoided. I have also seen "Norm patrol", "Normpatrol", and "Norm-patrol". This should wait until the movie is released. PFMuffinStrike455 Talk 23:48, July 15, 2011 (UTC)
Proof of Baljeets line?
Under "I know what we're going to do today" it stands like this:

Baljeet: You know, if we had two Perrys, we could put a net between them and play platypult badminton. Phineas: Ferb, that's it! I know what we're going to do today!
Where do they say that? Belive me, I watched every trailer at least 55 times, and I can't belive I've missed one. Can someone please tell me, and give me a link? Thanks!Amindis ~ Platypus-Lover-Forever ~ 04:44, July 22, 2011 (UTC)
that's what i wanted to know, i can't find it anywhere either. Robson'meleegirl'67 19:53, July 22, 2011 (UTC)
Maybe it was in the book? --Goth What makes you stop and smell the roses in an open field? 20:06, July 22, 2011 (UTC)
Should it be erased? I mean, it is not actually prooved to be in the movie. I'm erasing it as long as there are no proof that it's the movie.
It's true, but Phineas says the 2 Perrys thing and Buford said something in between the 2 sentences. 122.52.33.113 11:49, August 12, 2011 (UTC) XXX is better with Perry
Sonic Allusion
Why does it keep be removed? It's real! Alternate Phineas 07:10, July 23, 2011 (UTC)
Episode?
Should this article be treated as an episode? It would include the episode succession box, broadcast numbers, and the Episodes category. It would be similar to the specials. I don't think there should be a broadcast number, but it may be included separately on episode succession. PFMuffinStrike455 Talk 04:48, July 24, 2011 (UTC)
I'd remove the episode number and the episode category, but keep the rest. A2SD in 12 days??? Whoa! 05:28, July 24, 2011 (UTC)
still,it's the best movie ever,the 130th phineas and ferb story ever made.too bad they got their memory erased.PnFforever 07:52, November 14, 2011 (UTC)
Continuity
instead of listing all of their inventions, why not say every invention p+f made are in the movie?P+F Joey 15:30, July 24, 2011 (UTC)
That would be inaccurate since not ALL of the inventions are in it (at least we haven´t seen them all in the sneak peaks/videos). For example, the Mix and Mingler, the Rainbowinator, the Mini Golf Course aren't there (and probably won't be in the movie). Redgarlic68 15:38, July 24, 2011 (UTC)
I meant all of their portable inventions.P+F Joey 22:31, July 24, 2011 (UTC)
You could just say "Every invention made by Phineas and Ferb, except for..." It gives you the best of both worlds: shorten it up a whole lot, but still exclude the ones that are not seen. Isabella Girl Wow, chatty! 17:33, August 5, 2011 (UTC)
To be honest, I think it would be much more difficult to find which ones weren't there, and also, after new episodes continue to air, it will become more innacurate in the fact that the as-of-then unaired big ideas weren't there. Dooby Dooby Doo-Bah A-Gent-G! Ask me how to stop shipping! 19:00, August 14, 2011 (UTC)
I know what we're going to do today
anyone got any proof of the current one ("Ferb, i know what we're going to do today.... save the Tri-State Area") if so, please provide link to it so i can see it.
I have no idea where that line came from. Should it be deleted? Please sign next time. :)
Amindis ~ Platypus-Lover-Forever ~ 19:40, July 29, 2011 (UTC)
I don't know about the "save the Tri-State Area" part, but on a commercial about making sure you voted for "Fan Picked Phineas and Ferb Week", it showed Phineas and Ferb in Perry's lair. Phineas goes "Ferb, I think I know what we're going to do today!"
I hope this helps!
lucyb812:)
What time
I wonder what time P&F:ATSD will air on Disney On Demand. Please help before the movie comes out!!

Amindis ~ Platypus-Lover-Forever ~ 18:07, July 30, 2011 (UTC)
OMG its comming out on on demand tomarrow some one might record it! Fusionwilliam 18:20, July 30, 2011 (UTC)
Is it on youtube yet?????? Fusionwilliam 14:52, July 31, 2011 (UTC)
Movie Link?
Anyone have a link?? Fusionwilliam 01:23, August 2, 2011 (UTC)
"I know what we're gonna do today" line
The quote listed does not occur in the movie. Phineas actually says, "Ferb, I think I know what we're gonna do today." It was already confirmed in a previous commercial so I don't think that counts as a spoiler (?).
Time?
What time is the US airing of the movie? Eastern time zone, please. Thanks.24.44.14.75 18:55, August 4, 2011 (UTC)
8:00 pm. Yer pal, Mobo85 19:00, August 4, 2011 (UTC)
What is the font style used in the "Spoiler Alert" image at the top of the movie article?
GeneralTsingShiTao17 13:17, August 5, 2011 (UTC)PnFHDTV
More Regular Episodes?
So now that they have a movie out, and Perry's secrect identity is revealed (to the boys), does this mean that no more regular episodes will be made? I hope not. Isabella Girl Wow, chatty! 17:37, August 5, 2011 (UTC)
No, there will still be many more crazy inventions and inators to come! Just watch the movie tonight and you'll understand.
EP/PT
What does this mean? --Gabo 200 00:41, August 6, 2011 (UTC)
Eastern and Pacific. A2SD is this Friday??? Whoa! 00:46, August 6, 2011 (UTC)
That means that it will air at 8:00 in every time zone at different times? --Gabo 200 01:08, August 6, 2011 (UTC)

No. 8 on Eastern and Pacific, 7 at Mountain and Central. A2SD is this Friday??? Whoa! 01:28, August 6, 2011 (UTC)
Oh, I get it now!... SPOILER ALERT FOR NEXT COMMENTARIES --Gabo 200 01:30, August 6, 2011 (UTC)
Just saw the Movie!
It was awesome! 100000000000000000000/5! Isibella kissed Phineas at the end. XD.

Don't let the sunshine spoil your rain, Just stand up and complain! 01:30, August 6, 2011 (UTC)
The movie
That was my fave phineas and ferb! Yo Im the fusion of william check meh out 01:31, August 6, 2011 (UTC)
Can you believe Isabella kissed Phineas? I loved that moment. :p 74.241.227.183 01:33, August 6, 2011 (UTC)
Terminator reference
When 1st Candace asks 2nd Candace about Jeremy, she can only say that he's a good soldier. This is very similar to the Terminator movie when Sarah Conner asks Kyle Reese about the women of the future, and he can only talk about them from a military point of view, and says that they're good soldiers.
Duke Nukem Reference
I can not believe that no one has added the duke nukem reference yet. when other dimension kandace is introduced as the resistence leader, the shrub next to her looks like duke and her voice becomes like his because of her allergys to it. if its just me then fine but if im right can some one please add the reference to the article?
Great Escape Reference
Seriously? No one has this yet? I caught it right away! When Candace-2 is in the holding cell before Jeremy-2 rescues her, she's tossing a ball against the wall, just like Hilts does when he's in the cooler (a holding pen in a POW camp, for those not familiar with the movie). During this scene a version of the Great Escape theme is also heard in the background. If no one puts this up, I will soon. I will survive! 15:09, August 6, 2011 (UTC)
Reference I noticed
The part where the evil leaves Doof2 when he gets his choo-choo back is like "Santa Claus is Comin To Town". Has this been added yet?

How dare you bring light into my lair! YOU MUST DIE! 23:02, August 6, 2011 (UTC)
Not yet. Hi, Phineas.Whatcha doooooooin'? 23:14, August 6, 2011 (UTC)
I think it should be added. But if I add it, I might not word it very well. :P
How dare you bring light into my lair! YOU MUST DIE! 23:19, August 6, 2011 (UTC)
Movie Link
Here's the link for the 1st part of the movie. The person that uploaded it has posted the whole movie on his account (you'll be able to find the other parts easily). Don't mind his talking, though it DOES get annoying. For those who were not able to see it on TV or for those of you who just want to watch it again. :)

Part 1:
http://www.youtube.com/watch?v=M8Oc0nghttp://www.youtube.com/watch?v=M8Oc0ngQhWA&feature=relatedQhWA&feature=related
Hamsterlover111 05:48, August 7, 2011 (UTC)
Spoiler alert? Really?
The movie has been aired, so it the "Spoiler Alert" warning needed? Amindis ~ Platypus-Lover-Forever ~ 21:57, August 8, 2011 (UTC)
Yes, since it still hasn't aired in some places. Read the main page.
You can't spell "platypus" without "us"! Well, you could, but then it would just be "platyp". 00:36, August 12, 2011 (UTC)
In Fabulous 2D
It has been shown in the movie itself that "In Fabulous 2D" is part of the title. Shouldn't that be changed?You can't spell "platypus" without "us"! Well, you could, but then it would just be "platyp". 00:36, August 12, 2011 (UTC)
Nope, because the "In Fabulous 2D" is a joke since the show it actually 2D. Patrickau 26 01:19, August 12, 2011 (UTC)
But "In Fabulous 2D", 2D stands for "2-Dimensional", which "2" "Dimensional ---> "2nd" "Dimension". It's like a kitty in a Contribution Page! 18:20, September 4, 2011 (UTC)
Jeremy Mind Wipe
Wiki users keep editing an error on this page. It's about Jeremy having his memory wiped being an error because he was touring colleges with his dad or something (?). However, many users continue to explain that it is no longer an error. Right now it says "This error has been resolved since he has been seen with Candace, Baljeet, Ferb, Isabella and Buford as Phineas has been telling them how 2nd dimension Candace took down Norm bots . It is possible that he was told of Perry's secret because of having Perry communicating with Major Monogram without hiding his cover from them, which includes Jeremy, while Phineas was talking. Hence, the brain wiping was necessary". This could change quickly, though, so don't hold me to this.
My question is, if the error has been resolved, does it really need to still be listed?
lucyb812:)
It should be listed regardless. It will be confusing to people forever. As to whether it is resolved, my personal opinion is that as he only shows up at the end and played no part in the robot wars, it's likely an error. But even if it's not an error, whatever the explanation is should be kept. (imdb.com does this with the _incorrectly regarded as goofs_ tag.) Buggum | (Talk) 23:08, August 13, 2011 (UTC)
Sounds good to me:) Whatever works for everyone.
lucyb812:)
Where can i watch the film on the internet? Someone,please give me a link!
Alternate Ending
Hi everyone! My apologies for taking your time, but curiosity snagged the best of me here.
I've been reading (nearly incessant) claims that a deleted scene encompasses an alternate ending, one that causes memories of the day to be regained. It seems to be regarded as a fact, not simply a rumor. Everyone who shares this appears certain of its legitimacy. It does make slight sense, what with 'Memory Wipe' being the title of a deleted scene. Regardless, I'm not looking to get my hopes up! Is anyone aware if this was mentioned in an official press release or something similar?
Thank you very much! Hope you're enjoying your summer! Alycia 02:57, August 18, 2011 (UTC)
I don't know, the only information about the deleted scene was "Mysterious Force" and "Vanessa Meets Doof" that's it. We'll just have to wait until the DVD is out and that's the time we can know for sure. Patrickau 26 03:07, August 18, 2011 (UTC)
The only instances regarding an "alternate ending" or what have you are during a discussion of the movie with Dan and Swampy during a screening of the movie at Comic-Con. However, they made no mention of memories being regained (save for remarking that perhaps in the future they could be regained eventually, but Major Monogram would quickly "flash" them Men in Black style as a joke)- they mentioned that the film originally ended with Isabella kissing Phineas and everyone's memory being wiped without the epilogue of Perry looking at his photos of the day. Discussion was also made regarding an idea for an ending which divided the writing staff, which would have involved Phineas and Isabella getting together, only to reveal that it was a Phineas and Isabella of an alternate dimension. Yer pal, Mobo85 03:09, August 18, 2011 (UTC)
It has always been my belief that the "Memory Wipe" deleted scene you speak of would be an extension of the scene where they get their memories erased. Black Spiderman 10:54, August 18, 2011 (UTC)
So no official confirmation, just a theory. Guess we'll have to wait until Tuesday! Thank you very much for your help, everyone! Alycia 14:50, August 18, 2011 (UTC)
24.12.245.196 01:50, September 27, 2011 (UTC)
Phinabella 2999: Ok there is no alternate ending. The memory wipe deleted scene is just right after they get hit with the amnesia-inator, they say "what happened, where are we" and "hey why is Perry wearing a hat?" thats all it is.
So to recap There Is No Alternative Ending!!!!!!!!!!!
The Alternate Ending is a deleted scene. called The Memory Wipe. Once they get theirs mind erases Everyone wonders where they are. "Hey why is Perry wearing a hat?" Phineas askes. "Carl fire it up again and Agent P would you please go hide behind something?" Magor Monogram replied and their minds would get erased again. Travisplatypus 03:06, October 21, 2011 (UTC)
The Beak Song remix?
When Perry's Lair Computer recreated Phineas and Ferb inventions the intrusmental music is similar to Beak, also The Beak is first invention that is recreated complete.

Xmortal 03:20, August 19, 2011 (UTC)
Don't think so. The music is very different. Hi, Phineas.Whatcha doooooooin'? 03:44, August 19, 2011 (UTC)
Well Doofenshmirtz's Evil Jingle was remixed too during the blimp scene, according with the information here and I not see similitudes with the original, but if you listen The Break's song, Rhythm is similar to this song that used in the movie with only difference is that this is more tall
Xmortal 04:22, August 19, 2011 (UTC)
space/time laws broken
If i had a dollar for every sapce/time law Phineas and Ferb broke in the movie I'd be rich! They actually meet their other selves and told them where they came from! That is something you should NOT do under any circumstances! Fortunately however they forgot all about it thanks to the amnesianator or else VERY bad things would have happened. Just like in the future episode but worse!
Why were my changes taken down?
I just made two relatively minor changes to the page on this movie, and both were taken down within minutes of my having added them. The changes were:
A new error, pointing out that the alternate dimension Phineas could not have known that Perry the Platyborg was defeated by having been "fried" based upon when the fight between the platyborg and Agent P took place, relative to the alternate dimension characters coming into "our" world.
A new allusion, pointing out that, when the Normbot falls and has the skull land on his head, he says, "I look like a Georgia O'Keeffe painting". I merely added this to the list of allusions and gave a link to the Met Museum's web page for her 1931 painting Cow's Skull: Red White and Blue
Can someone please advise why these two changes were taken down?
Mudak326 03:15, August 22, 2011 (UTC)
Sorry about that, I was trying to undo I edit until you snuck in and at the same time my internet were out and accidentally remove it. Don't worry, I'm pointing it back now. Patrickau 26 03:29, August 22, 2011 (UTC)
Thanks. :)Mudak326 03:34, August 22, 2011 (UTC)
Credits
I dont know if this has been brought up already, but on the DVD (I just got it today) the credits dont have the kick it up a notch video, its just a blue and dark blue triangle backround with the names and pictures from the movie scrolling upwards.

- Ferb♥er I LOVE FERB! What?*sigh* I was in Ferbland again I LOVE FERB!!!! 03:39, August 24, 2011 (UTC)
Irving
Since "Phineas' Birthday Clip-O-Rama!" it's know that Irving has cameras for spying what Phineas and Ferb are doing, and in the end of the movie he was not there when Phineas, Ferb and others' memories were erased, so he would remember and he would have evidences to prove it (principally that Perry is a secret agent) (and a lot of secondary characters would remember, like Albert, Django, etc.). Should it be written somewhere? —INSERT NAME HERE (INSERT TALK PAGE HERE) (INSERT USER BLOG HERE) XX:XX, XX INSERT MONTH HERE 2011 (UTC)
I don't know if they would talk it all out, but probably it's the story, so I don't remember if they would tell what happened. Maybe he was brainwashed, too. —Niagra Falls, or DOES IT?! 18:03, 14 November 2011 (UTC) (P.S. I added some stuff in your talk because you need to show your name of your account, or just some cathphrase that goes to your account, user blog, or talkpage.)
Error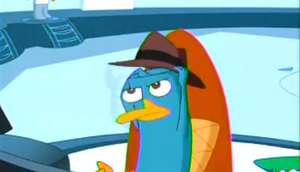 Guys, why do you keep removing the error about the hole in Perry? IMAGE PROOF. You shouldn't remove an error that is an error. You should keep it on there. So please stop removing it. 76.182.43.223 23:08, September 11, 2011 (UTC)(Clamshot)
We don't want it. That is word of Patrickau26. Hi, Phineas.Whatcha doooooooin'? 23:50, September 11, 2011 (UTC)
Doofenshmirtz did make an Amensia-Inator but that's NOT what it was called. It was called Forgeta-bout-it Inator. It was in A Real Boy. He said that he liked how it sounded ("Forgeta bout it!"). Sorry, this is something that has bugged me for a while but I can't fix it in on the movie page. Has anyone else noticed this?
This is an issue; also, the sentence about the group agreeing to have their memory erased trails off; it never actuallys says "erased" Mnemex (talk) 16:40, June 28, 2013 (UTC)
I want to add an allusion, but I'm an IP.
'Kirby Super Star & Kirby Super Star Ultra' -At one point when Phineas is fighting Alt. Doof, Phineas throws dishes at him. In Kirby Super Star and its remake, one of the mid-bosses throws dishes as an attack. 76.212.202.87 03:04, February 3, 2012 (UTC)
This is hardly a reference to Kirby Super Star, because enemies and bosses throwing plates have appeared in a variety of games from Chip 'n Dale's Rescue Rangers on the NES to Mystical Ninja Starring Goemon on the N64.--68.6.182.39 06:31, May 21, 2012 (UTC)
Possible sequel reference?
Hey guys! This sounds silly and a bit far-reaching, so please try to keep an open mind for me :)
I'm assuming most of you have heard "Today Is Gonna Be a Great Day". Has anyone realized that a line from the second verse - 'devising a system for remembering everything' - could potentially reference an Across the Second Dimension sequel?
I'm not certain how the song and movie production coincide. Hypothetically, let's imagine they were developed near the same timeframe. The songwriters would have a clear picture of the movie's plot while composing the song - So, why not throw in a line that references continuation? Please correct me if I'm wrong, but Phineas and Ferb embark on nearly every 'adventure' mentioned in the lyrics. Our page does reference a few episodes in which they've "devised a system", but that system was never tasked with the purpose of retaining memories. If the entire list is to be completed by the end of summer... Well, you get the picture!
The song was more than likely produced months before the film's plot development began, so please excuse the over-analyzation - Still, it's fun to speculate. I would love to hear your thoughts :) Alycia 14:22, June 10, 2012 (UTC)
Interesting theory. I've never thought of it like that. Maybe something that could be asked at the next Comic-Con? Black Spiderman 14:53, June 10, 2012 (UTC)
Jaret Reddick himself has told the story of how Today is Gonna Be a Great Day came about: Reddick was asked to not only perform the theme song, but also to write a full-length song using the theme song as a basis (which is, of course, Great Day). He was shown the first 13 episodes (still in unfinished form at the time), and wrote the song in "about 20 minutes" the following day. It seems to me unlikely that Mr. Reddick would have knowledge of something that was not only not shown to him, but didn't even exist as even an idea at the time, nor does it seem likely that the Phineas and Ferb staff were thinking so far in advance that they knew that there would eventually be a made-for-TV movie based on their series. Yer pal, Mobo85 18:36, June 10, 2012 (UTC)
You're probably right. Still, it'd be something cool to ask Dan & Swampy at Comic-Con. I'd be interested to hear their responses. If I were going, I'd ask, but I'm not. Black Spiderman 18:45, June 10, 2012 (UTC)
Well, that certainly defeats the theory, doesn't it? ;) Thank you for the clarification, Mobo! And if anyone would still like to ask this at Comic-Con, go for it. :) Alycia 18:52, June 10, 2012 (UTC)
avengers ripoff?
Anyone notice how "the Avengers" has like the same plotline as this (awesome) movie? Some dude comes over, opens a portal and a bunch of bad guys come, so a bunch of good guys come and save the day.
ATSD had most of that as wel.. Yay! I think we've found our loophole. Literally! Wop! Wop! 01:42, July 1, 2013 (UTC)
Deleted Scenes
Hi everyone! Sitcomfan99 here. I am here to talk about the deleted scenes. The first one I saw is when Doofenshmirtz was "practicing" with a doll and Vanessa interrupting him. Also in the 2nd Dimension when 2nd Dimension Vanessa interupted 1st Dimension and 2nd Dimension Doofenshmirtz were talking and another one with 1st Dimension Phineas, Ferb, Agent P, Candce, and Doofenshmirtz were in a blimp looking like a cage.Another one with Breaking News and the weatherman as a Normbot. And an extended scene in the lair of Perry with the replication of everything that Phineas and Ferb built.
Theory about why Memory Wipe is a deleted scene
There's been theories in the YouTube comments that Memory Wipe was deleted since the Firestorm Girls were shown getting their memories erased instead of the Fireside Girls. - IvyLover (talk) 05:15, April 20, 2014 (UTC)
Actually, that's only an addition to the Memory Wipe scene we have. And what we already have also includes the same error, oddly. ~ACO 21:44, August 14, 2014 (UTC)
Season 3 episode??
The categories list it as a Season 3 episode, but I'm not so entirely sure about it. I'm also trying to figure out if it was produced prior to Season 3 or during Season 3. ~ACO 21:44, August 14, 2014 (UTC)
Community content is available under
CC-BY-SA
unless otherwise noted.