This article pertains to a topic that is thought to be non-canon.

Spot the Diff, or Change-inator-inator, is the name given to a special two-hour Phineas and Ferb mini-marathon, first aired on Disney Channel US in 2008. The marathon is based around a scenario in which Dr. Doofenshmirtz has made an invention he calls the Change-inator-inator, with which he can make various changes, particularly visual ones, to certain episodes of the show. The changes are shown through specially-made promotional spots airing between each episode, with redubbed animation from "The Fast and the Phineas". As a challenge, the viewer watches the four selected episodes and their modified counterparts while keeping track of which changes are made as part of a tie-in at the official websites.
Broadcast times
Website tie-ins
Visitors to the Disney Channel official websites in most of the countries where the marathon happened, the Jetix website in The Netherlands and the Family Channel/Disney XD website in Canada were able to access a page where they could download a score card and play a game called "Spot the Diff". Shortly after both broadcasts of the marathon in the US, all but the game were removed from the US site.
The score card is a downloadable PDF file consisting of eight pages and listing all the changes made in the four episodes, along with some changes not actually made in the episodes. Each potential change listed on the scorecard is accompanied by the answers "Yes" and "No" for the person to circle as they watched the "Change-inated" episodes. A copy of the original US score card can be viewed here. (The only difference between all of the score cards is the website address printed on each card.)
The "Spot the Diff" game involves trying to identify 8 differences between pairs of pictures within a time limit.
After watching the marathon, the player can go back to the website and take a "True or False"-type quiz on each of the episodes, with the correct answers applying "Yes" to any change that was actually made and "No" to the ones that weren't. If the player can answer eight questions correctly for each episode, they will have access to free downloadable items.
Downloadable items
Score Cards Download
Episodes featured
Differences by episode
"The Fast and the Ferbulous: Danville Drift"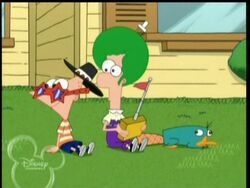 "Lawn Gnome Beach Party of Error!"
"It's a Mud World After All"
"Toy to You and Me"
Background Information
Allusions
References