"She's Candace" is a song featured in "Candace Loses Her Head" in Season 1. It was sung inside Candace's dream during the beginning of the episode.
Lyrics
Unnamed Singers: She's Candace
Like the Venus de Milo
Except she's not armless and handless
She's got a big honkin' truckload of ship-launching qualities
And this is the reason she bears no resemblance to a... praying mantis
Candace
A name with seven letters
Candace
Only wears designer sweaters
Candace
She's got an allergy to dairy
Candace
And she's anything but ordinary!
(Perry chatters)
Candace: Perry?
Gallery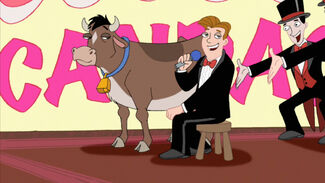 View the image gallery for She's Candace.
Background Information
In production order, this was the first big musical number of the series.
The song is done in the style of a Busby Berkeley movie musical, most noticeable in the overhead camera shots.
Songwriters
BMI Work #9365312
See also