Sergei the Snail, also known as Agent S, is a snail agent working for the O.W.C.A.. It was briefly assigned to Heinz Doofenshmirtz when Doofenshmirtz was downgraded as a low threat villain ("Oh, There You Are, Perry"). It was assigned again to Doofenshmirtz when Perry became too famous to move without notice ("Perry The Actorpus").
Mindless animal mode
In mindless animal mode, he would look like a real snail without his hat.
Abilities
Despite its size, Agent S can easily lift Doofenshmirtz and smack him back and forth, as well as throw him across a rather large room and into a wall.
Weakness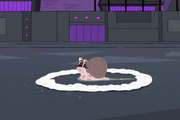 Due to being a snail, his weakness is salt, something which Doofenshmirtz takes advantage by making a circle of salt around Sergei's presence, much to the snail's dismay.
Background Information
Due to the slow speed at which snails travel, Agent S is likely only assigned to low-threat villains. Also, even as Agent S has proven itself useful at stopping villains, due to its considerable strength, it still moves at a slow speed from its spot of entrance to the scene of action, thus it would be risky to fight more powerful villains.
It's gender is both male and female as most Gastropoda, which includes snails, are both male and female.
Its name is revealed in "Perry The Actorpus", when he fights with Heinz Doofenshmirtz.
It is the third minor agent to be named. First were Herman the Hedgehog and Peter the Panda. It is the second to be named after its first appearance (the other was Pinky).
Its second appearance is slightly different in "Perry The Actorpus", as its eyes weren't visible and the color of its skin was different, as it was lighter and spotted. It is possible that in "Oh, There You Are, Perry" that either Agent S was a picture or when it was just after he put on his hat.
Despite being named Sergei, his nationality is American (Sergei is a Russian name).
In Brazil, his name was changed to Léo.
Appearances
Community content is available under
CC-BY-SA
unless otherwise noted.