We'll work on it.
It has been suggested that this page, or a section of it, be extended.
Once the points are expanded, the user may remove this tag. (May 23, 2012)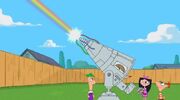 The Rainbow-inator is the invention that Phineas and Ferb build when they find out that Isabella hasn't seen a rainbow before ("Hail Doofania!"). However, it is later revealed that Isabella hasn't seen a unicorn before, not a rainbow. The Rainbow-inator uses the same style as most of Doofenshmirtz's Schemes and Inventions, as they both have the "-inator" suffix and they both have a self-destruct button. In the same episode, Doofenshmirtz ironically builds his own "country", something that Phineas and Ferb would be expected to do.
Community content is available under
CC-BY-SA
unless otherwise noted.