So, Ferb, what should we do tomorrow?
This article covers a topic that is yet to be released. Information in it is set to be changed over time.
Phineas and Ferb the Movie: Candace Against the Universe
Season:
None
Production code:
Movie
Broadcast number:
Movie
Broadcast Information
Disney Channel US Premiere:
August/September/October 2020 (Disney+)[1]
Disney XD US Premiere:
TBA
International Debut:
TBA
See more...
Phineas and Ferb the Movie: Candace Against the Universe[2] (originally titled The Phineas and Ferb Movie[3], sometimes promoted as The Phineas and Ferb Movie: Candace Against...[4]) is the title of an upcoming animated film adaptation of Phineas and Ferb that is set to release on Disney+ in 2020.[2]
This is the second feature-length film of the Phineas and Ferb series after the 2011 film Phineas and Ferb the Movie: Across the 2nd Dimension.
Premise
The movie centers on Phineas and Ferb as they set out across the galaxy to rescue Candace, who has been abducted by aliens and has found utopia in a far-off planet, free of pesky little brothers.[2]
Songs
At the 2019 D23 Expo, Marsh and Povenmire revealed the film will include "nine or ten" songs, which is about the same number of songs featured in the episode "Rollercoaster: The Musical!"[5]
Production Information
Book
A tie-in book by Disney Storybook Art Team and Disney Books has been listed on Amazon. It will contain 116 pages and is due to arrive on October 6th, 2020.[10]

The release date for the book is a rough indication of when the movie can be expected to air on Disney+.

The following is the description for the book: "Phineas, Ferb, Perry the Platypus, and Dr. Doofenshmirtz are back for an interstellar adventure in this chapter book based on the new Disney+ original movie. When Candace is abducted by aliens, Phineas and Ferb have to team up with Dr. Doofenshmirtz to get her back . . . but what if she doesn't want to return to Earth?"[11]
Gallery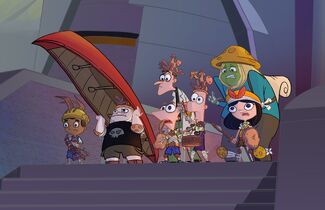 The image gallery for
Phineas and Ferb the Movie: Candace Against the Universe
may be viewed here.
Trivia
The movie will likely feature a Milo Murphy cameo appearance, as "Weird Al" Yankovic's official website states this movie as one of his upcoming guest star roles.[12]
According to Dan Povenmire, the movie is set in the same summer as the majority of the episodes and takes place before "Last Day of Summer".[13]
This will be the fourteenth time Phineas and Ferb go to space ("Rollercoaster","Traffic Cam Caper", "Out to Launch", "Unfair Science Fair Redux (Another Story)", "The Chronicles of Meap", "The Secret of Success", "The Doof Side of the Moon", "Rollercoaster: The Musical!", "Moon Farm", "Meapless in Seattle", "Sleepwalk Surprise", "Phineas and Ferb: Mission Marvel").
Cast
References
External links
Community content is available under
CC-BY-SA
unless otherwise noted.