(subscribe)

               
The Official Phineas and Ferb Wiki Newsletter, Issue 67: May 1, 2012
 
News and information from the world of Phineas and Ferb.
 
Current forum discussions

---

---

Too much Princess Baldegunde

Fear not, Candace. We'll soon have a new featured article on the main page.
Crat Corner
by RRabbit42
A goal for the next two weeks
My spring cleaning has gone into overtime as I took another look at some of the things I had squirreled away a long time ago. One of the last items I found was a comic strip from 10 years ago that dealt with spring cleaning. It was kind of ironic that I had probably saved it as inspiration to do regular cleaning and organizing, and it wound up buried a decade.
But it also reminded me to get back to the spring cleaning I had promised to do recently: our featured articles. Those featured articles weren't intended to be changed every month, but rather just however often we got suitable nominations and enough votes. It definitely wasn't supposed to be a full year in between new selections.
So that is my official goal for the next two weeks. Dig through the nominations, tidy them up, check and update the articles, and get a new featured article on the main page before the next newsletter. I'm kind of annoyed at myself for letting this go on for so long, so I'm going to try to make it up to all of you by getting this done now.
Once that is done, our forums will be next so that I can go back to listing the most recent and active forums in this newsletter instead of the placeholders that are in here right now.
Cartoonists wanted
Last time we put out a call for a cartoonist, a couple people responded and gave us some pretty good pictures. But it's been a while since then, so it's time to make the call again. If anyone feels up to it, feel free to send in your comics. If you need inspiration about what to draw, we do have Mother's Day, Memorial Day and Father's Day coming up soon.
Odds 'n' Ends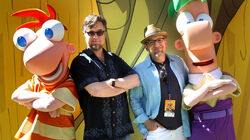 Not only is the Agent P World Showcase going to be launching this summer, but Phineas and Ferb will be at more of the Disney parks for the 104 days of the "Summer to Remember" that starts May 25th. Read Mobo85's blog for more details and there's even more at the AllEars.Net site.
The Destination Vinylmation site has a preview of some new merchandise coming up.
The Place of the Teacher

by Trolypac
My view of "Agent Doof"
"Agent Doof" freatured in Spain the past week and I think I should make a little review; it is divided in some parts
Story: It was a funny story, the story was a new and interesting story, the idea of Doof being a good way or at least, trying it, was a new story also mention that this story helped to the developement of some secondary characters, on the other hand the Phineas and Ferb part was a bit boring.
Jokes: It had lots of jokes, mostly the Doofenshmirtz and Perry part had lots of funny comments and also lots of allusions to classic movies such as Karate Kid and Disney Classics, also allusions to past episodes, and obviously, Doof's nonsense commentaries; I mark the duck-joke at the end.
Songs: the episode had a great song but I would prefer one performed by Heinz and Monogram.
Characters: This episode had great characters, the first appearance of Newton the Gnu, also the appearance of mostly of the main characters and a developement of Dr. Diminuitive and a cameo of Norm, but as a fan of her, I missed Vanessa.
Educational: this episode is great in educational terms, it shows how evil always be evil (thing also learned in "Lights, Candace, Action"), the importance of Human resources in a company and why you shouldn't put personal information of the internet.
In general it is a must seen episode, one of the best of the 3rd season, but as I said, P&F's part was a bit more boring; I give this episode a 8/10.
---
Hands-on with the new merchandise, part 43
by RRabbit42
The merchandise review is going to be a little shorter this time, more of a spotlight like I've done occasionally before.
Most of the Phineas and Ferb items for sale are toys, books or clothing. Our Merchandise Portal covers the different categories, but it looks like we will need to add a new category: health care.
These days when I go shopping, I do a lot of browsing and searching, because I never know where I'll see a new P&F item. Such was the case with the Phineas and Ferb Band-Aids that I saw in Target last year. While I don't have many occasions to use bandages, I do for the next two health care products.
Listerine is a well-known brand of mouthwash. Their Smart Rinse products are made with kids in mind and include flavors like "Bubble Blast" along with the traditional mint. But just like the show itself, this isn't just for kids. There have been quite a few alcohol-free mouthwashes introduced recently, so adults like myself that prefer that type of mouthwash can feel free to use this as well. It has a built-in dispenser to help you get the right amount. Target sells it for about $5.
But before you finish off your morning or evening preparations with that, you're going to need something to brush your teeth with. Reach has come out with four different P&F toothbrushes. It's a simple element in the design, but the twist just above the handle seems to fit in perfectly with the style of Phineas and Ferb. I saw these online a while ago and finally found these at a local Walmart for about $4 for a pair.
Since both Listerine and Reach products are made by Johnson & Johnson Healthcare Products, it shouldn't be a surprise that the back of the toothbrush package recommends the P&F mouthwash. And if you go to the Listerine Kids website features both. There's even a link to get a $1 off coupon for them, but a parent will need to sign up for that.
There's a couple of other healthcare items I've seen recently, but I haven't had a chance to field test them yet (with emphasis on "field"). Watch for that later this year and come back in two weeks to see what comes up in the meantime.
Coming in two weeks:
Hands-on with the new merchandise, part 44
Recent episodes review
Other articles to be determined (submissions wanted - send to RRabbit42 or use the Newsletter submissions page)
Got a question or comment about this issue? Leave a message on .
Community content is available under
CC-BY-SA
unless otherwise noted.