(subscribe)

               
The Official Phineas and Ferb Wiki Newsletter, Issue 65: April 1, 2012
 
News and information from the world of Phineas and Ferb.
 
Crat Corner
by RRabbit42
Fourth anniversary
Four years ago, the Phineas and Ferb Wiki came into existence. At the time, the show had only been on the air officially for two months, with the previews occurring about a half year earlier.
To commemorate our fourth anniversary, I've changed our background picture and the color of the links. It's both understated and overinflated, which fits nicely with what's happened in the past four years.
We've had steady growth and become one of the top spots for information about the show: consistent high rankings on the search engines, being in the most active communities, usually being placed in Wikia's top TV Wikis list, being voted as the #3 wiki in the Best Wikis of 2011 and Across the 2nd Dimension was one of the top trending movies of 2011. We've even had some of the people involved in making the show stop by occasionally.
So where do we go from here? For now, I think we can stay on the path we're on. Work on filling out the episode pages, especially those from Season 1 or the Big Ideas. Take a look through the Wanted Pages to see if there's a new page you can add.
And while that's going on, we can look forward to the rest of Season 3, the start of Season 4 and the upcoming feature film
Cleaning house
In the last issue, I talked about doing some cleanup. I didn't get as far as I wanted to, but I did make a start on some of them. Some of the pages have been renamed to removed the unknown part of the title. All administrators and chatmods have been notified to review the list of people who were kicked out of the Chat, with Chat access to be restored for most of them at the end of the week. I also did another sweep of our blogs and closed down the ones that hadn't been active during the last four months.
There's more cleanup to come, but a lot of that will take place behind the scenes.
Interview with Dan Povenmire

by User:Trolypac
Trolypac was able to get an interview with Dan Povenmire and got some questions about the show answered.
How do you write the name of Doofenshmirtz's robot: Norm or NORM?
‬ I'm not sure I understand the question.

Which is the name of the song that plays when Norm/NORM appears?
‬ You may be thinking of "Sunshine and Bubble Gum."

Who performs these songs: "Ballad of the Black Knight"; Swampy Marsh: "Candace (both versions)" Danny Jacob; "Forever Summer" Danny Jacob; "My Chariot" Robby Wycoff; "Pin Bowlin' Robby Wycoff; "A-Prime Calypso"I forget, some session player; "Shooting Star Milkshake Bar" Danny Jacob ; "Come On, Kids!" Danny Jacob; "Dr. Coconut" Danny Jacob; "Ducky MoMo Theme" Danny Jacob; "Elementary" Danny Jacob; "Flawless Girl Danny Jacob "; "Go, Candace, Go" Danny Jacob; "Izzy's Got the Frizzies" Carmen Carter (I think); " Let´s Take a Quiz" Danny Jacob; "Half A Day" Kate Pearson (from the B-52s); "Perry's Hat" Pretty sure that's Robby Wycoff; "Perrytronic" Danny Jacob and "Run, Candace, Run"? Danny Jacob
What kind of three is the three of P&F Backyard?
‬ I'm assuming you mean, "tree." If so, it is a cartoon tree.

Is Monty Monogram going to appear more?
(was not answered)
Now that Vanessa and Johnny broke... have you planed a new boyfriend for her? I think that It will be cool an episode in which Carl, the intern, falls in love with her... tell me what do you think.
‬ I think Vanessa is out of Carl's league.

Who voices Phil, the Ryan-Seacrest like man?
I don't know who you're talking about. What episode is he in? ‬

Are P&F going to come to Spain? which part?
‬ No plans for a Spain trip right now in the show, though Swampy and I were just in Madrid last year for some press events.

The Ryan-Seacrest like man I mentioned is this guy: "Phil (announcer)"
Safari can't find this address.
(Some web browsers don't work well with punctuation inside a URL. The link has been fixed for this newsletter.)
The Norm song wasn't that...I was talking about an instrumental jingle that is heard when Norm appears since his/its first appearence (I don't know how to describe it)‬
I don't know the name, the composer probably has it titled but I have no idea.

Another question: What is Carl studying for? (I know he is an intern but...of which career/college)
‬ We don't know yet.

Any character has second name (for example; Candace is Candace Gertrude Flynn?
‬They probably all have middle names but we haven't decided what they are yet.

Are we ever going to see Mrs. Monogram?
‬No immediate plans.

Does Irving have a surname? Is he related with the Monogram family?
Not yet and definitely not.‬

In which year takes the series place? Ages of the characters?
‬It takes place in the present, even when it re-airs years from now.

Are we ever going to know Phineas's father/Ferb's mother?
‬ Probably not. The show is not about them.

Which are the names of Doofenshmirtz's Parents?‬
Mr and Mrs Doofenshmirtz.

I don't know how to ask this but... here goes: Are Buford and Baljeet more than just "frenemies".... Do you have any future plans for this "couple"?‬
No they are just frenemies.

If you would like to comment on this interview, visit Trolypac's blog.
---
Best sick day ever
by RRabbit42
Earlier this week I got my first cold of the year. Fortunately it's only been a nuisance and I'm just about over it. But in this issue's review, let's take a look at how Phineas and Ferb handle it when they get sick.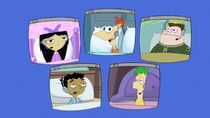 In "Brain Drain", Candace checks in on Phineas and Ferb to see how they're doing while they're sick and realizes that she can enjoy the day without worrying about them. After she leaves, they bring up their LAN so they can play online games with Isabella, Baljeet and Buford, who are also sick in bed (except for Buford).
Agent P gets his mission from Major Monogram. Monogram is complaining about Carl smelling garlic, which he shouldn't be able to do since he doesn't have any nostrils. At Doofenshmirtz Evil, Incorporated, Agent P learns first-hand what volition is when it is taken away from him by the De-volition-inator helmet. Of course, Dr. Doofenshmirtz uses it to make Perry do some petty and immature things like slapping himself.
In the middle of the episode, Vanessa explains to her mother about the difficulties of having someone like Heinz as her father and how the party they are driving to is important to her. Charlene zings her as they arrive next to Vanessa's friends.
The De-volition-inator goes a bit haywire and connects the live video feeds to Phineas and Ferb's LAN and they end up controlling Perry to fight Doofenshmirtz. Though he quickly defeats the doctor and is freed from the helmet, Perry takes pity on him when Doofenshmirtz ends up at the turntables, embarassing Vanessa. With a little bit of help from the helmet, Heinz belts out a pretty good rap song and earns the appreciation of his daughter.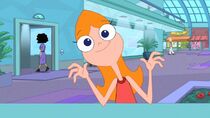 The other half of this episode actually aired first. "Split Personality" shows what happens when Candace gets her wish for two of herself so that one could bust her brothers and the other could spend time with Jeremy. After being zapped by the Molecular Separator, Candace and Candace head to the mall to find mom and Jeremy. During the mall-spanning search, Candace describes her "touchy-feely ninny" self to Jeremy, freaking him out a little bit. Later, that same busting Candace gives us one of the more amusing real-world references when she imitates the scream the pod people make in Invasion of the Body Snatchers.
Perry the Platypus heads over to the swimming pool to find out why Dr. Doofenshmirtz has been hanging out there and learns that Heinz failed a rite of passage as a child that he now wants to rectify: successfully diving off the high dive board.
Unfortunately, being on top of the high dive is even worse than he remembers and he can't do it. After being taunted in the same manner as when he was a kid, he tries to go ahead and activates his Look Away-inator, but gets affected by it as well and winds up doing a belly flop from over 30 feet up. Perry winds up rescuing him.
Of the two episodes, I think I like "Brain Drain" a little better because it expands on the relationships between Vanessa and her parents. It's nice to see Vanessa understanding her dad more, the result of which was seen in one of the most recent episodes, "Quietest Day Ever".
---
Hands-on with the new merchandise, part 42
by RRabbit42
Since Easter has almost arrived, let's take a look at some of the items available for this holiday.
Last year, only Toys R Us had an Easter basket for sale. Looks like it's still available, but they've dropped the price to half of what it was. I haven't checked, but the local stores might have it in stock again.
This year, there's a couple more choices if you're looking for a pre-made Easter basket. Some of these items in the baskets are the same as what was offered last year, but the one that is new is marked with an asterisk.
Walmart currently has two Easter baskets. The one on the left includes a suction paddleball set, a Water Shrink-inator*, a Splash Football, "Candy Characters" candy (a tablet candy) and jelly beans. The back of the package has some puzzles on it. It's available for $10.00.
The second one trades the Water Shrink-inator for the Jai alai-style "Scoop N Toss" set from last year and includes a green wicker basket. At the moment, it is only shown on the Walmart website, but I can't see a price and the Check store availability didn't return any stores nearby that have it in stock.
There is a third Easter basket that Target carries in their stores. It's a larger version of the first set that Walmart has and adds Lollipops and the Agent P water squirter from last year. It's $15.00 but you will have to go to your local store to see if they have it since it's not listed online.
For those of you who are going to be decorating Easter eggs this year, Walmart has an Easter Egg Decorating Kit for $2.97. It includes the standard coloring tables and the wire egg dipper, plus stickers and 4 lenticular "tip ons" to decorate the eggs with.
This last item isn't Easter-specific, but I happened to find it while at Walmart on the same trip where I got the Easter basket and the decorating kit.
I have been looking for the bottles of Langers juice ever since this picture was added to our wiki almost two years ago. I still haven't found it, but I found something similar: Langers Fruit Punch drink pouches.
Using pouches instead of rigid boxes seems to be a hot packaging trend these days because it takes less material to make and uses less space in a landfill, but it looks to me that the resealable plastic cap on the pouch uses more plastic than a straw would that you poke into the pouch to drink with.
The flavor of the fruit punch is different than the traditional fruit punch you get from Crystal Light or Hawaiian Punch. It's made with apple, orange and pineapple juices. Walmart has it listed on its website, but not the price. I think it was about $3 for the box of 10 pouches.
Next time
More potluck as I uncover and re-discover what I've bought in the past year. However, if someone wants to review something they've bought, let me know. A guest column is always welcomed.
Coming in two weeks:
Hands-on with the new merchandise, part 43
Recent episodes review
Other articles to be determined (submissions wanted - send to RRabbit42 or use the Newsletter submissions page)
Got a question or comment about this issue? Leave a message on this issue's Discussion page.
Community content is available under
CC-BY-SA
unless otherwise noted.