(subscribe)

               
The Official Phineas and Ferb Wiki Newsletter, Issue 60: January 16, 2012
 
News and information from the world of Phineas and Ferb.
 
Current forum discussions

---

---

Crank the tunes!

Queen Candace knows that music makes us better. Check out the merchandise review for three new musical products.
Crat Corner
by RRabbit42
Have we gone too far?
About the time this newsletter is published (late again, sorry about that), Wikipedia, Wikia and other websites will begin their protests against two pieces of legislation being proposed that affect how the Internet works. The basic idea behind both could be good, but the way it would happen in those bills will cause more problems than they solve. There's a new blog up on Wikia's Community Central that explains what Wikia's plans are.
Most of us might wonder what's the big deal or why bother with this issue. There's several examples I could use, but I think the one that fits here is for everyone to imagine what it would be like if every time you made an edit on the wiki, it had to be approved by a lawyer from Disney. Not only would that slow the growth of the wiki down to a crawl, but they would have a different idea of what's allowed than we do. The wiki would look very different than it does today and it probably wouldn't be very enjoyable to be here.
Please take a little bit of time to read up on these two bills so you can see how they would affect you beyond just this wiki.
| | | |
| --- | --- | --- |
| | New law! | |
Now, before I became aware of what Wikipedia and the rest were planning to do, there were two other issues on my mind that I think we need to address. The first involves the blogs and the second our Chat.
Our Blog policy was written at a time when there were quite a few users who seemed to want to turn the wiki into a social networking site. Some were sharing information about themselves that they really shouldn't for their own safety, while others were more interested in talking to other people instead of helping to build the wiki. We put together some rules that helped address this, with the intent of keeping our focus on wiki-building.
I have noticed the part about having restraint in what personal information you have in a blog is being interpreted as no personal information is allowed. It's got to be a bit discouraging to be new and wanting to introduce yourself, only to be shot down pretty quickly. I think we need to loosen up a little bit so we're more friendly towards the newcomers, so we need to update that policy in the near future.
Wikia itself has been adding some social networking features, with Chat being the most prominent. It's great for casual conversation, happens in near-real time and can be about more than just our favorite stepbrothers. The down side of it is that there have been people coming into the Chat that are not a part of our wiki, and some of those have inappropriate reasons for wanting to talk to other people.
The admins have tried to leave Chat alone so everyone feels more comfortable in there, but it's come to a point where we are going to need some rules. I started working on a policy that has more guidelines than specific rules. Once I come up with a suitable way of resolving disputes (since we usually won't have anything similar to the edit histories to refer to like we do with the main wiki), everyone can look it over and see what needs to be fine-tuned.
I'm not sure when both of those will happen, but they will need to be fairly soon.
A brighter note
On a brighter note, we now know why the episode premieres have been so strange lately. Disney was holding some of the episodes back for their "Time Shift Weekend" event. These were fun to watch and hopefully will signal the return to more regular premieres.
Some of the new episodes are in iTunes, but they seem to have gone back to having "volumes" instead of seasons, so you have to look around to find them.
Odds 'n' Ends
If you have an idea about something new to add to the wiki, drop a note to an administrator or use the Feature request page.
Retro Review: It's a show about nothing
by RRabbit42
In keeping with the "Retro Review" theme, it's time to take another look at a couple more episodes from Season 1.
Situated just past the middle of Season 1 is the episode "Crack That Whip". We met Clyde and Betty Jo about ten episodes earlier in "Get That Bigfoot Outa My Face!", but this one introduces us to a bit of Betty Jo's history and shows the connection between the Flynns and the Johnsons. Both grandmas had been on competing roller derby teams and it doesn't take much for them to renew their rivalry.
This leaves Candace in the uncomfortable position of having to support her family while not upsetting Jeremy. Just as she thinks she sees a way out, Suzy turns the innocence on full and forces Candace to compete. For a brief moment, the roller derby rematch hovers on being a great time for both families, but quickly becomes another rivalry.
For Agent P, his mission briefing starts off by shipping himself off in a box and traveling a great distance to a package distribution center, only to be sent right back to his lair. Monogram gives him a pretty vague objective, but it's enough to send him on his way.
At Doofenshmirtz Evil Incorporated, Dr. Doofenshmirtz just can't summon any enthusiasm for his evil scheme due to a (self-induced) headache. Anyone who has had a bad headache (self-induced or not) can sympathize with him. It helps to make Heinz a bit more human.
The flip side is "The Best Lazy Day Ever". As much as they want to make every minute of summer vacation count, Phineas and Ferb realize that sometimes taking a day off is better. Thus, they decide to have a "do nothing day", which frustrates Candace no end. It isn't until they decide to do nothing that she realizes how much of her life is dependent upon busting them.
Just as she's given up figuring how to solve this problem, a commercial on the television provides the answer: start setting up a water slide and that will want to make the boys want to take over. Then she can bust them. Except she can't, because they're not interested because they're doing nothing that day.
In "Crack That Whip", I thought Major Monogram's directions to Agent P were fairly short and direct, but this one might be the shortest ever: "Stop Doofenshmirtz". Fortunately, Agent P is a highly skilled member of the O.W.C.A. and it is enough for him to proceed.
His battle with Doofenshmirtz takes place high over Danville, with Candace, Stacy and the "Man-eating dinosaur-themed water slide of doom" hitching a ride. They wind up at the venue where Jeremy and the Incidentals are playing, but a stray blast from Dr. Doofenshmirtz's "Ugly-inator" changes the band into punk rockers. At least, until Agent P reverses the effect by using a picture of "handsome movie actor Vance Ward". It's there at the concert that Candace gets to sing with Jeremy, and Stacy met someone new.
"Lazy Day" is an interesting episode because it shows us two different sides of what could be. For Stacy, there is the potential for her to have a different kind of relationship beyond just being Candace's long-suffering friend. So far, there has only been one other episode where that was explored, when she formally met Coltrane in "The Baljeatles". Whether we will see more of him in the future is unknown.
For voice actors, sometimes they will be called back to perform miscellaneous characters in later episodes. I think it's a good indication of their talent when they're asked to come back for a recurring character. Diedrich Bader had the role of Vance Ward in this episode, and he would later perform the voice for Albert, Irving's older brother. Both Albert and Irving could have easily become annoying, but I'm pleased to say that both characters have been well-written and I look forward to when they appear in episodes.
Hands-on with the new merchandise, part 38
by RRabbit42
Last year, Disney released the Best Boom Box Ever and the Perry-oke Karaoke player plus an extra microphone for it. There really hasn't been much since then to help with playing your own music. Happily, that's beginning to change.
The first round involves headsets. Currently, there's three available that I know of: the Agent P Earbuds, the iHome Noise Isolating Earphones and the iHome Over-the-Ear Headphones.
Let's start with the Agent P Earbuds. As you can see, the earbuds are shaped like megaphones and Agent P is hanging onto them like he would with his parachute. His tail is supposed to act like a clip so it can atttach to your shirt, but mine didn't work very well and it wasn't long before I wound up resting Agent P in my shirt pocket or removing him from the cables.
They only provide one set of silicon tips (the white part that fits into your ear), but it seems to be pretty standard and you can swap them out with larger or smaller tips to get the right fit for your ears.
There was another reason why I removed Agent P from the earbuds. It only weighs about one ounce, but unless you're able to get it secured to your shirt so that it doesn't put any tension on the cables, it will tend to help the earbuds slip out of your ears as you turn your head. The "handle" on the megaphones where the cables are attached keep them from going very far into your ears. Normally, that would help prevent accidental damage to your ears, but like the weight from the Agent P figure, these handles also helps them to slip out.
I can't really recommend these due the above and because of the sound quality, which I will get to in a moment, but if you're interested in them, Toys R Us has them for $11.99.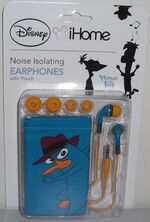 The next set of earphones is made by iHome and eKids. They're called the Phineas and Ferb Noise Isolating Earphones, model #DF-M15. These are the same price as the Agent P Earbuds and are a much better design. (eKids also made the Agent P Earbuds.)
The cables are longer and the earbuds fit more comfortably in your ears. They also give you a larger and a smaller set of silicone tips so you don't have to buy those separately. And a pouch to hold them in.
Perry-colored in teal and tangerine, with his face on each one. They're marked with an L and an R to indicate which one goes in your left and right ears, but they should have made those letters bigger or left off the circle so the letters stand out better.
Available at Toys R Us for the aforementioned $11.99, or you can get them over on the Hastings website for a couple bucks more.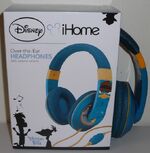 The last set is also from iHome/eKids and is a traditional set of headphones that you'd use with a stereo system, rather than a small CD player. As such, they give you an adapter so you can change the 1/4" headphone jack to the 3/8" use on those systems.
Other features include a much longer cord (about 5 1/2 feet), volume control and adjustable headband. The ear cups are soft and padded. They're a little small for an adult, but after about 10 or 15 minutes after putting them on, I didn't notice that any more. Like the other iHome earbuds, this is also Perry-colored, with a picture of him running on each side.
I'm not sure if Toys R Us had these at one time, but they're not currently on the website. I got mine from Hastings for $29.99.
All of the above is the what the items are. But how do they perform?
In terms of sound quality, I place them in the same order I listed them: the Agent P earbuds at the bottom and the iHome headphones at the top.
Besides the problems I had with them not wanting to stay in, the Agent P earbuds lose about half the volume and a lot of the bass. You're going to have to turn up both in order for the music to sound right, but don't go too far in the adjustments.
On the iHome earphones, the "noise isolating" in the name refers to blocking out external noise by fitting in your ears properly, rather than any kind of electronic filtering. My computer speakers tend to make a hum when I plug earphones into them and these didn't block that out. (When music's playing, that covers up the hum.)
The earphones also aim the sound more directly into your ears, so music sounds louder. Turn down the volume a little bit when using these. They did pretty good with low-end bass. Maybe a little bit dropped out, but not much.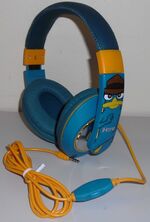 The winner was the iHome headphones. Because headphones cover your ears with sound instead of funneling it into them like earbuds do, I think the quality of the sound is better. Both iHome products are close, but the headphones have the edge.
The sound was rich and full, and all of the bass came through. Even plugged into these low-end computer speakers, I heard more details with the headphones than I expected to, and more than the speakers usually provide. Having the extra volume control also helped for the couple of times I forgot to adjust the volume on the speakers as I switched back and forth between these three headsets.
So, to wrap up, if you want a compact headset at a low cost with good sound, go for the iHome Earphones. If you want that extra bit of sound quality, get the iHome Headphones.
Coming in two weeks:
Hands-on with the new merchandise, part 39
Recent episodes review
Other articles to be determined (submissions wanted - send to RRabbit42 or use the Newsletter submissions page)
Got a question or comment about this issue? Leave a message on this issue's Discussion page.
Community content is available under
CC-BY-SA
unless otherwise noted.