(subscribe)

               
The Official Phineas and Ferb Wiki Newsletter, Issue 49: August 1, 2011
 
News and information from the world of Phineas and Ferb.
 
Current forum discussions

---

---

Countdown to crossing over

Less than a week until the premiere of the movie on Disney Channel. Grab the popcorn and your favorite drink and enjoy the ride!
Crat Corner

by Topher208
A Phintabulous Ferbstravaganza
Unless you've been living in a cave somewhere you know that "Phineas and Ferb The Movie: Across the 2nd Dimension" premieres on Disney Channel on Friday night at 8:00 p.m., ET/PT (check here for additional airings). It is destined to be the most-watch Phineas and Ferb event yet. This means the wiki will be very busy over the next week or two as we sift through our newest treasure, and the admins will need your help.
First off, we need to all remain calm and not turn into Lifeguard Candace. Not every frame of the movie needs to be uploaded to the wiki. Not every scrap of dialogue needs to be added as "memorable quotes." Also, since the movie has been made available on Disney On-Demand already, we need to be respectful of those users who don't want spoilers between now and Friday/Saturday. The admins will be temporarily protecting a few articles so that spoilers don't start leaking into the regular articles. The movie article itself is where the spoilers should go for now. This way, users can know where they can look without running into the big spoilers that are already floating around the wiki. We will be deleting blog posts with spoilers and will do our best to keep the wiki spoiler-free.
Now that the serious talk is over, let's talk about how we're celebrating the movie. In addition to the 2nd Dimension skin that we've been using for awhile now, we're planning some social networking events, too. To coordinate our efforts, we should all start bombing Twitter with the hashtag #pfwiki2d from now until Saturday. You can also include #At2D for good measure. Let's see if we can make #pfwiki2d trend!
Facebook users should switch their profile pictures to their favorite Phineas and Ferb moment. There's thousands of images on the wiki. Just check the gallery of your favorite episode. You should encourage your friends to do this, too. Copy and paste the following as your status after changing your pic: "Hey Facebook friends, I know what we're gonna do today! In honor of Phineas and Ferb: Across the 2nd Dimension premiering this Friday at 8/7c, let's change our pics to our favorite P&F moments. Spread the word and remember to always, Carpe Diem!"
We've also opened up a special chat room (outside of Chat and our usual IRC channels) to allow everyone to talk about Across the 2nd Dimension. You can find that by going to http://dft.ba/-at2dchat. You can even include that in your tweets. Just enter your Wikia user name in the Nickname field and enter the CAPTCHA information and press Connect. This will load up our special IRC channel created specifically for the occasion. Until Friday this chat will contain spoilers and anyone who's seen the movie, read the book, or have or want knowledge of the movie can chat freely. Starting Friday at noon (Eastern Time) we'll be going spoiler-free in order to accommodate everyone who is anticipating the event. Then we'll be able to live-chat during and after the movie.
Odds 'n' Ends
The Dimension of Doooom!

by Ryan Stoppable
Fresh off his conquest of his own dimension, 2nd Dr. Doofenshmirtz has expanded his horizons and set his sights on our dimension, and only an unlikely collection of heroes from both dimensions can stop him. That is the charge given to players of Disney's latest Phineas and Ferb online game, The Dimension of Doooom!, which was released two weeks ago on the new Across the 2nd Dimension website.
In this game, players can choose from between Phineas, Ferb, 2nd Candace and Agent P as they battle their way through the nine levels of the mines and the Alternate Doofenshmirtz Evil, Inc. building. Gameplay wise, it borrows heavily from Transport-inators of Doooom!, with many game mechanics such as the glider (standard 2nd Fireside Girls issue this time), collection of hundreds of gears on each level, and the end-of-level rewards returning from that game, which I reviewed previously in Issue 17 of this publication. The cleaning and attack robots from the first game return as well, along with bots modeled on both dimensions' versions of Norm, with appropriate quips for each ("Come out, come out, wherever you are..." vs. "Target acquired." to give one example).
There are two major differences that bear mention, however. First of all, instead of using the plunger or their paws, each character is equipped with a blaster - this is also what differentiates the characters; Phineas's laser is nearly continuous but is the weakest, while Perry's launcher is the slowest but most damaging, and Ferb and Second Candace are in the middle. The other difference is that due to the genius work of Dr. Baljeet, our heroes can go through portals back into the 1st Dimension, giving the effect of two similar yet different levels within each level.
Visually, the Unity Web Player looks impressive as ever, and remains smooth even with the additional graphical demands of the heroes and Norm-bots exchanging laser fire. The game's music is instrumental in nature, allowing players to clearly hear the various chatter within the levels: 2nd Isabella's tips, 2nd Monogram's exposition, Dr. Baljeet's sarcasm, the Norm-bots' quips, and Second Doofenshmirtz's outright taunting, all featuring the trademark Phineas and Ferb humor.
While there are only 9 levels in "The Dimension of Doooom!", don't take that to mean that the game lacks replay value. There are secret music tracks to unlock on every level, featuring instrumental versions of Across the 2nd Dimension songs as well as the ever-popular "S.I.M.P. (Squirrels In My Pants)". Three gold trophies are awarded on each level, one for finding the hidden CD, as well as completing the level against a time limit, and collecting 100% of the gears on each level. The 100% trophies are particularly notable for their challenge, as they requiring not only scouring every inch of both dimensions, but also avoiding getting hit, as your character drops 5 gears for every hit they take.
Much like the 2nd Dimension it portrays, "The Dimension of Doooom!" feels oddly familiar, yet different, at the same time. Don't take all of the comparisons with "Transport-inators" as a mark against the game, though; those who would dismiss "Dimension" as a mere rehash will miss out on a very good game, one that gets a 9 from me. Once you're done reading this issue of the Gazette, go here and try it out for yourself.
We interrupt your regularly-scheduled Big Idea
by RRabbit42
In several of the recent episodes, we have seen the usual routine get shaken up a bit. "Phineas and Ferb Interrupted" continues that theme by starting off with showing the aftermath of the most recent battle between Dr. Doofenshmirtz and Perry the Platypus. Isabella notices that Phineas and Ferb are acting a bit strange, which interferes with Linda's attempt to spend time with her daughter, though she seems to take it in good spirits. Surprisingly, Buford is the one who reveals the truth.
As Perry heads off to fix this problem, we get to watch Phineas out-boring Baljeet. Just prior, Isabella realizes that something is really wrong, and there's a bit of overlapping dialogue that is really hard to hear. (I'll put it up as a memorable quote for the episode later.)
When Agent P arrives at Doofenshmirtz Evil, Incorporated, Heinz tries building some comraderie while the Dull and Boring-inator is rebuilt. And then we hear another routine get shaken up. We've had a few songs that have different styles in them, but this is the first one where the two styles merge together to become a single song. Definitely nothing dull and boring here.
As the episode wraps up, Linda decides to play along even though she knows nothing bust-worthy happened, Doofenshmirtz is still looking for a moment that never comes, and after a dramatic rescue that sets the boys right again, we're treated to something completely unexpected. And Perry heads back to DEI once more to fix yet another problem that occurred.
The companion episode is "A Real Boy", where we get to see a bit of the life of Norm the robot. At first I was wondering why Norm would need to sleep, but that's probably more for the benefit of the squirrel inside that generates the power for him.
Heinz is still in competition with Rodney. In his attempt to work through what Rodney has told him, it appears that Heinz has upset his daughter, Vanessa. Norm makes an offer to help the situation, but is rebuffed. It's not long after that we reach a very "meta" point in the episode. Heinz starts talking about the difference between sitcom cliches and real life, suddenly realizes what he's saying, then breaks the fourth wall to look directly at us.
There's other events that happen in this episode, such as Candace's experiment with hypnosis to control her busting, Linda seeing the giant size spring-loaded toy the boys have made, and Jeremy dancing around the trigger word to end the hypnosis, but the highlight of the episode is Norm's song. Chalk up one more usual routine that is shaken up. What starts out as a spoken word song turns into a rap song, complete with the same backup singers that helped Doofenshmirtz out with There's a Platypus Controlling Me. I'm not a fan of rap music in general, but every one that has been heard in the episodes has been great and show the skill of Dan, Swampy, Martin Olson, Danny Jacob and everyone else who pitches in to write the songs.
I'm going back to not giving these two episodes grades because, once again, it should be very apparent that I like both of them.
In our next review, we'll take a look at the glory that is meatloaf and find out what happens when hair runs amok. See you in two weeks.
Hands-on with the new merchandise, part 29
by RRabbit42
As the "104 Daze of Summer" come to a close at the end of the month according to this year's "Where's Perry?" calendar, stores have already begun stocking up on supplies. To ease the pain of having to return to school, my review this time will be a roundup of Phineas and Ferb school supplies that you can take with you.
Walmart, Target and other stores are currently selling P&F school portfolios. Here's the eight that I found about a month ago, but I see on Walmart's site right now that they have a few more designs, so the selection and price varies by store. There are some that seem to be exclusive to Walmart.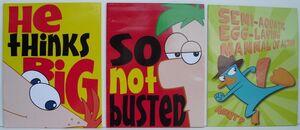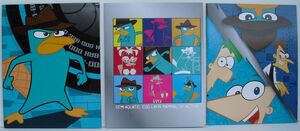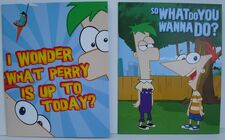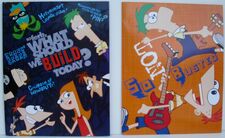 Each of these designs is also available on a notebook. The ones at Walmart have 80 pages, while the ones I got at Target come with 70 pages but have a lenticular cover.
Over at Barnes & Noble, they have the Phineas and Ferb Super Secret Desk Set. It's a decorative box with some colored pencils, eraser, notepad, invisible ink marker and a secret compartment. The store I got this at had a special where if you bought two Phineas and Ferb books, you could get the desk set for free. Otherwise, it's about $8.
Now, Disney seems to have launched a set of products with the phrase, "Let's get this party started". At the moment, they have a Tin Art Set with 75 markers, pencils, crayons and more, a Supply Kit with pencils with case, two notebooks and a formidable looking eraser, and an aluminum water bottle in that line, plus the backpack you'll see below.
Once you've stocked up on your school supplies, you're going to need something to carry them in. Fortunately, there's a nice selection of backpacks this year. I saw three at Toys R Us and one at Disney Store, along with a few soft-sided lunchboxes:
The Toys R Us website has another backpack and a messenger bag. The third backpack is available from Target, so if you go into their store, you may find other selections as well. Kmart has two of these backpacks, plus a third design I hadn't seen yet.

Finally, you're going to need something to help you get to school on time. Fortunately, Agent P has got you covered with an LCD watch. Toys R Us has another watch available of a different design that comes in a tin case and includes a toy telescope for just a couple dollars more than the first watch by itself. Match either of those with the wall clock and/or the Awake-inator I reviewed a while back and you should be good to go.
That will complete our look at the school supplies for this year. Come back in two weeks and we'll take a look at two Perry-themed cameras and some new action figures.
Coming in two weeks:
Hands-on with the new merchandise, part 30

Recent episodes review

Other articles to be determined (submissions wanted - send to RRabbit42 or use the Newsletter submissions page)
Got a question or comment about this issue? Leave a message on this issue's Discussion page.
Community content is available under
CC-BY-SA
unless otherwise noted.