(subscribe)

               
The Official Phineas and Ferb Wiki Newsletter, Issue 45: June 1, 2011
 
News and information from the world of Phineas and Ferb.
 
Current forum discussions

---

---

See "Bunny Bites" for information about changes to the Forums.

Ready for the skate track

If you make your own "edge-of-insanity, kiss-your-butt-goodbye, gravity's-a-stone-cold-sucker nightmare rail skate track obstacle course of doom", make sure you have a helmet and proper equipment. See the merchandise review for a few ideas.
Crat Corner

by Topher208
Little boxes on the hillside
Some of you may have noticed that we have fixed our article icons. Since our makeover in October, they have been hiding under advertisements or the top wikia bar. Last night, these have been moved to the left of the articlespace starting at the title of the page in order for us to continue to use only one set of templates for all types of pages on the wiki.
What are these icons for? There are several different reasons why a page would have an icon. First, all articles in the main namespace that are written from the Real World POV get a globe icon. Songs, being mixed POV, also have a special icon. There are also several different groups that in-universe pages can have on them. Secondly, featured pages (articles, songs, etc.) get various star icons. There are also stars for nominees and our old Article of the Month pages. Pages may also have various lock icons to show they have some level of edit-protection on them. Admins and Rollback Users (NEW!) have the ability to put icons on their pages denoting their status. Anyone abusing the icons on their user pages will be subject to a block.
For more info on how to use these icons, see the Era template and to discuss these icons, head on over to my blog.
Odds 'n' Ends
While we have several blogs about what might happen in the upcoming Phineas and Ferb: Across the 2nd Dimension movie, we do have a blog about what we do know at this point.
Sir Duke has a blog with a proposal for a new type of character listing that would combine and/or replace the background character sections we have now.
J. Severe reports the game based on the movie will be featured at the Electronic Entertainment Expo taking place next week.
The userboxes that designate Admin, Bureaucrat and Rollback rights now have a "verify" link in them that will display what rights, if any, the person has.
Just livin' in a funhouse...
by SuperFlash101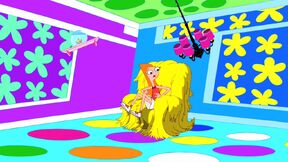 Hey there all; Flash here to review the two latest episodes of Phineas and Ferb--"Ask a Foolish Question" and "Misperceived Monotreme". "Moon Farm" and "The Belly of the Beast" will be covered next time.
First up we have "Ask a Foolish Question". A big pet peeve of mine about Season 3 so far in that it has a nasty habit of downgrading Phineas and Ferb's Big Ideas--usually in favor of more Candace plots, which are fine in certain incriminates but not in a continuous string of episodes like what's been happening so far this season--which means that these usually marvelously fascinating and entertaining devices become one-note and unexplored. This episode, however, finally put some more effort and focus on the device, which was interesting and quite entertaining. The sheer idea of a machine that knows everything is really a fascinating subject and something I sure everyone wished they had.
The plot did dissolve into a very basic "Candace seeks help to bust her brothers from other" plot done already in episodes like "Suddenly Suzy", but the sheer novelty of the super computer was still enough to keep the plot engrossing enough. I especially liked the very self-aware musical number, "Buildin' a Supercomputer", which acted as purposefully and hilariously over-explained montage music. Meanwhile in Doof and Perry's plot, was a typically strong outing, subverting a typical Agent P b-plot by having Doofenshmirtz searching for the key to his own invention. Their fight scene towards the end was very inventive and filled with some very amusing sight gags. Definitely a step in the right direction for this season, with an interesting Big Idea and some very funny jokes. Overall, A.
Then in "Misperceived Monotreme", we had another very clever and amusing Big Idea--this time, transforming the house into a crazy funhouse. The sheer sight value of the fun house and the mechanics of the animation to presenting it was itself great, let alone all the excellently timed sight gags that resulted from it. Not to mention the absolutely phenomenal song "Funhouse", which is an excellent jangle pop-infused Vaudeville number that manages to be both insanely catchy and funny. "And while we're on the subject here's my friend Davy / He was in the Navy / And his hair is wavy" is absolute gold.
I felt another thing "Monotreme" had going for it was the perfect balance between the plots. Once again I note that my complaint about this season is too much focus on a single character (Candace) which, while offering some amusement, borders on redundant and slows down the progress and focus of other things on the show like the boys' invention that I personally find more entertaining. This episode demonstrated what the show is usually best at: balancing these three intertwining storylines with just the right amount of and sense of importance with each of them. All three plots managed to entertain, with Perry being caught up in Candace's plot and Doofenshmirtz fighting a normal platypus in the typical Agent P plot by mistake. All situations led to very funny hijinks, and this is definitely one of--if not the--best episodes of the season thus far. Overall, A+
Agree with this review? Disagree? Can't really decide? Let us know on our talk page.
Hands-on with the new merchandise, part 26
by RRabbit42
Two helmets sold by Toys R Us and one by the
Disney Store
Six months ago, I introduced you to two skateboards that Toys R Us was selling, the Tales of Phineas and Ferb skateboard and the Crazy Racer skateboard. At the time I thought, "If they have Phineas and Ferb-themed skateboards, why don't they have matching helmets?" It took them a couple more months, but finally they do.
Set at a price of $24.99 each, they have a Phineas and Ferb helmet that takes a cue from "Lawn Gnome Beach Party of Terror", and an Agent P helmet, with his famous "Agent P Wants You to Join The Agency" slogan and the SSSN logo on the back that we first saw in "It's About Time!"
There doesn't seem to be an indication of what size the helmets are, so all I can list is that both have a "5+" age rating. I'll translate that size in a moment. Both come with a bell that can be mounted to the handlebars of your bike, with a design that matches what's on the helmet.
On a trip up to the Disney Store recently, I saw that they had a skateboard and helmet combo for sale, so I picked that up. The skateboard is longer and wider than the ones from Toys R Us, and there's a kicktail at both ends, but it supports a little less weight. The combo lists for $49.50 and is not available on the Disney Store website right now.
The graphics on the skateboard are outline drawings of Agent P and Dr. Doofenshmirtz, with a large Phineas and Ferb logo in the middle. These match what's on the helmet, which does list a size of "M" (56-58 cm). It's a tight fit, but I can just barely get the helmet on. The ones from Toys R Us appear to be a little smaller, so I'm going to guess that they are around 50-52 or 52-54 cm.
So, now that I've whetted your appetite to do a little bit of skateboardin', which one should you get? Use the table below to decide.
| | | |
| --- | --- | --- |
|   | Toys R Us | Disney Store |
| Number of designs for skateboard | 2 | 1 |
| Number of designs for helmet | 2 | 1 |
| Does the helmet design match the skateboard? | Mostly, for one of the helmets | Yes |
| Design on the top and bottom of the skateboard? | Both | Bottom only |
| Wheel design | Lightning bolt or explosion | Agent P in various poses |
| Skateboard size | 21" x 6" | 31" x 8" |
| Kicktails | Rear only | Both ends |
| Weight limit | 125 pounds | 110 pounds |
| Helmet size | approx. 50-52/52-54 cm | Medium / 56-58 cm |
| Cost of skateboard + helmet | $41.98 ($16.99 + $24.99) | $49.50 |
| Bonus item | Bicycle bell | none |
| | | |
| --- | --- | --- |
| | Folds up for easy storage | |
If that isn't quite your thing, maybe a scooter is. Toys R Us has a Phineas and Ferb folding scooter. It's made by Huffy, a well-known bicycle manufacturer for over 100 years. It folds up for easy storage and doesn't need any tools. Alas, it's another piece of athletic equipment I'm too big for, but if you weigh 150 pounds or less, you won't have any problems. The scooter is on sale right now for $39.99 and can be picked up online or in local stores.

Coming up in two weeks, we'll take a look at the game based on Phineas and Ferb's favorite time of year: the 104 Days of Summer! Game. Remember, articles from guest writers about the neat things they got are always welcomed.
---
Bunny Bites

by RRabbit42

T-shirt company Threadless is running a "Phineas and Ferb Design Challenge" where you can design a Phineas and Ferb t-shirt with a theme of innovation. They're offering three awards for the top designs, which can be submitted through June 9th. For two weeks, starting June 2nd, you can vote on the designs that have been submitted. The winning design will be available for sale on their website. See the website for details about the contest and to vote.

---

A lot of you regularly vote in our "big four" forums, to determine what the pictures, quotes, song and "Did You Know?" will be for the upcoming month. There's another area where we vote on which article will be featured on the main page, called, naturally, our Featured Article voting.

It's been a while since that's been cleaned up, so I took some time to do that. Now when you look there, you'll see the current nominations. The past nominations that passed have been moved into a new Successful featured article nominations category, while the ones that didn't make it are in the Unsuccessful featured article nominations category. Many of the latter may have already been improved since they were nominated, so double-check those to see if they deserve a second chance.

Likewise, a lot of our old issues in the Downtown Danville, The Backyard and the Help desk forums have been moved into separate categories. The work on those forums and the featured article nominations was done to make it easier to see what's current, while keeping the older issues in case we need to reference them again in the future. Just like with blogs, anything that hasn't had any activity in about four months will be considered closed and shuffled off to the new category.

---

Have you noticed what's new on our main page? Along the right-hand side just after the Phineas and Ferb cast and crew birthday, we now have a section that will list the birthdays of our community members. If you would like have your birthday on the main page, head over to the Community birthday list and add yourself to the list.

---

 
I have watched some vandalism take place on a couple of other wikis recently. The type of vandalism wasn't very nice to look at, but took relatively little effort to do and was easily fixed. However, a lot of people blew the situation all out of proportion, essentially running around screaming "the sky is falling". This prompted me to get a page finished that I had been meaning to work on for a while.

It's now availabe in our Help section and it's called Dealing with vandalism and spam. It has a little bit of philosophy as to why vandals and trolls do what they do, so that you can understand them a little better, and to see why it's important not to get caught up in their games. In the words of a very wise computer, "the only winning move is not to play". It's a good reminder, one that even I need every once in a while.

---

One of the long-standing projects we've had has been to organize the episode galleries a little better. Rather than just have one section with all the pictures in it, we need to split them up so that they "build a story", as I termed it. You can see an example of this on the "Flop Starz" gallery. It's now split up into seven sections, to match the seven major points in the episode. Some episodes will have more sections and some will have less, just depending on how much is going on in that episode.

Arranging all of the other galleries in this manner is just one step to having galleries we can be proud of. The other steps will be taking all unused pictures and adding them to the appropriate galleries, followed by uploading new versions of the pictures so they replace the lower-quality versions. Look for more information about this in the coming weeks.

---

Another reminder that with summer vacation coming up, we'd love to see pictures from your trips, especially if you take a Phineas and Ferb toy or other item with you. I hope to be able to share some of mine shortly from an upcoming trip.
Coming in two weeks:
Hands-on with the new merchandise, part 27
Another Retro Review
Other articles to be determined (submissions wanted - send to RRabbit42 or use the Newsletter submissions page)
Got a question or comment about this issue? Leave a message on this issue's Discussion page.
Community content is available under
CC-BY-SA
unless otherwise noted.