(subscribe)

               
The Official Phineas and Ferb Wiki Newsletter, Issue 17: April 1, 2010
 
News and information from the world of Phineas and Ferb.
 
Current forum discussions

---

---




Random picture

Crat Corner

by Topher208

Message Boards and Comments and Blogs... Oh My!

Over the past few weeks, the admin team has been working on creating a better place for everyone to discuss Phineas and Ferb than our blogs. What could be better than the blogs for chatting? Why some combination of the Phineas and Ferb Community Message Board and our very own Internet Relay Chat Channel, of course. I can hear you asking what are those? Well, read on Macduff.

The Phineas and Ferb Community Message Board is a place where you can ask questions, post theories, play forum games, or just talk about anything in general. There are even places on the board to discuss non-Phineas and Ferb related things. The goal is for everyone who has been using the blogs for non-news related items to move over to the message board and do their thing there. For the full picture, see RRabbit42's blog.

The Internet Relay Chat (IRC) channel is different from anything else you can find here on the wiki or on the message board. It is a real-time chat where members of the wiki can go and discuss the show, the wiki, or other miscellaneous topics that pop up from time-to-time. This would be a good substitute for some of the odd comments we've been having on the blogs where people ask if anyone else is on the wiki. The channel is pretty lively in the (American) evenings, but as more people start using it, it could have people in it 24/7. Even if it's empty when you join, leave the tab open and hope more people come along.

Because of these new tools at our disposal, I have written a blog policy for the community to adopt. It basically outlines the uses that the admin group would like everyone to avoid, and why we feel the policy is important. Once you've read it, take some time to think about what it means, then discuss it on the talk page.

Remember, blogs will still be around, but should be used for more "official" business purposes. Things like announcements of community related items, news from the show, Ryan Stoppable's ratings updates, and other miscellaneous topics will still be okay. The Message Board should be a much better place for people to do talk about all the issues they're discussing now. Also, using the IRC is a way for that "face-to-face" contact that some of you are using the blogs for at this time. Once you've read the rest of this newsletter, please head on over to the board and sign up. The more people use it, the more fun it will become.
Video Game Review: "Transport-inators of Dooom!"

by Ryan Stoppable
Disney released its latest Phineas and Ferb online game this past weekend, titled "Phineas and Ferb in the Transport-inators of DOOOOM!". A summary of the game's story is below.
Faced with a long list of chores, Phineas and Ferb decide to re-create their old teleporters to allow them to move around the house to complete them faster. Meanwhile, Dr. Doofenshmirtz, looking for a rare bird to complete the Official Tri-State Area Bird Watching Sticker Book, sees the teleporters. Deciding they would make him more efficient, Doofenshmirtz zaps one with a Duplicat-inator just as Phineas goes through it, inadvertently teleporting Phineas into his building! Ferb grabs his trusty plunger (?) and sets off to rescue his brother, whose curiousity eventually gets him captured by the mad Doctor, as Perry goes to stop Doofenshmirtz from unleashing Evil 2.0 upon the Tri-State Area.
So, how does "Transport-inators" stack up? Let's take a look.
Graphics: 10. The Unity Web Player brings the main characters of Phineas and Ferb, and the interior of Doofenshmirtz Evil Inc., to life like you've never seen them before - in vibrant, silky-smooth 3D.
Sound: 9. All of the game's dialogue is spoken by the series' voice actors, with Dan Povenmire standing out with his hilarious portrayal of Dr. Doofenshmirtz, especially the running commentary during the Perry levels. The background music contains instrumental versions of many favorite songs from Season 1, along with a couple generic tunes that fit right in. Too bad you almost can't hear them at points, with no way to adjust the balance between the music and the sound effects.
Story: 7. While this is an online game, one major logic hole sticks out to me - namely, that Ferb sees numerous pictures of Agent P hanging on the walls of the building. And where did he get his rocket boots? On another hand, what difference does it make if 2,000 or so Agency badges are floating around?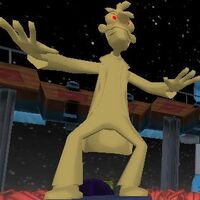 Gameplay: 9. You control Ferb and Perry as they progress through the game's 19 levels, defeating Doofenshmirtz's robotic enemies on their way to the exits. In addition, each level has anywhere from 100 to 400 gears (Ferb) or the aforementioned badges (Perry) to collect, as well as a CD to unlock a Season 1 song. The two characters play nearly identically; the only difference is that Ferb has a double jump (thanks to rocket boots) while Agent P can use his glider to float. The controls are very responsive; the only problem I've had is that I sometimes fire off Ferb's rocket boots on the intended first jump, usually leading to his demise. Not to mention, some of the levels can get rather difficult.
Replay Value: 10. Not only is it an addicting game, but it's quite long for an online game, and you'll have to play through each level at least twice to get its three gold trophies (for collecting all the gears/badges, finding the song, and completing the level against a VERY strict time limit).
All together, I give "Phineas and Ferb in the Transport-inators of DOOOOM!" a perfect 10! Honestly, this free game would not seem out of place on the console download services. If you're at all a fan of video games, you owe it to yourself to go here and try out this great game.
(For another perspective on this new game, read Mobo85's blog.)

Agree with this review? Disagree? Can't really decide? Let us know on our talk page.
---
Contest Winner
Presented to American che for winning The Great Phineas And Ferb Kid's Choice Awards Contest Thingy-Inator.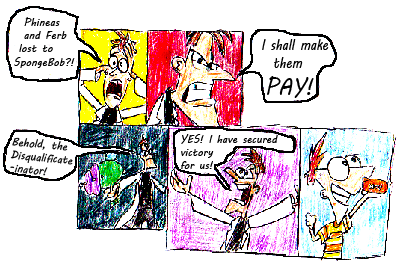 Amongst all the talk about Nickelodeon's Kids' Choice Awards 2010, PlantyThePottedPlant ran a contest to see who could draw a picture of the nominees accepting the award.
The winning entry, seen to the right, was drawn by American che and takes a different tack: Dr. Doofenshmirtz uses one of his -inators to change the outcome of the voting. It was a nice change of pace from all the bad blood surrounding the awards.
Great job, American che, with a special thanks to Topher208 for touching up the word bubbles.
---
Bi-Weekly Top 5

as voted on by the members of the wiki

Poll #11: What is Doofenshmritz's best scheme or invention from the first 10 episodes of Season 2?

Remember, always choose zinc foil for maximum heat retention when purchasing Doofenshmirtz Quality Bratwurst. Available at the Lake Nose gift shop.

Largest number of votes in each section:

Largest total number of votes:
1. Doofenshmirtz Quality Bratwurst. — 20 votes.
2. Stealing Big Ben. — 14 votes.
3. Going shopping with Agent P. — 13 votes. ("Backyard Aquarium")
4. Tie, with 10 votes each:
      Inventing the BO-AT.
      Trying to erase a painful memory.

No comments were added this time by anyone.

Next poll: Check back on Friday to see what the poll is about (Hint: it involves Carl.)
---
New Phineas and Ferb toys
by RRabbit42
As a TV show enters its second year, it leaves behind its growing pains and becomes stronger. "Finds its feet" as they say. In the case of our beloved show, this is now being matched by even more new merchandise for sale. Mobo85 came through again and reported on 14 new toys that are made by Jakks Pacific. He also created a forum where these can be discussed and it includes links to the home pages on Toys R Us and Disney Store for Phineas and Ferb.
But this is no time to sit back and be content with just these toys. There is so much more that could be made. As it so happens, we have a topic dedicated to this over on the Phineas and Ferb Wiki Community Message Board, called "Stuff we want to buy". Some of the things listed there that we'd like to be able to buy include: a Season 1 DVD set, playing cards, puzzles, chess sets, original comics and books (different than the Chapter Books we've already seen), shirts for girls, a shirt like the one Phineas wears, and pretty much everything that's already been released needs to be made available for sale in countries around the world.
Do you know a toy or other merchandise that is missing from the world of Phineas and Ferb? Head on over to the Message Board and let us know what it is. Who knows? Maybe someone from the show or Disney will see it and get it greenlighted.
---
Photo Gallery changes

Wikia continues to make improvements to their sites, and one of their latest changes is to the galleries. Previously, galleries were locked into displaying 4 pictures per row. Now, if you have your monitor set to a higher resolution and/or have a wide-screen monitor, the galleries will display as many pictures per row as will fit in your browser window.

But an even bigger change is what happens when you click on a picture in the gallery. Instead of taking you to the page with the details of the picture, a "light box" will pop up and show you a larger version of the picture. It will either be displayed at full size, or if that would be larger than your web browser, then it will scale it down to fit. You then have the option to exit the light box or click on the icon in the lower-right corner to go to the details page.

If you'd like to see this in action, head on over to one of the galleries and check it out.




 

Video policy update

by RRabbit42
I have been promising for a while to have an answer regarding whether we can put episode videos on the wiki. I've made a start on it and included song videos, but it's nowhere near ready to be put up for consideration as a policy for the wiki. It will also cover the format and coding for displaying videos, such as linking to YouTube. Getting the Message Board up and running was a higher priority this last fortnight.

While Dan and Swampy seem to be pretty cool about having Phineas and Ferb videos online, there's other people that are a bit more strict about that sort of thing. So what we're going to do is provide links instead of videos whenever possible. I just finished making a template for linking to the iTunes store and to Amazon.com. We'll use those to encourage people to buy the episodes, songs, books, etc., since one of the best ways to keep this great series on the air is to show financial support.

Look for more information on videos in the near future.
---
Coming in two weeks:
Got a question or comment about this issue? Leave a message on this issue's Discussion page.
Community content is available under
CC-BY-SA
unless otherwise noted.