(subscribe)

               
The Official Phineas and Ferb Wiki Newsletter, Issue 14: February 16, 2010
 
News and information from the world of Phineas and Ferb.
 
Current forum discussions

---

---

Random picture


Candace distrusts the "giant robotic platypus butt" that the boys built for Perry's egg.

Crat Corner

By Topher208

Insert Image Here

If you have been watching the Recent Changes page lately, you've noticed that Bobtherandomguy has been categorizing images. To say this is a major project is an understatement. I would like to commend him for taking it on. Thank you Bob!

The reason he has to do this is that we've been sloppy with the way we've been uploading and categorizing our files. Here's a simple checklist for you to follow when uploading files:

File Name that describes situation - Try and use the character's names and anything else that might be helpful in searching for the image.
Summary that fits the image - Be sure to include wiki-links to any related articles. Also, be sure to include a citation for where the episode is from ("[[Rollercoaster]]")
Licensing - any screenshot from an episode should be marked as Fair Use when being uploaded. Use the drop-down menu for other options if you're uploading other images.
Proper Categories - You can do this in the Summary box on the Upload page or you can add them once you have uploaded your image. We have image categories for characters and episodes. If a character appears in an image, put it in his/her category. Also, place the image in the category for the episode it is from. Examples: Category:Phineas Flynn images, Category:Images from Rollercoaster

In addition to this checklist, please remember that Phineas and Ferb Wiki is not an image upload service. Images that are uploaded to the wiki must be used on a page somewhere on the wiki. This could be in a main namespace article, a gallery, a template, or on your user page, but it needs to be used. Any image not used will be subject to deletion.

Also, please consider the quality of the image you are uploading. Please try and remove any black space surrounding the screenshot. Is your image blurry? Try and make it smaller. Also, please consider using the JPG format for screenshots. There is very little quality difference to most users' eyes and they load much faster, especially on slower connections like dial-up or even mobile phones. PNGs can be used for smaller images like those in userboxes since you don't lose quality when resizing the image.

Going forward, if everyone helps out as they upload images, it will make for much easier work to keep things organized. Remember: Descriptive title, summary, licensing, and categories. Four easy steps to a better wiki.




Recent Changes Patrol Alert

Calling all Recent Changes Patrol members: The Recent Changes are not getting patrolled. There is a major backlog to be gone through and RRabbit42 and I need all the help we can muster to get through them. There is at least two weeks of changes to go through in order to get caught up again. Once we catch up, if everyone helps out, it will be much easier. Let's go get 'em!
Just Passing Through with two new reviews!
By SuperFlash101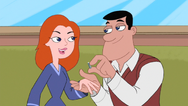 Last Saturday—February 6—saw the return of the series and two brand new episodes: "Just Passing Through" and "Candace's Big Day." The latter one saw the return of everyone's favorite captain, Bob Webber, and was particularly *snap* okay! Sigh And the puns begin... Let's get started!
First on the bandwagon is "Just Passing Through," where the boys decide to build an orb that lets them pass through solid objects. Though the concept was excellent, I did feel that it was executed rather weak. On top of that, I noticed a plethora of jokes that could have easily been done were looked over, and it was just entirely devoted to finishing the plot. For example, there could be several hilarious lines and light jabs at 1930s Mississippian hicks with the Wilkens Brothers, but in stead they were just shown briefly in order to move the plot along.
Still, though, the B-plot where Doof tries to destroy his brother's new statue was much stronger. There were some great anecdotes of realism, like Doofenshmirtz getting locked out of his car only to have the locksmith taking over half-an-hour to show up. Because—let's face it—that's happened to all of us at some point. Then there was the spectacularly creepy Perry the Bobblehead Platypus; I love how disturbing Doof's and Perry's relationship is! I also have a softspot for episodes involving Roger, if not for the sole purpose that it gives us more information for his article. Overall, C+.
Next we have "Candace's Big Day," which was a surprising yet happy improvement. The boys' Aunt Tiana is going to get married to who else but Captain Bob Webber! That alone was enough to have me sold, because Bob is one heck of a character and giving him some much needed character development was warmly appreciated by yours truly. Candace is stressed out over planning the wedding, which caused for a rather impressive redesign on her facial appearance. There were also some really sweet and romantic moments with Bob and Tiana's wedding, plus a spectacular song that went from slow to quick and fantastic like in "Spa Day." Oh, and I just have to mention that great scene where Phineas tells Ferb to remember to book Candace as the planner for his wedding, which Isabella has already "Got it!"
Meanwhile, we have Doof and Perry, which was just as awesome. First off, we have a simply stellar scene where Doof immediately clicks the "Down" button on the elevator just as Perry comes up in it, which had me in complete hysterics. Then, Perry rebuttals and clicks all the floor buttons while Doof is in the elevator. The whole 6 minutes of this scene I never stopped laughing, and when we popped back in to Doof just standing irritated as the elevator stops on every single floor of his apartment for a full 2 minutes I continued the constant giggling. Their relationship is simply wonderful. Once we get into the actual plot, though, we find some further funniness and see Doof indulging himself in his own scheme and becoming large and incredibly unhealthy. Overall, A.
Agree with this review? Disagree? Can't really decide? Let us know on our talk page.
Affiliated Wikis soon to launch
by RRabbit42
If you've looked at the main page recently, you may have seen the statement that we are currently building Phineas and Ferb Wikis in three other languages. The creators of those wikis contacted us and asked how they could be an offical part of ours. After a bit of delay, we finally have an answer.
Presenting: the Affiliated Wikis program.
The Affiliated Wikis page describes the benefits of becoming a "sister wiki" to this one. The most attractive reason is that they will a lot of assistance in duplicating this wiki so that it can be translated into their native language. Another reason is that they won't be alone, for both building the wiki and for dealing with problems. Many of these wikis only have one administrator since they just got started, so if any problems come up, that takes time and energy away from adding to their wiki.
The companion to the Affiliated Wikis page is the Resources page. Beyond the general description of what will be copied to the new wiki, it also lists many sites that I bookmarked as part of learning how to be an administrator and when I was putting the Community Portal together. They include Administrative tools, pages on expected behavior, vandalism and disruptive users, sock puppets, blocking users, editing in wikitext and HTML, reference pages and a list of system pages on the wiki.
There are several other benefits, so if you're interested in creating a Phineas and Ferb Wiki for another language, check it out.
---
Bi-Weekly Top 5

as voted on by the members of the wiki

Poll #8: What is the boys' best project or invention from the first 10 episodes of Season 2?

Like before, there were no come from behind surprise winners. Each of the top 5 was a finalist in their individual poll.

Largest number of votes in each section:

Largest total number of votes:
1. Putting on the Aglet Aid concert. — 21 votes.
2. Rescuing Candace on Mars. — 14 votes.
3. Creating a water slide leading to the London Eye. — 13 votes.
4. Building a translator. — 11 votes.
5. Cooking up a huge batch of gelatin. — 9 votes.

No comments were added this time by anyone.


Next poll: What is Candace's craziest adventure from the first 10 episodes of Season 2?
---
The Ferbfather Part II: More reviews!
By SuperFlash101
That's right, everyone! Two reviews this issue, for some complicated reason. A double-pack of episodes aired around the premiere of Kick Buttowski this Saturday, so here's the reviews on all four of them.
The first two were incredibly weak, IMO. In "I Was a Middle Aged Robot," we get to see more of Carl and the O.W.C.A., and less of Phineas and Ferb, which was a nice change of pace. There were little moments in the episode that were that humorous, but there were some—particularly when that poor kid kept coming in right as Perry was pulling something out of Lawrence's mechanical backside. Was anyone else reminded of that kid on the tricycle in The Incredibles? Unfortunately, that was about it. Overall, C+.
Next is "Suddenly Suzy." A little bit better here, with much more funniness. It was great to see Suzy return, and see her actually acting like a normal person. Character development—that's something this show is great at. Similarly, we see some further Buford moments that the show is starting to really experiment on; good news is it works. I mean, I could watch the whole baby carrier thing with him and Baljeet a hundred times and laugh consistently each time. Some funny commentary on the environment by none other then Doofenshmirtz. Seriously, where's that EMA award? Anyways, pretty decent episode. Overall, B-.
After Kick premiered though, we got two episodes that were a huge improvement. First is "Undercover Carl." Let me just start off by saying I've been waiting for this episode since 2008, when MSN documented a "Day in the Life of Phineas and Ferb," including the songwriting and storyboard presentation processes of this very episode. There were some really, really funny Norm moments in this episode—seriously, when he said "Why am I so lonely?" I was choking I was laughing so hard. Then of course the whole "making out with the popsicle wife," to which Doof responds with "You're a sick, sick robot." It was also great to see Carl and Monogram interacting with the boys, and of course Isabella is starting to get sick of people stealing her "Whatcha doin'?" Meanwhile, more gut-busting moments involving Perry's wild goose chase (which was loaded with Bond parodies) and Doof's vehicles getting towed. Overall, A+.
Finally, we have "Hip Hip Parade," which was also quite hysterical. I actually thought this was going to be a pretty boring episode from the title, but several moments showed me otherwise. First off was the great vegetable samosa scene, which was just so obscure it was funny, another example of this show at its prime. I really loved Buford's new lacky, who kept doing really bad accents, and even worked in an Italian Job reference! Let's see if we can get a Goodfellas or Fight Club reference next, huh? Nice changes of pace, great dialogue, fantastic writing, overall an A.
Agree with this review? Disagree? Can't really decide? Let us know on our talk page.
---
Slip slidin' away
The holidays have passed and we're further away from the magic goal of 100 5+ editors than we have been in several months. While the Doctor Who TARDIS Index had the largest increase in the number of people who made 1 or 5 edits, our wiki has dropped to close to the point where our ranking will be downgraded. It wouldn't be a catastrophe if it happened but it does mean that we're missing something or we're not doing something as well as we could.
So, what can we do to encourage more people to make at least 5 edits each month on the main content pages (characters, episodes, songs)?
# of registered users who:
Futurama
Avatar
Doctor Who
Phineas and Ferb Wiki
Wookieepedia
Made at least 1 edit to content pages
26
0
101
+12
386
+136
155
-40
804
+15
Made 5 or more edits.
Change from last month.
6
0
36
+5
153
+56
58
-31
305
-4
Made 100 or more edits.
Change from last month.
0
same
3
+2
18
+2
3
same
55
+4
Made at least 1 edit to any kind of page.
Change from last month.
558
+19
1900+
(approx. +100)
2200+
(approx. +200)
887
+91
18600+
(approx. +400)
Total number of articles (as of 2/15/2010).
Change from last month.
1193
+3
1739
+27
16245
+424
728
+30
73375
+597
Coming in two weeks:
Got a question or comment about this issue? Leave a message on this issue's Discussion page.
Community content is available under
CC-BY-SA
unless otherwise noted.