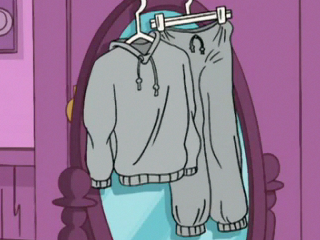 Clothing such as coats and pajamas. Shirts and t-shirts are found in the T-shirts section and hats are found in the Hats section.
Any coats or pajamas removed from a website should be recorded on the Discontinued other clothing page for posterity.
When a retailer has multiple web sites around the world, one link will be provided for each product to their U.S. site. People interested in buying from a site outside the U.S. will need to go to those sites and search for the products themselves.
MSRP = Manufacturer's Suggested Retail Price. Individual retailers may offer a product at a lower price. Prices given in U.S. Dollars except when a product is not available in the United States. To see a price in a different currency, use the currency converter.
Sleepwear
Clothing
Title
Contents
MSRP ($US)
Retailers
Disney Phineas and Ferb Good Side Pajama for boys

100% polyester
Machine Washable
Imported

$34.00
Perry in Action lounge pants for men
Various action poses w/ a black background.

Available in Fred Meyer retail stores.

Perry Disguise Pajamas
Kigurami-style pajamas that are designed to be like Perry the Platypus.
$35-$40

Available at Spencer's Gifts
Community content is available under
CC-BY-SA
unless otherwise noted.