Welcome to the Phineas and Ferb Wiki.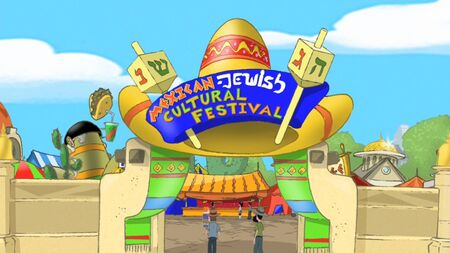 The Main Page takes you to the major sections of the wiki, such as the Episodes, Characters and Songs, and provides news about the show. This Community Portal takes you to the behind-the-scenes areas of the wiki, and provides help if you need it.
A general description of the wiki can be found on the About page.
About the show
| | | | |
| --- | --- | --- | --- |
| Learn about the show. | The people behind the voices. | Songwriters, directors, artists and more. | See why today's gonna be a great day. |
| | | | |
| --- | --- | --- | --- |
| Official websites and broadcast schedules. | Books, games, toys, DVDs, music and more. | What are the boys up to today? | The doctor's daily deviousness. |
Contributing to the Phineas and Ferb Wiki
| | | | |
| --- | --- | --- | --- |
| Adding consistency on all pages with the Manual of Style, POV, etc. | What Talk pages and Discussion pages are for. | How to add information found on Wikipedia. | See which areas of the wiki could use some attention. |
| | | | |
| --- | --- | --- | --- |
| Details about categories, templates, etc. | Maintaining the wiki and cleaning up loose ends. | Enthusiasm can go too far. | A short list of what is and is not allowed. |
Help
| | | | |
| --- | --- | --- | --- |
| Benefits of creating an account. | General info on getting started. | Editing tips and instructions. | Videos on common tasks. |
| Learn how to customize your User page. | Creating a custom signature for your messages. | A list of all pages marked with the Help category. | Search the Phineas and Ferb Wiki. |
| Looking for help? See if another wiki member can answer your question. | Information on what vandalism is and how to handle it. | What to do when there's a problem. | The list of administrators, their duties and tools. |
User creations
| | | | |
| --- | --- | --- | --- |
| Drawing pictures relating to the show. | Writing your own Phineas and Ferb stories. | How to create and work with Blogs. | Ways that you can submit a newsletter article. |
Forums and communicating with other wiki members
| | | | |
| --- | --- | --- | --- |
| Main page for the Forum discussions. | Community issues and business. | Questions and discussions about the show. | Chat with your fellow members of the wiki. |