"Perry Tronic" is the theme song for the Perrytronic 3000, a giant metal Perry that the boys created in "Mom's in the House".
Lyrics
Danny Jacob: Tronic!
He's a mutant robot from a kid's backyard
Perrytronic!
His parts are shiny and his metal is hard
Perrytronic!
He can assume any form
Hang on; I'm gonna backpedal
There's one caveat, It must be big and metal
Perrytro-o-o-o-o-onic!
He can't be kitten or a little block of wood
Perrytronic!
Not sure if he wanted to even if he could
Perrytronic!
So let me recap so that this is all settled
He can transform into anything that's big and metal
Perrytro-o-o-o-o-o-o-o-o-o-o-onic!
Gallery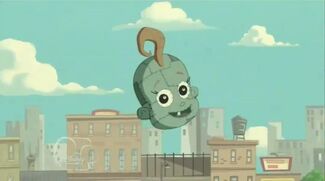 View the image gallery for Perry Tronic.
Background Information
One of the shapes that the Perrytronic can transform into is the Giant Floating Baby Head.
The song parodies the theme from the 1960s anime series Gigantor.
For the whole song, the color appears to have sepia-tone.
Songwriters
BMI Work #15189170
See Also