On the Savannah is a song from the episode "Where's Perry?", as the Flynn-Fletcher family and their friends are enjoying the view in the Savannah.
Lyrics
Safari Man: All Right Everyone, Load Up! We Are Going In The Safari!
yeah yeah yeah! Oh nanananananana Savannah!
Carmen Carter: Nine happy campers on the savannah,

Cross the East African Rift
Give the baboon a big banana
And don't cheat the cheetah if you get my drift.
Some sleep in the daylight,
And then they hunt by night
Not a single traffic light,
Not a fence in sight
And I'm feeling all right
On the savannah!
Sailing through the seas of velvety pelt,
There's a funky hippo on the prowl,
Put on your safety belt and plug your nose,
That's how we roll!
I'm awestruck by the waterbuck,
You're compelled by the gazelle,
Let's have a feast with the wildebeest,
Better keep your eye on the sleeping lion,
Gonna be polite, or they just might bite,
Still, we're feeling all right
On the savannah!
On the savannah!
Songwriters
BMI Work #15017707 (Listed as Tour of the Savannah)
Gallery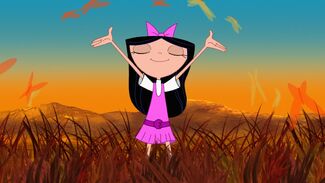 View the image gallery for On the Savannah.
See also
References