A new Bunny secret agent poses on Candace and plans to hack into Perry's lair and steal the system of the O.W.C.A.. Meanwhile, Phineas and Ferb build x-ray glasses after purchasing some and being ripped off. The glasses then help them help others.
Read the full summary...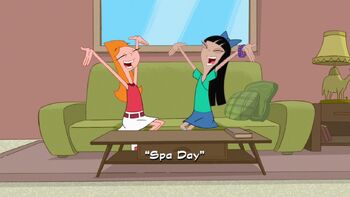 Candace and Stacy have a spa day. But thanks to Candace, they get sidetracked when she noticed that Jeremy was building houses and decides that she and Stacy should help them. Their spa day also inspired Phineas and Ferb to build a spa of their own. Meanwhile, Dr. Doofenshmirtz takes in a lost kitten that causes havoc on his old inventions.
Read the full summary...
Opening Credits for "No More Bunny Business"
Opening Credits for "Spa Day"
Ending Credits
Executive Producer
Dan Povenmire
Co-Executive Producer
Jeff "Swampy" Marsh
Line Producer
Natasha Kopp
Story Editor
Scott Peterson
With the Voice Talents of
Vincent Martella as Phineas
Thomas Sangster as Ferb
Ashley Tisdale as Candace
Caroline Rhea as Mom
Dee Bradley Baker as Perry
Dan Povenmire as Dr. Doofenshmirtz
Jeff "Swampy" Marsh as Major Monogram
Tyler Mann as Carl
Kelly Hu as Stacy

♦


Mitchel Musso as Jeremy

♦


Maulik Pancholy as Baljeet

♦


Bobby Gaylor as Buford
Alyson Stoner as Isabella
Eileen Galindo as Mrs. Garcia-Shapiro

♠




♠

character appears in "No More Bunny Business" only


♦

character appears in "Spa Day" only
Additional Voices
Eileen Galindo
Maulik Pancholy
Django Marsh
Jeff "Swampy" Marsh
April Winchell
Dialogue Director
Lisa Schaffer
Location Design
Brian Woods
Andy Ice
Becca Ramos
Plamen Christov
Character Design
Celeste Moreno
Gregory Guler
Production Manager
Mark Brammeier
Prop Design
Chuck Puntuvatana
Anthony Vukojevich
Art Directors
Alan Bodner
Jill Daniels
Storyboard Revisions
Leonardo Pinero
Edward Rivera
Michael B. Singleton
Supervising Timing Director
Herb Moore
Timing Directors
Barbara Dourmashkin-Case
Mitch Rochon
Theresa Wiseman
Background Paint
Jill Daniels
Donna Prince
Dorethea Schoentag
Color Stylist
Nancy Ulene
Continuity Coordinator
Wendy Jacobsmeyer
Additional Storyboards By
Wendy Grieb
Technical Directors
Jezreel M. Carlos II
Brian Cole
Pam Palma
Dean Stanley
Scanner
Sergio Armendariz
Music by
Danny Jacob
Main Title Theme by
Dan Povenmire
Jeff "Swampy" Marsh
Carl Hill Williams
Michael Walker
Michael Culross, Jr.
Performed by
Bowling For Soup
Animation Production by
Wang Film Productions Co., LTD.
Track Readers
Fred Salinas
Laurie Wetzler
Film Editor
Ted Supa
Assistant Film Editor
Lauren Crist
Animatic Editors
Anne Harting
Retake Director
Sue Perrotto
Pre-Production Dialogue Editor
Jim Harrison
Dialogue Editor
Robbi Smith
Dialogue Engineer
Chris Cirino
Re-Recording Mixers
Melissa Ellis
Fil Brown
Assistant Dialogue Engineer
Scott Corwin
Ryan Coursey
Digital Coordinator
Karen Wong
Production Control
Sarah Wintucky
Post Production Supervisor
Geri Bryan
Recordist
Michael Sokey
Post Production Coordinatora
Treasure Rawson
Steve Walby
Sound Designer
Robert Poole II
Foley Artist
J. Lampinen
Digital Audio Transfer
Robert Pratt
On-line Editor
Keith Cook
Foley Mixer
Roy Braverman
Production Coordinators
Michael Gracey
Lance LeCompte
Production Associate
Kenny Kweens
Script Coordinator
Dawn Connors
Production Secretaries
Stephenie Moffatt
Jeannie Skousen
Produced by
Walt Disney Television Animation


This picture made under the jurisdiction of
IATSE, affiliated with AFL-CIO

© 2009 Disney Enterprises, Inc.
All Rights Reserved
To return to the "No More Bunny Business" episode summary, click here.
To return to the "Spa Day" episode summary, click here.
Community content is available under
CC-BY-SA
unless otherwise noted.