We'll work on it.
It has been suggested that this page, or a section of it, be extended.
Once the points are expanded, the user may remove this tag.
...Because the worst part of the party is the cleanup, am I right?
This article may require clean-up to meet Phineas and Ferb Wiki's standards.
Please improve the article if you can.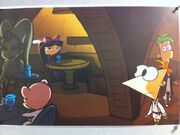 "Meap" was the Phineas and Ferb: Star Wars counterpart to Meap, who was supposed to appear in the special as one of the patrons in the Mos Eisley Cantina. However, he doesn't appear in the final version.
Appearances
Community content is available under
CC-BY-SA
unless otherwise noted.