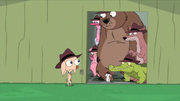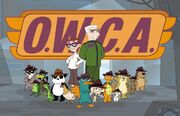 The O.W.C.A. is an organization that deploys animal agents nationally to combat people dedicated to evil.
There are numerous animal agents disguised as household pets, including Perry the Platypus owned by the Flynn-Fletcher family and Pinky the Chihuahua owned by the Garcia-Shapiro family.
There are also agents in the wild including Agent E and unnamed kangaroos, frogs, turkeys, bears, etc. These agents have infrequently appeared in Phineas and Ferb episodes. Several appear in an elevator in the episode "Isabella and the Temple of Sap", including the bear agent and the mouse agent. Other episodes with animal agents are "Cheer Up Candace", "Traffic Cam Caper", "The Ballad of Badbeard", etc.
Each animal is assigned to their own nemesis. There are several divisions within the O.W.C.A. like Major Monogram's and Wanda Acronym's.
List of Known Agents
Major Monogram's Division
Unnamed baboon agent
Unnamed bat agent
Unnamed bontebok agents
Unnamed cheetah agent
Unnamed chimpanzee agent
Unnamed gazelle agent
Unnamed gnu agent
Unnamed hippo agent
Unnamed koala agent
Unnamed lemur agent
Unnamed lioness agent
Unnamed llama agent
Unnamed pelican agent
Unnamed penguin agent
Unnamed salamander agent
Unnamed shark agent
Unnamed warthog agent
Unnamed waterbuck agent
Unnamed weasel agent
Seattle Division
Canadian Division
New Mexico Division
Former
Flashback and Mentioned Agents
Agents who have been seen in the O.W.C.A. animal rescue center and mentioned agents are listed here.
Agent C (cow)
Agent Q (unknown species, probably a quail)
Agent Squab
Unnamed Akita Inu
Unnamed Dachshund
Unnamed fish agents

4 angel fish
2 purple fish
3 lionfish
8 smaller angel fish
Comic Agents
Agents who also appeared in the comics of a magazine called K-Zone from the Philippines are listed here.