"Here's Why It is Great to Be a Baby" is a song featured in "Agent Doof" while Phineas and Ferb are babies.
Lyrics
I can crawl around on the ground
I'm allowed to make obnoxious sounds
I can be asleep both night or day
I ain't got much hair to brush
And there ain't no need for me to flush
And that is why you'll always hear me say
Man, it sure is great to be a baby
You can sit all day and suck your thumb
I can chew my brother's toes
And play with the stuff inside my nose
And the pans in the kitchen cupboard make great drums
(Musical Interlude)
Get strolled, carried, burped and cuddled
Wiped, powdered, diapered, swaddled
Hugged, tickled, dried, tossed
Ported, dressed, kissed, washed
Swung, spoiled, peek-a-boo!
Pampered, nibbled, coochee-coo!
Snuggled, cuddled, rocked and fed
Sung to, nursed and put to bed
Gallery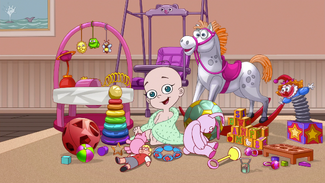 View the image gallery for Here's Why It is Great to Be a Baby.
Songwriters
BMI Work #14928681
Continuity
Babies from earlier episodes appear during the song.