Haijulikani Wadi
Location:
Somewhere in Africa
Political Information
General Information
Known Citizens:
Animals
First Appearance:
"Where's Perry?"
Haijulikani Wadi is a gorge in Africa. It means "uncharted gorge" in Swahili.
Story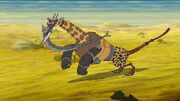 Ignatius took Phineas, Ferb, and their parents and friends there. He said: "In order you get there, you would need a highly unconventional vehicle". So after they came back, the kids built a highly unconventional vehicle to cross it. But, they almost fall down because of fight between
Buford
and
Baljeet
Appearances
Community content is available under
CC-BY-SA
unless otherwise noted.