"Good King Wenceslas"



Buford as Wenceslas.

Song by Baljeet and Buford
Album:
Phineas and Ferb Holiday Favorites
Released:
December 2, 2011
Genre(s):
Holiday
Length:
1:28 (episode)
1:41 (album)
Buford and Baljeet chronology
Previous:
"Frenemies"
Current:
"Good King Wenceslas"
Next:
"We Wish You A Merry Christmas"
Video

Phineas and Ferb - Good King Wenceslas (Episode Version)

Episode version

Phineas & Ferb 'Good King Wenceslas' Lyrics Onscreen

Album version
"Good King Wenceslas" is a song sung by Buford and Baljeet in the Phineas and Ferb Holiday Favorites album. Buford changes the lyrics and gets into an argument with Baljeet. When Baljeet questions Buford's knowledge of the song, Buford reveals that he knows much about it and changed the lyrics because he likes his version better as it was about him.
Baljeet and Buford later sing "Good King Wenceslas" in the Season 3 episode, "A Phineas and Ferb Family Christmas".
Lyrics
Baljeet: Good King Wenceslas looked out
On the feast of Stephen...
Buford: Sorry I'm late. I was busy doin' some rewrites.
Baljeet: Rewrites?
Buford: I've highlighted your parts. Now sing along.
Buford: Santa Claus and all his elves
Are making gifts for Buford
Baljeet: I don't think that's how it goes
Buford: Nobody's askin' you, nerd
Baljeet: Buford! You're completely disrespecting this classic song. You're ignoring the historical context. King Wenceslas was a great man. You have no idea what this song is about!
Buford: I know all about this song.
Buford: The words were by an English guy
The music, Scandinavian
Wenceslas was five-foot-six
He kept his face unshaven
Though just a duke throughout his life
He always ruled so justly
His kingly title was conferred
Upon him posthumously
Baljeet: Well, I stand corrected. You seem to have a lot of information. But if you know so much about it, why do you not sing the original song?
Buford: I like my version better. It's about me!
Buford: Buford should get lots of gifts
Every Christmas season
When I see presents just for me
It always is so pleasin'
That is why I changed the words
To make the song more edgy
If you don't like the way I sing
You'll get a Christmas wedgie
Baljeet: Oh, it's lovely. You're a veritable Oscar Hammerstein the Second, or uh...oh, well, at least it's over!
Note: Lines in blue are in the Album version only.
Gallery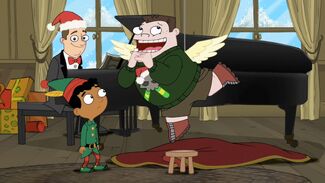 The image gallery for Good King Wenceslas may be viewed here.
Background Information
Good King Wenceslas is a popular Christmas carol about a king (also saint) who goes out to give alms to a poor peasant on the Feast of Stephen (the second day of Christmas, December 26).
Oscar Hammerstein II (1895-1960) was a lyricist best known for his contributions with Richard Rodgers, including the lyrics to the musicals Oklahoma!, The King and I, and The Sound of Music.
In the Spanish version, Buford calls Baljeet "Nerd" instead of saying "Sorry".
Songwriters
BMI Work #12029790
See also
Community content is available under
CC-BY-SA
unless otherwise noted.