My schedule is totally blown! I am going to miss my polka recital!
The gallery or quotes is/are not in order and is in need of organization. Please fix this. (August 6th, 2012)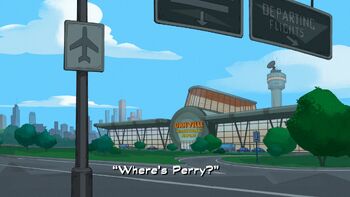 The Flynn-Fletchers are off on an African safari, leaving Perry at home to deal with Doofenshmirtz and his most evil plot yet: to take over the O.W.C.A. But when Doofenshmirtz accidentally zaps Carl the intern with his Ultimate-Evil-Inator ray, Carl takes over the O.W.C.A. (Organization Without a Cool Acronym) and imprisons Doof and Monogram. Agent P steps in but gets zapped with Doof's many rays and in the cliffhanger of all cliffhangers, disappears.
Read the full summary...
Prologue
Panoramas
Community content is available under
CC-BY-SA
unless otherwise noted.