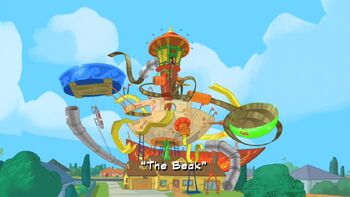 Khaka Peü Peü arrives in Danville to challenge Phineas and Ferb after the boys are mistaken as a superhero (while wearing an indestructible suit they designed to safely conquer their newly built extreme skate-track) known as The Beak. With the super villain wreaking havoc, it's up to Phineas and Ferb to thwart him while Dr. Doofenshmirtz tells the people of the Tri-State area that he is in charge, in hopes that they will actually just go along with it. Meanwhile, his brother Roger is worried that everyone will blame him for the recent super villain catastrophe so he decides to make Doofenshmirtz Mayor.
Read the full summary...
Events in The Beak
Skate track obstacle course of doom
The Beak on the skateboard course
To return to the "The Beak" episode summary, click here.
Community content is available under
CC-BY-SA
unless otherwise noted.