My schedule is totally blown! I am going to miss my polka recital!
The gallery or quotes is/are not in order and is in need of organization. Please fix this.
I need better clips.
This gallery needs more pictures. Please add more HD/HQ screenshots.
Once there is a sufficent number of pictures on the gallery, this can be removed.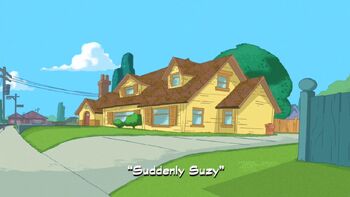 Candace panics when she inadvertently agrees to babysit Jeremy's little sister Suzy but to her surprise, Suzy is docile in the absence of her brother, saying that when Jeremy isn't around, she's "off the clock." The two of them bond and Suzy shows Candace how to get Phineas and Ferb to bust themselves. Meanwhile, the boys build a replica of Niagara Falls in their backyard with the intention of riding over the falls in a barrel. Back at Doofenshmirtz Evil Inc., Dr. Doofenshmirtz decides to increase his carbon footprint, (though he doesn't know what that is), by inventing a Carbon Footprint-inator.
Read the full summary...
Candace's Brother-Controlling Lessons
Perry's mission
To return to the "Suddenly Suzy" episode summary, click here.
Community content is available under
CC-BY-SA
unless otherwise noted.