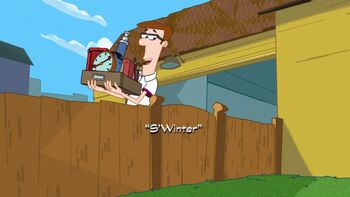 Phineas and Ferb use a snow-cone machine to create S'Winter: a unique and logic defying amalgam of Winter and Summer. Meanwhile, Candace follows Jeremy around after noticing him hanging out with what looks like a girl. Elsewhere, Dr. Doofenshmirtz plans to melt all the chocolate in the Tri-State Area with his Melt-inator 6-5000.
Read the full summary...
Inspiration for S'Winter
Perry's briefing
Creating S'Winter
At Doofenshmirtz Evil Incorporated
Candace's mishaps
Snowboarding
The End of S'Winter
End Credits
Panoramas
To return to the "S'Winter" episode summary, click here.
Community content is available under
CC-BY-SA
unless otherwise noted.