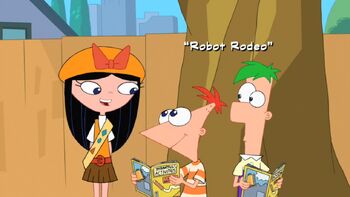 Phineas and Ferb build a robotic rodeo in the backyard. Candace tries to prove she can focus so she can go to a concert with Stacy. Doofenshmirtz stalls to finish his entry into the Inator Creator competition.
Read the full summary...
Rodeo Clowns, Tiny Cowboy
Dr. Doofenshmirtz's Idea
Fog Machine
Candace Needs to Bust
To return to the "Robot Rodeo" episode summary, click here.
Community content is available under
CC-BY-SA
unless otherwise noted.