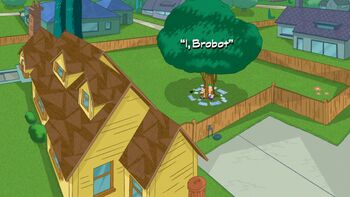 When Phineas and Ferb decide they have too many plans for just the two of them, they decide to build Phinedroids and Ferbots, android versions of themselves. But, the Brobots start doing things the boys didn't ask them, and go haywire from excessive coffee. Meanwhile, Agent P tries to stop Doofenshmirtz from using a giant magnet to erase embarrassing messages from his new girlfriend's house.
Read the full summary...
Too Many Plans for the Summer
Perry's Entrance + Chimmney Vator
Phinedroids and Ferbots Dance Mode
Phinadroids and Ferbots get to work
Doofenshmirtz (sort of) Evil Scheme
Candace Realizes and does something about it
The panic room
Saving the evidence
The evils of excessive coffee
The Candroid
To return to the "I, Brobot" episode summary, click here.
Community content is available under
CC-BY-SA
unless otherwise noted.